Newest Class of James Patterson '69 Scholarships Awarded at Manhattan College
The bestselling author continues supporting students at his alma mater.
Twenty Manhattan College students from the Schools of Liberal Arts, Education and Health, Engineering, the O'Malley School of Business and the Kakos School of Science have received a James Patterson '69 Scholarship for the 2022-23 academic year.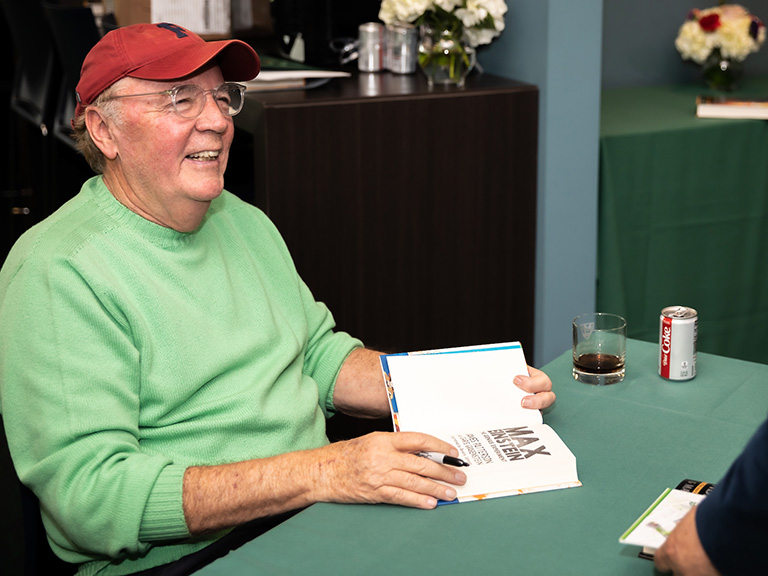 It is the 11th consecutive year that Patterson, the world's bestselling author and philanthropist, has supported scholarships to 10 juniors and 10 seniors who have demonstrated academic excellence and involvement in activities tied to the College's Lasallian mission. The scholarships are also awarded based on student need. 
"The generosity that James Patterson has long provided the College through these scholarships continues to have such a positive impact on the students who receive them and demonstrates his loyalty to his alma mater," said Brother Daniel Gardner, FSC, president of Manhattan College. "These students are among our best, and have worked hard to achieve academic success. The Patterson scholarships allow them a measure of security and support as they approach graduation. Hopefully it will also inspire them to follow in Mr. Patterson's footsteps of success."  
The scholarship recipients are: 
Rising Juniors
Daniel Angel, engineering (Bronx, N.Y.) 
Gemma Meade, education (Hackensack, N.J.) 
Janita Dreher, liberal arts (Bronx, N.Y.) 
Granit Oroshi, science (Tuckahoe, N.Y.) 
Liam Donahue, business (New Providence, N.J.) 
Ireland Walker, education (Wantage, N.J.) 
Kevin Orozco, engineering (Mount Vernon, N.Y.) 
Catriona O'Shea, education (New Hyde Park, N.Y.) 
Andrew Chacko, science (Valley Cottage, N.Y.)
Johely Aguilar, education (Bronx, N.Y.) 
Seniors 
Anahi Jimenez, education (New York, N.Y.)
Ayanna Horsford, science (New York, N.Y.) 
Paulina Alarcon, education (Yonkers, N.Y.)
Quinten Murphy, engineering (Albertson, N.Y.) 
Casey Schellberg, education (Warwick, N.Y.) 
Chelsey Leveque, liberal arts (New York, N.Y.) 
Rachel Mojica, science (Mount Vernon, N.Y.) 
Anika Wahid, engineering (Bronx, N.Y.) 
Rosalia Cefalu, business (Milton, Mass.) 
Kaya Simpson, education (Edgewood, Md.) 
The scholarship program awards $5,000 to each of the 20 recipients. All seniors are eligible to apply to receive one of four additional $2,500 awards based on essay submissions that outline their plans after graduation.
"The last several years have been uniquely challenging times for these students," Patterson said. "That's why it gives me such pleasure to support them for the extraordinary work they continue to do at Manhattan College. I have no doubt that this group of students will go on to become leaders in their respective fields and accomplish great things after graduation."
Patterson has created some of the most enduring characters and series in modern American fiction including "Alex Cross", Women's Murder Club, Michael Bennett, Maximum Ride, Middle School, and "Ali Cross". His acclaimed works of narrative nonfiction includes, "Walk in My Combat Boots", "E.R. Nurses", and his autobiography, "James Patterson" by James Patterson. 
Bill Clinton ("The President Is Missing") and Dolly Parton ("Run, Rose, Run") are among his notable literary collaborators. His most recent collaboration, "The House of Wolves", written with esteemed sportswriter Mike Lupica, was published in January, and has already spent four weeks on The New York Times bestseller list. 
 For his philanthropy and championing of literacy in America, Patterson was awarded the 2019 National Humanities Medal. The National Book Foundation presented him with the Literarian Award for Outstanding Service to the American Literary Community, and he is also the recipient of an Edgar Award and nine Emmy Awards. He holds the Guinness World Record for most number one New York Times bestsellers. He lives in Florida with his family.
Patterson has given more than three million books to school-age children and the military, donated more than $100 million to support education, and endowed more than 10,000 college scholarships for teachers.