Digital Arts and Humanities Program Combines Liberal Arts and Tech
The minor is designed to create critical thinkers for the digital age.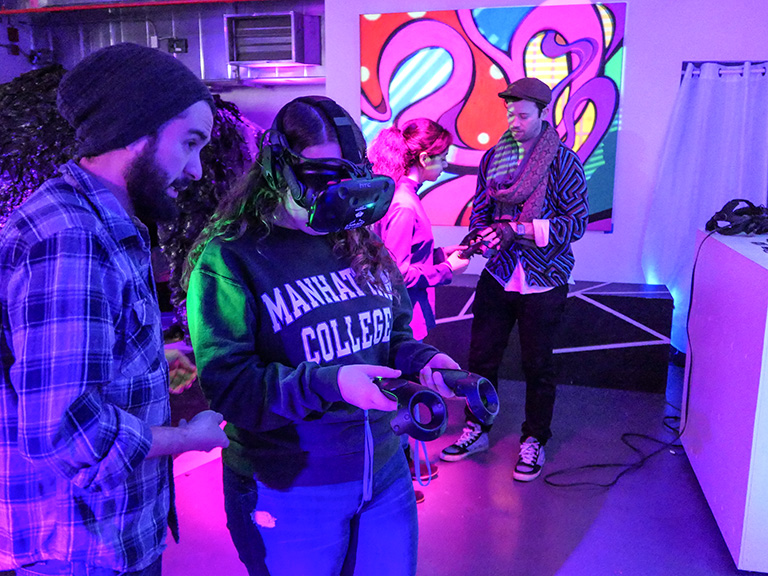 Manhattan College has launched a Digital Arts and Humanities (DAsH) initiative that will become a minor in the 2019 fall semester. The program incorporates current course offerings in the School of Liberal Arts and is designed to provide students digital skills that are attractive to employers after graduation.
The program will include classes within several departments in the School of Liberal Arts, including, but not limited to English, History, Modern Languages and Literatures, Sociology, Psychology and Communication. Students can also take interdisciplinary courses in the O'Malley School of Business. 
"This is an exciting new curriculum for our Liberal Arts students," said Maeve Adams, Ph.D., assistant professor of English and director of the DAsH initiative. "The Liberal Arts have always trained critical thinkers and persuasive communicators, but they haven't always taught skills in data analytics and digital tools that employers also increasingly want to see on résumés. DAsH courses equip students with those skills. They do so, furthermore, in the context of humanistic studies that teach the wider values of those methods and tools."
Some current courses within the minor include History 100: Slavery in the Bronx, taught by Adam Arenson, Ph.D., in which students are using digital archives to search for descendants of former slaves who lived in the Bronx. Another course within the DAsH program is English 392: Writing and Remembering, taught by Adam Koehler, Ph.D., in which students are studying how writing and memory is affected by social media and mobile technology.
And Adams is teaching Victorian Media, where students are using virtual reality that shows the changes in how people consumed media then and now.
"This class has been the best class I've ever had," said Kailee Arakaki '21, a secondary education major with a concentration in English. "Hopefully I can use what I've learned here when I'm teaching English students to help push our future forward."
Manhattan College is also partnering with other New York City college and universities, including Columbia, NYU and Pratt, at the NYC Media Lab. This partnership will expand student internships in tech fields, including virtual reality development. The partnership will also foster and support student-faculty research projects in new media and technology.
Manhattan College's School of Liberal Arts offers 17 majors and 30 minors in the arts, humanities and social sciences. The mission of the school is to educate students broadly — considering timeless issues and providing timely preparation — so that they lead rewarding lives full of professional success and lifelong learning.