Faculty
Art and Design: Joann M Winkler (In-Person & Online)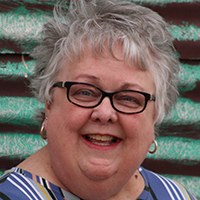 Joann M Winkler is a member of the Fine Arts Department at Clinton High School where she has served as chairman of the art department for over 30 years, and has been an adjunct professor at Mt. St. Clare College in Clinton, Iowa. Joann holds a BS in Art Education from Northern Illinois University and a MA in Art Education from Northeast Missouri State University. In addition, graduate credits have been earned from Carleton College, Maryland Institute College of Art, Rhode Island School of Design, and the School of the Art Institute of Chicago. Joann is a contributor to the National Vertical Team Guide for AP® Studio Art and has written numerous articles, reviews, lessons, and curricula for the College Board program.
Currently, Joann serves as a Reader or Table Leader for the AP® Art and Design exams and has held this position since 2001. She is also a consultant to the College Board* where she conducts workshops helping art teachers establish their own Advanced Placement Studio Art programs or Pre-AP® Studio Art programs. Joann has also presented a variety of workshops on AP topics for several state and national Art Education conventions. Her consulting work has taken her throughout the United States since 2001 to locations such as Colorado, Illinois, Florida, Maine, Maryland, Minnesota, New York, Ohio, Vermont, Washington, as well as the Annual National AP Conference.
---
Art History: Yu Bong Ko (In-Person & Online)
YU BONG KO is a Lecturer in Art History at Dominican College in N.Y. Previously, he taught AP Art History for 26 years at Tappan Zee High School, his alma mater. Currently, he is a "Coach" in AP Art History for National Math and Science Initiative (NMSI), working with teachers and students from many parts across the country. As a presenter and session leader at College Board endorsed AP Teacher Conferences and Summer Institutes since 1995, his travels have taken him to schools, colleges and museums coast to coast, where he has worked with hundreds of outstanding and dedicated teachers. Yu Bong has scored the AP examinations for 22 consecutive years, having served as Reader, Table Leader and Question Leader. He is a past Co-Chair of the College Board's AP Art History Test Development Committee, and recently completed service on the Curriculum Re-Design Committee to develop the new curriculum framework. In addition, as former College Board Advisor to AP Art History Content and Professional Development, Yu Bong has contributed to two Curriculum Modules publications for teachers on concept-mapping strategies and thematic and cross-cultural approaches to teaching AP Art History. He is a graduate of Brown and Columbia Universities where he studied Painting, Art History and Art Education.
---

Biology: Mike Murray (In-Person & Online)
I grew up in West Springfield Massachusetts and attended Bridgewater State College for my Bachelor of Science in Biology with a minor in chemistry.  Immediately after college, I worked for the Boston Park Rangers as a park ranger with the mounted unit.  I began teaching at Silver Lake Regional High School in October of 1994 and after my first two days of teaching told my principal I needed to quit and that this wasn't for me. Six years later I took a job teaching at Norwell High School and six years after that began teaching at Pembroke High School where I am now.
About ten years ago I began teaching as an adjunct instructor at Massasoit Community College where I teach anatomy and physiology and biological principles.
I have attended and continue to participate in valuable PD from MIT's Scheller teacher education Program, Amgen Biotech Experience, the College Board, Mass Bioed Foundation, and Cold Spring Harbor Lab.
I hope to bring enthusiasm and passion to the classroom every day and to continually challenge my students with new experiences that will help them be successful scientists.
---
Calculus BC: Gary Taylor (Online)
Gary Taylor received a BS in Mathematics from Iowa State University and an MS also in Mathematics from the University of Iowa. He taught for 11 years in Iowa and 30 years in Utah at Davis High School. Awards received include The USA Today All USA Teacher Team Second Team 2000, the Davis School District Hall of Fame/Horizon Award 2001, the Huntsman Award for Excellence in Education 2008, and the UCTM Don Clark Award in 2013.
Gary taught AP Calculus at Davis High School for 20 years and has been an AP Reader for 6 years. He was instrumental in building one of the largest and most successful AP programs in the United States. Gary has led College BoardTM Calculus workshops in Bellevue, Bozeman, Bountiful, San Mateo, Denver, San Antonio, Washington D.C., Los Angeles, La Jolla, El Paso, Kaysville, Grand Junction, Vancouver WA, Palo Alto, Irvine, Richmond, Kaneohe, Lagos, Mumbai, Pompano Beach, McClellan Park, Anchorage, Albuquerque, San Gabriel, Calgary, Vancouver BC, Santa Anna, Winnipeg, Farmington, Seattle, Tucson, Nanjing, Phoenix, and Newark.            

Gary is co-author of "The Essentials of Calculus" and "Calculus Extended" as well as early transcendentals versions of each.
---
 
Calculus AB: Greg Timm (In-Person & Online)
Greg Timm has taught mathematics at Roland Park Country School in Baltimore, Maryland for 37 years. He has a B.A. in mathematics from Ithaca College and an M.E. D. in mathematics education from the University of Maryland. He has taught Advanced Placement Calculus for over 30 years and has been an AP Reader and Table Leader for 22 years. He has been an AP Calculus consultant since 2005. He also has taught AP Statistics at Roland Park and a Teaching Advanced Placement Calculus seminar at Towson University. He lives with his wife, Pat in Ellicott City, Maryland and has two grown children, Emily in Austin, Texas and Zachary in Brooklyn, New York. He enjoys Baltimore Orioles baseball and all kinds of musical performances.
---
Calculus BC: Mark Howell (In-Person)
Mark Howell teaches AP Calculus at his alma mater, Gonzaga High School, a Jesuit boys' school in Washington, DC.   He is a graduate of the University of Chicago (AB in Mathematics in 1976 and Master of Arts in Teaching in 1981).  During his 40+ year career at Gonzaga, he has taught math classes from Algebra through AP Calculus, as well as AP Computer Science.  He authored many articles and activities involving the use of hand-held technology in the classroom, and has spoken about it at conferences all around the world.   He served as an advisor to both Hewlett Packard and Texas Instruments during development of new handheld technology for mathematics education.  Mark began working at the AP Calculus reading since 1989, and has served for 25 years as a Reader, Table Leader, Question Leader, and Exam Leader.  He served on the AP Calculus Development Committee from 1997-2000.   Mark is a co-author of "Be Prepared for the AP Calculus Exam" (Skylight Publishing), as well articles in the College Board's Special Focus series.  He has led dozens of AP Calculus summer institutes and workshops both in the United States and overseas, and is a 2017 Presidential Awardee for the District of Columbia.
---
Chemistry: Mark Langella (In-Person & Online)
Mark Langella is a 31-year retired AP Chemistry instructor at Mahopac High School in New York and also an active adjunct chemistry professor at Westchester Community College .  He received a BA in Chemistry from Manhattan College, and a MA in Science Education from Lehman College. He is also a NYS certified chemistry and chemical technology instructor.
Mark Langella has over 31 years of experience teaching AP Chemistry and is a College Board AP Chemistry consultant since 1994, as well as, a College Board workshop coordinator and College board exam reader.
He taught AP chemistry to sophomores as a first year chemistry program for the past 20 years . He initiated and established AP chemistry programs in three different high schools.
Mark Langella has been an AP chemistry consultant for over 27 years mentoring new AP Chemistry instructors and has worked for Industry as a consultant for educational programs since 1990. He is also author of Syllabus # 4 in AP College Board Handbook. He has been an AP chemistry Reader for the college board.
He is also the founder and director of the Putnam/Westchester Industry and Teacher Alliance and has been a coordinating board member of both the SUNY Purchase Alliance of Chemistry Educators (1990-2000), as well as, the Teaching Center at SUNY Purchase (1999-2002). He is Founder of PWISTA-Mahopac, non for profit organization servicing science teachers in two different counties.
---
Computer Science A: Maria Litvin (In-Person & Online)
Maria Litvin has taught computer science and mathematics at Phillips Academy in Andover, Massachusetts, since 1987. She is an Advanced Placement Computer Science exam reader and Table Leader and, as a consultant for The College Board, provides AP training for high school computer science teachers. Prior to joining Phillips Academy, Maria taught computer science at Boston University. She is co author of several leading AP Computer Science textbooks, including C++ for You++ and Java Methods: Object-Oriented Programming and Data Structures. She is also the co-author of Be Prepared for the AP Computer Science Exam in Java (since 1999) and Mathematics for the Digital Age and Programming in Python. Since 2014, as a Code.org affiliate, Maria has trained more than two hundred New England elementary school teachers to introduce computer science to children in grades K-5. She is the faculty advisor of the Coding Circle community service program at the neighboring Boys & Girls Club, which introduces coding to elementary school children.
---
English Language and Culture: Steve Klinge (In-Person)
Steve Klinge teaches AP English Literature and AP Language at Archmere Academy in Claymont, Del., where he is English department chair. He has been a reader for both the Lit and the Language exams, a College Board consultant, and an AP workshop leader and teacher mentor for the National Math & Science Initiative. He has worked with several publishers as a reviewer of AP textbooks and a writer of teacher support materials. He also writes about pop music for the Philadelphia Inquirer and other publications.
---
 
English Language and Composition: Carol Elsen (Online)
Carol Elsen developed the Advanced Placement* English program in the Montana high school where she has taught for over 20 years. She has also taught composition, literature, and methods courses at the Ohio State University and the University of Montana. In 2001, she became a Reader and Table Leader of the AP* English Language exam and has served as a Faculty Consultant for the College Board* since that time, presenting one-day workshops and weeklong institutes throughout the United States, internationally, and at AP* National Conferences. She also served on the Steering Committee for College Board AP* National Conferences. Carol has been involved as a reader and trainer of trainers in developing the Montana Writing Assessment (a pilot project for the ACT writing assessment). A member of NCTE and MATELA, she also teaches online for UCLA in the summer sessions. In 2004, she became a reader and scoring supervisor for the SAT writing sample and has served as a College Board* Mentor Teacher. Her joy is in helping AP* teachers discover new insights and methods for successful teaching.
---

English Literature and Composition: Paul Cunningham(In-Person & Online)
Paul Cunningham has been a teacher at Montclair Kimberley Academy in Montclair NJ for 19 years where he teaches 9th grade English, a Satire elective, an interdisciplinary New York City class, and AP English Lit. for 10 of those years. He has been an AP Reader since 2012. Paul received his BA from College of the Holy Cross in 1999 and his MA in English (with a Writing Concentration) from Rutgers University in 2008. He also completed work at the University of Alaska, Fairbanks in their MFA Creative Writing program. At MKA, Paul serves as an advisor to students and assistant Varsity and Head Middle School track coach.
---
Environmental Science: Jeanne Kaidy (In-Person)
Jeanne Kaidy received her bachelor's degree in Biology from the State University of New York at Brockport and her master's degree in Secondary Education from Nazareth College of Rochester.  She currently teaches Biology and AP Environmental Science at McQuaid Jesuit High School in Rochester, New York where she has served as Chair of the Science Department.   Besides teaching at McQuaid, Jeanne was also an adjunct instructor of Environmental Science at Monroe Community College.  She has participated as a Reader for the College Board since 2003, is an AP Consultant, presenting Summer Institutes around the country, and served on the AP Environmental Science Test Standards Committee in June, 2021.  Jeanne is content expert for Exploring Environmental Science for AP, by G. Tyler Miller, and is author of the teacher's edition and the teacher's resource guide that accompanies the text.  Jeanne has extensive experience in coaching and mentoring new and experienced teachers, having served as an online mentor for the New Teacher Center.  Jeanne received the Presidential Award for Excellence in Math and Science Teaching in 2009.
---
Environmental Science: Ricardo Viteri (Online)
Ricardo Viteri was born in the summer of 1980.  He grew up rough housing with his older brother while being raised by his mother in a single parent household.  At a young age he has always had a fascination with nature and a gift to relate to all things with fur, feathers, and scales.  Throughout high school he played football and worked as a fishing mate on an open charter fishing boat in the Great South Bay off the coast of the Long Island sound.  There he learned the importance of being a good steward of nature and brings that passion to his A.P.E.S students.  Ricardo Viteri began his collegiate education at Franklin Pierce University and finished his undergrad at New Jersey City University.  Upon graduation in 2004, he began teaching at a parochial school in an urban district, and later moved to a public school in Middlesex County, NJ.  He later attended and graduated with his MA in secondary education at Seton Hall University.   Ricardo prides himself in organic urban farming techniques and has shared his passion with his students, by starting an organic garden at the school.  The produce grown is then donated to those in need.  Mr. Viteri also won a grant to fund a small tilapia farm at the school.  During the project, students learned the importance of water quality management and aquaculture techniques.  In addition, Mr. Viteri was awarded funds to purchase a composter for the garden.  He then organized some students gather waste scraps from the cafeteria for the composter.  Mr. Viteri has attended the A.P.E.S reading for 7 years now and has served on the A.P.E.S. curriculum committee from 2016-2020 as the College Board Advisor.  Currently, Mr. Viteri is diving into the world of herpetology and hopes to share his knowledge of captive breeding techniques and snake behavior with anyone who would like to learn. 
---
European History: Katie Landsea (In-Person & Online)
Katie Landsea has been teaching AP European History at Coral Gables Senior High for twenty years in Miami, Florida. She serves as the AP European History trainer for Miami-Dade County Public Schools' Division of Advanced Academics and as a mentor for new teachers throughout the district. She has served at the AP European History Reading for the past fifteen years as a reader, table leader and question leader for the short answer, long-essay and document-based questions.  For the past two years, she has served as an Exam Leader, overseeing different forms of the document-based question.  She delivered AP Live lessons during the pandemic in 2020 and AP Live review sessions for the College Board and was the lead teacher for the AP Daily videos available to teachers on AP Classroom. In addition, Katie has written curriculum and test items for McGraw-Hill and most recently, worked on reorganizing the Spielvogel test bank and Fast Track to a Five review book to align with the current course and exam description for AP European History.  
---
 
French Language and Culture: Deanna Scheffer (In-person & Online)
 Deanna Scheffer teaches all levels of French in St. Augustine, FL. Her school is an AP/IB school and she prepares her students for both exams. She is used to having combo level courses. She is involved in AP French Language and Culture Leadership as the AP Daily Live Lead and as the Assistant Chief Reader in addition to being an AP Consultant and Mentor. She is currently on the College Board Instructional Design Committee and the AATF Executive Board. She served on the College Board World Language Commission to create the AP French Language and Culture Curriculum Framework, as well as on The College Board Best Practices in College Courses Committee, The College Board Exam Form Committee and The College Board Curriculum Design and Assessment Committee. She served two terms as the CBA liaison between The College Board and ETS while on the AP French Language and Culture Test Development Committee. She was part of the National Board for Professional Teaching Standards Committee. She served three terms as the Florida Chapter AATF President and one term as the Florida National French Contest Coordinator. She is currently the AATF Region IV Representative. She has been awarded AATF Chapter President of the Year, Florida French Teacher of the Year, and FLENEF Teacher of the Year. She is also a Chevalier in the Palmes Académiques. 
---
German Language and Culture: Katrina Griffin (In-Person & Online)
Katrina is the 2017 ACTFL Teacher of the Year and a 2016-2017 Maryland Teacher of the Year finalist. As a nationally recognized leader in her field, she is a prolific presenter on topics such as student engagement and STEM and is passionate about creating interdisciplinary connections for students. She is the Treasurer for the American Association of Teachers of German, an AP College Board Consultant, and the department chair for World and Classical Languages at North County HS in Glen Burnie, Maryland. Katrina earned a Master's in German at Middlebury College in 2007, and B.A. degrees in International Politics and German at Penn State University in 1999.
---
U.S. Government and Politics: Anthony Dalasio (In-Person & Online)
Anthony Dalasio served as a teacher and Humanities Department Chairman at Lackawanna Trail Junior-Senior High School for the past 34 years.  Mr. Dalasio has been an Advanced Placement teacher for the past 22 years, teaching a variety of Advanced Placement courses, including US Government and Politics, US History, Macroeconomics, Microeconomics, and Comparative Government.  He has served as a Reader and or Table Leader for the AP Exams in US Government and Politics, Economics, and Comparative Government, and he has presented workshops and institutes for the College Board in AP US Government and Politics for the past sixteen years.  In addition to his Advanced Placement work, he has also been an adjunct faculty member at Sacred Heart University, University of Phoenix, Marywood University, the University of Scranton and at Keystone College, serving in both the History and Education departments. The highlight of his teaching career has been his participation in the Fulbright Teacher Exchange Program, a full year teacher exchange in which Mr. Dalasio taught at a magnet school in Estonia. In his spare time, Mr. Dalasio is an avid golfer and Philadelphia sports fan, and he resides in Clarks Green, Pennsylvania with his wife, Mary Barbara.
---
Human Geography: Pamela Wolfe (In-Person & Online)
A teacher and department head at the Yeshiva of Greater Washington in Silver Spring, MD since 1980, Pamela Wolfe has been teaching AP European History for 29 years and has taught the AP Human Geography course since its inception in 2001. She served as an AP Reader for European History for 15 years and as a Table Leader for 6 years. She was on the AP Test Development Committee which writes the AP European History exams. She runs College Board programs in AP European History and AP Human Geography, and teaches AP Summer Institutes for teachers in both subjects at schools such as Manhattan College, Goucher College, Rutgers University, University of South Florida, the College of William and Mary, and Penn State University. In the past two years she has been a co-author of the McGraw-Hill OnBoard Program for AP Human Geography, has helped rewrite Spielvogel's Western Civilization textbook, and has co-authored the book Fast Track to a Five-AP European History and the Cengage online test bank for AP European History. She has served as a consultant for textbook companies, reviewing Human Geography texts and online programs for AP students in AP European History, AP World History, AP U.S. History and AP Psychology.
---
Italian Language and Culture: Ida Giampietro Wilder (In-Person & Online) 
Ida Giampietro Wilder: teacher of Italian at Greece Athena High School in Rochester, NY (38th year), taught Italian and the Foreign Language Methods course at Nazareth College of Rochester for 14 years. Also currently, teaches Italian at SUNY Brockport and Rochester Institute of Technology. In addition, she was a consultant and writer for Regents exams for the NY State Education Department; co-chair for the ACTFL National Standards for Italian; presenter throughout the country on teaching strategies; organizer of yearly trips or exchanges to Italy, writer of curriculum guides levels 1- AP® for Greece Central School District, various articles on the study of Italian, "Seguimi", a communicative workbook and reviewed textbook for several publishers. She was a member of the Italian AP® Task Force; development committee ; reader; table and question leader, currently College Board Consultant and teacher of the Italian AP® Summer Institute at various colleges. 2016 recipient of the President Award from NYSAFLT.
---
Macroeconomics: Theresa Fischer (In-Person & Online)
Theresa Fischer has been a teacher at Ridgefield High School in Ridgefield, Ct and began the AP Economics program in 2000.  She presently serves on the Macroeconomics Committee for review questions for teachers in their curriculum guide.  She served on the College Board Development Committee for Macroeconomics/Microeconomics from 2008-2012 and at the AP Reading.  She has been a Table Leader at the AP Reading for question 1 in Macroeconomics for the past five years. She was also awarded the Alfred Sloan Award for Economics Education by the Council for Economic Education 2015.  In her free time, she shares her passion for teaching Economics with students via clubs and for teachers via workshops.  She loves to travel, read and watch great movies, which she then incorporates into her classes.
---
Music Theory: Joel Phillips (In-Person & Online)
Dr. Phillips is professor of Music Theory and Composition at Westminster Choir College of Rider University and recipient of its Distinguished Teaching Award. His compositions have received a number of awards and are published by G. Schirmer, Inc., Transcontinental Music Publications, GIA, and Mark Foster Music (Shawnee Press). Phillips is co-author of three textbooks in W. W. Norton's Musician's Guide series. A member of the editorial review board of the Journal of Music Theory Pedagogy, Phillips served for five years as chief faculty consultant for the Advanced Placement Examination in Music Theory. He is a founding member and past president of the Music Theory Society of the Mid-Atlantic and a former editor of the Society for Music Theory's Newsletter.
---
Physics 1: Barry Panas (In-Person & Online)
Barry Panas is a high school physics teacher at St. John's-Ravenscourt School in Winnipeg, Canada where he teaches both AP Physics 1 and AP Physics 2. His teaching is not limited to the classroom as he has performed physics demonstrations on live television and online via his YouTube channel "The Physics Dojo." He has graded AP Physics exams numerous times as both a reader and as a table leader and has presented numerous AP Physics APSI's across the US, Canada, and overseas. He is the author of Strive for a 5 – Preparing for the AP® Physics 1 Examination and one of the authors of the Teacher's Edition of College Physics for the AP® Physics 1 Course, 2nd edition. 
---
Psychology: Jessica Flitter (Online)
 Jessica Flitter, MA, teaches AP® Psychology at West Bend East High School in West Bend, Wisconsin.  She has taught the course since 2004 and has participated in the AP® Reading since 2014 as a Reader, Table Leader, Rubric Master, and Question Leader. Ms. Flitter was awarded the 2015 APA TOPSS Charles T. Blair-Broeker Excellence in Teaching Award for exemplary teaching, the advancement of psychology, and commitment to excellence. She has presented at regional and national conferences for AP Psychology teachers.  Jessica Flitter is also the co-author of two editions of the review book AP Psychology All Access with Nancy Fenton.  She has served on the high school educator content advisory board for the 3rd edition of the Myers-DeWall AP Psychology textbook, worked on several AP Psychology assessment banks, contributed to the iScore5™ Psych app, and writes for Books for Psychology Class, a blog that summarizes psychology-related books and provides class activities for teachers and students. She earned her BA in Psychology and Broad Field Social Studies at St. Norbert College and a MA in Quality Curriculum and Instruction at Marian University. She enjoys working with teachers to increase student interest and success in AP Psychology. Jessica's passion is all things psychology. She also enjoys spending time with her husband and pug named Sigmund.
---
Psychology: Joseph Swope (In-Person)
Joe Swope has been teaching AP Psychology for over 20 years. He has been an AP Reader and a Table Leader for over 10 years. He has served on the board of the American Psychological Association's committee for high school instructions. He is the author of the Cliffs' Notes Guide to AP Psychology. He holds a BA in psychology, a MA in teaching, and a PhD in psychology. 
---
Spanish Language and Culture: Maritza Sloan (In-Person & Online)
Maritza Sloan received a B.A. degree in Spanish from Oklahoma State University, a M.A. in Education from Hamline University in Minnesota, and an Ed.D. in Social Justice from the University of Missouri – Saint Louis. In addition to her degrees, she has studied Spanish literature at the University of Salamanca, and Santiago de Compostela in Spain.
This is her ninth year of teaching Spanish at Ladue Horton Watkins high School in Saint Louis, Missouri. Prior to Missouri, Maritza taught for 15 years at Plano Independent School District in Texas where she started the AP Spanish Literature curriculum for the district. 
Maritza is a College Board AP consultant for Spanish Language and Culture and Spanish Literature and Culture.  She has presented many Spanish Language and Literature workshops and sessions at AATSP, APAC, MFLA, SWCLT, CSCTFL and ACTFL. Maritza is the Past President for the American Association of Teachers of Spanish and Portuguese, AATSP and served as the Secondary Education member and then Co-Chair of the Curriculum Development Committee for AP Spanish Language and Culture from July 2012 till June 2019. She is a Co-Author of EntreCulturas 1 a Spanish text book. In 2012 she was named Texas Foreign Language Teacher of the year.
---
Spanish Literature and Culture: Monica Friedmann (In-Person & Online)
Monica Friedmann, Ph.D., is a three-time graduate of the University of Pennsylvania, where she received her Ph.D. in Medieval Spanish Literature. She taught at Bryn Mawr College, at the Facultad de Humanidades in her native Uruguay, and at Florida Atlantic 
University in Boca Raton, Florida. She recently retired after teaching Advanced Placement Spanish Language, and Advanced Placement Spanish Literature for 18 years at Spanish River Community High School in Boca Raton, Florida. She is an AP Spanish Language Reader and endorsed Consultant for AP Spanish Language & AP Spanish Literature for the College Board.
---
 Statistics: Doug Cashing (In-Person & Online) 
Professor Emeritus of Mathematics at St. Bonaventure University; reader or table leader at the AP Statistics Reading every year since 1997 (the first year the exam was given); teacher of introductory and advanced statistics, calculus, and a variety of other math courses; supervisor of student teachers; previous chair of the department.
---
U.S. History: Scott Horton (In-Person & Online) 
Scott Horton has been a social studies teacher at Williamsville South High School since 1994. He began teaching Advanced Placement American History in 1998 and has served as a reader of the U.S. history exam since 2003 and a table leader since 2015. In addition, Mr. Horton has taught survey level American history courses in the history department at Buffalo State College since 2001. He has served in a variety of roles in Williamsville including assistant coach for the varsity ice hockey team, First Vice President for the Williamsville Teachers Association, and advisor to clubs including Guitar Club, Model U.N. and Chess Club. He lives in Getzville with his wife and two sons who are both graduates of Williamsville South.
---
World History: Kit Wainer (In-Person & Online)
 Kit Wainer teaches Advanced Placement World History at Leon M. Goldstein High School in Brooklyn, NY. He has been a teacher for more than thirty years and has taught AP History courses for 19 years. Kit is a Table Leader at the AP® Exam Reading. He is the author of Strive for a Five: Preparing for the AP® World History Exam (2019), a contributing author to Strayer and Nelson's Ways of the World, 4th edition (2019) and several articles on content and pedagogy for World History Connected and the Bulletin of World History. Kit also works as a mentor for new teachers and teachers who are new to AP World History.