Faculty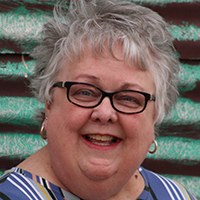 Art and Design: Joann M Winkler
Joann M Winkler is a teacher at Prince of Peace Catholic School and a former member of the Fine Arts Department at Clinton High School, where she has served as chairman of the art department for over 30 years and has been an adjunct professor at Mt. St. Clare College in Clinton, Iowa. Joann holds a BS in Art Education from Northern Illinois University and a MA in Art Education from Northeast Missouri State University. In addition, graduate credits have been earned from Carleton College, Maryland Institute College of Art, Rhode Island School of Design, and the School of the Art Institute of Chicago. Joann is a contributor to the National Vertical Team Guide for AP®Studio Art and has written numerous articles, reviews, lessons, and curricula for the College Board program.
Currently, Joann serves as a Reader or Table Leader for the AP®Art and Design exams and has held this position since 2001. She is also a consultant to the College Board*, where she conducts workshops helping art teachers establish their Advanced Placement Studio Art programs or Pre-AP®Studio Art programs. Joann has also presented various workshops on AP topics for several state and national Art Education conventions. Her consulting work has taken her throughout the United States since 2001 to locations such as Colorado, Illinois, Florida, Maine, Maryland, Minnesota, New York, Ohio, Vermont, Washington, and the Annual National AP Conference.
---
Art History: Yu Bong Ko
Yu Bong Ko is a Lecturer in Art History at Dominican College in N.Y. Previously, he taught AP Art History for 26 years at Tappan Zee High School, his alma mater. Currently, he is a "Coach" in AP Art History for the National Math and Science Initiative (NMSI), working with teachers and students from many parts of the country. As a presenter and session leader at College Board-endorsed AP Teacher Conferences and Summer Institutes since 1995, his travels have taken him to schools, colleges, and museums coast to coast, where he has worked with hundreds of outstanding and dedicated teachers. Yu Bong has scored in the AP examinations for 22 consecutive years, serving as Reader, Table Leader, and Question Leader. He is a past Co-Chair of the College Board's AP Art History Test Development Committee and recently completed service on the Curriculum Re-Design Committee to develop the new curriculum framework. In addition, as a former College Board Advisor to AP Art History Content and Professional Development, Yu Bong has contributed to two Curriculum Modules publications for teachers on concept-mapping strategies and thematic and cross-cultural approaches to teaching AP Art History. He graduated from Brown and Columbia Universities, where he studied Painting, Art History, and Art Education.
---
Art History: Sean Bayliss 
Sean Bayliss began teaching AP Art History at Arlington High School, near Poughkeepsie, NY, in 2006. A Reader of students' examinations since 2010, he served on College Board's AP Art History Development Committee from 2016 to 2020. Trained as a presenter of AP Summer Institutes in 2015, he became AP Art History's Lead Consultant in 2020, hosting meetings with the other consultants and recording videos on topics to be covered asynchronously in workshops. He has served on the College Board's Arts Advisory Committee and continues to write questions for the AP Art History Examination. Teaching studio art classes at Arlington since 2004, he also continues to exhibit his artwork. He received an MFA in Painting from the University of Massachusetts and a BA in Political Science from Williams College.
---

Biology: Phyllis Robinson
Phyllis Robinson has taught at St. Andrew's Episcopal School in Potomac, MD, since 1985. She is currently a College Board Endorsed Consultant, presenting one-day and week-long workshops for AP Biology. She has presented workshops sponsored by BSCS and NABT and has mentored new teachers at her school as New Teacher Coordinator. She has been a Reader for the AP Biology Exam since 2003 and has served as a Table Leader for the past five years. Phyllis earned a BA in Biology from UNC-Chapel Hill and a Master's in Life Sciences from UMD-College Park. In her free time, Phyllis is a Volunteer Ranger with the Maryland State Parks and plays ice hockey with her husband.
---
Calculus AB:
Christine Halloran
Christine Halloran is a math teacher at North Shore HS in Glen Head, NY.  During her 29 years there, she has taught AP Calc for 22 years (15 years AB and the past seven years BC).  Christine has mentored the other AP Calc teachers at her school and has served as an AP reader for six years.  Her education includes a BA in Mathematics from Elms College in Massachusetts, an M.Ed. from the University of Massachusetts, and an advanced degree in leadership from CW Post in NY.  She is enthusiastic about sharing activities and engaging students and always looks for new resources.  Christine loves to travel and has been a chaperone for multiple international trips with the music department at her school.
---

Calculus AB: Greg Timm
Greg Timm has taught mathematics at Roland Park Country School in Baltimore, Maryland, for 37 years. He has a B.A. in mathematics from Ithaca College and an M.E. D. in mathematics education from the University of Maryland. He has taught Advanced Placement Calculus for over 30 years and has been an AP Reader and Table Leader for 22 years. He has been an AP Calculus consultant since 2005. He also has taught AP Statistics at Roland Park and a Teaching Advanced Placement Calculus seminar at Towson University. He lives with his wife, Pat, in Ellicott City, Maryland, and has two grown children, Emily in Austin, Texas, and Zachary in Brooklyn, New York. He enjoys Baltimore Orioles baseball and all kinds of musical performances.
---
Calculus BC: Mark Howell
Mark Howell teaches AP Calculus at his alma mater, Gonzaga High School, a Jesuit boys' school in Washington, DC. He graduated from the University of Chicago (AB in Mathematics in 1976 and a Master of Arts in Teaching in 1981). During his 40+ year career at Gonzaga, he has taught math classes from Algebra through AP Calculus, as well as AP Computer Science. He authored many articles and activities involving the use of hand-held technology in the classroom and has spoken about it at conferences all around the world. He served as an advisor to both Hewlett Packard and Texas Instruments during the development of new handheld technology for mathematics education. Mark began working at the AP Calculus reading in 1989 and has served for 25 years as a Reader, Table Leader, Question Leader, and Exam Leader. He served on the AP Calculus Development Committee from 1997-2000. Mark is a co-author of "Be Prepared for the AP Calculus Exam" (Skylight Publishing), as well as articles in the College Board's Special Focus series. He has led dozens of AP Calculus summer institutes and workshops both in the United States and overseas and is a 2017 Presidential Awardee for the District of Columbia.
---
Calculus BC: Bill Semus
Bill Semus is a mathematics teacher at Cherry Hill High School East in Cherry Hill, New Jersey, where he has taught for the past 20 years. He graduated with a B.S. in Mathematics from St. Joseph's University in 2001 before earning his M.A. in Mathematics from the University of Pennsylvania in 2003. Bill began work as an AP Reader in 2009, and he has served as a Table Leader and Question Leader for the past eight years. Further, he has worked with ETS as an Outside Item Writer, where he has written questions for the Calculus AB and BC Exams, and he served as a member of the Test Development Committee for the SAT Mathematics Subject Tests.
Bill has a deep passion for teaching, which has been recognized through the Edith May Sliffe award for distinguished teaching at the high school level in 2006, the outstanding STEM teacher of the year in the Delaware Valley in 2016, and the University of Chicago's outstanding educator award in 2016.
---
Chemistry: William "Bill" Cumming
Bill Cumming has taught in Independent schools for over 40 years, including 15 years at Deerfield Academy (MA), where he was Department Chair and the holder of the Helen Childs Boyden Chair in the Teaching of Science. He began his career in Okotoks, AB, Canada, where he started the AP Program. In Alberta, he served as an Item writer and Head Marker for the Provincial Diploma Exams. He served on the American Chemical Society High School Examination Committee from 1998 to 2005 and has been an item writer for the Educational Testing Services (ETS) for inclusion on AP and SAT exams for many years. He, along with his wife Lisa, authored one of the labs in the AP Inquiry-Based Lab Manual and produced several units for the web-based resource AP Insight. Bill has worked as a College Board consultant, AP Reader, and Table and Question Leader for AP Chemistry for over 20 years and works with the National Math Science Initiative (NMSI) as a writer/mentor/coach. He is a retired NILOA/NCAA Lacrosse official and hockey coach. He came out of retirement a few years ago and is currently teaching in an inner-city school in Cleveland, Ohio, where he started their AP program. When not involved with chemistry education, he enjoys traveling, spending time with family, and almost anything that gets him outdoors.
---
Chemistry: Lisa Cumming
Lisa Cumming has taught Chemistry and AP Chemistry for 35 years, spending much of that career at Olmsted Falls High School – located in a suburb just west of Cleveland, Ohio. She started her career in Akron, Ohio, at an urban school while spending summers teaching in the Upward Bound Program. In addition, Lisa has taught at the University of Akron and at Cuyahoga County Community College, teaching chemistry, math, physics, and biology. Once she was well-established at Olmsted Falls High School, she started the AP Program with the introduction of AP Chemistry. More recently, Lisa introduced AP Seminar, with AP Research introduced the following year. Lisa is also quite involved in the AP Program outside of school as she has been an AP Reader since 2000 and then a Table Leader and is now a Question Leader. In addition, she wrote materials for AP Insight which targeted misconceptions in AP Chemistry, has been an item writer for the AP Chemistry Exam, co-authored a lab for the AP Inquiry-Based Lab Manual, and has helped to edit several chemistry textbooks. Lisa is also involved with the National Math and Science Initiative as a curriculum writer, teacher mentor, and coach, as well as tutoring chemistry for a private tutoring agency. When not involved in education, she and her husband enjoy spending time with their family of 4 girls, doing anything and everything outdoors, and traveling the world.
---
Computer Science A & Computer Science Principles: Marvin Hoffert
After working as a Software Engineer for nearly two decades, Mel transitioned to a teaching career in the late 90s. His (Randy) Pausch-oriented approach to secondary education focuses on 3D modeling and animation, virtual reality, and College Board initiatives (AP Computer Science A and Principles Table Leader, AP Computer Science A and Principles Consultant).
---
English Language and Composition: Steve Klinge
Steve Klinge teaches AP English Literature and AP Language at Archmere Academy in Claymont, Delaware. He has been a reader for both the Lit and the Language exams. As a College Board consultant in both Lit and Lang, he has conducted workshops and summer institutes within the US and abroad. He also has been an AP student workshop leader for the National Math & Science Initiative. For Bedford publishers, he has contributed to the teacher editions of The Language of Composition (3e) and Literature & Composition (2e and 3e), the AP edition of 50 Essays (5e), and American Literature and Rhetoric. He has worked with several other publishers as a reviewer of AP textbooks and a writer of teacher support materials. He also writes about pop music for the Philadelphia Inquirer and other publications.
---

English Language and Composition: Daniel O'Rourke
Dan earned his BA and MA degrees in English Literature at Villanova University, and over the course of his 32-year career, he has taught a wide variety of English courses at four very different high schools in and around his hometown, Chicago. He currently teaches the AP English Language & Composition class at Riverside Brookfield High School, where he's taught for the last 19 years. Dan has been a National Board-Certified Teacher since 2010 and a consultant for College Board since 2016 and loves sharing ideas with and learning from his colleagues involved in education. This past year he has started working as an AP English Language Mentor for the College Board as well. Playing various roles (i.e. Reader, Table Leader and Question Leader) at the AP Reading since 2003 and participating on the College Board's AP English Language Instructional Design Team (mapping out the new Course and Exam Description and online resources) has provided Dan with valuable insights into assessing and teaching student reading and writing. Dan's academic work has been published by Bedford, Freeman, and Worth in the Teacher's Edition of The Language of Composition, 3rd Edition (2018). In addition, Dan regularly presents at state and national conferences and webinars--most recently Marco Learning's November 2020 Pop-Up PD session, "Teaching for Transfer," and the 2019 College Board National Forum in Washington, DC.
---

English Literature and Composition: Dr. Minaz Jooma
Dr. Minaz Jooma holds graduate degrees in English Ed. and Comp. Lit. from the University of London. She completed a Ph.D. in British Lit. and taught at Michigan State University (receiving the John Yunck Fellowship and the All-University-Excellence-in-Teaching Citation) and St. John's University, NY. She has been published in English and American Lit. and English Ed. and has spoken at many conferences in these fields. Dr. Jooma has taught AP English Lit. at Millburn High School, NJ, for over 25 years and received the Presidential Distinguished Teacher Award for her work there.
Dr. Jooma's contributions to the AP program include serving as Co-Chair of the College Board's AP Lit. & Comp. Test Development on the Academic Advisory and APAC Steering Committees. She worked with the AP English Director on the English Literature & Composition Course and Exam Guide (CED) and serves on the Pre-AP Committee, designing curriculum and assessment for grades 9-11. Dr. Jooma has also held key positions in AP test scoring, including Exam Leader, Question Leader, and writer of the commentaries posted on AP Central.
Committed to developing sound teacher resources, Dr. Jooma worked on the Teachers Manual for Literature and Composition: Reading, Writing, Thinking (Bedford St. Martin's) and contributed materials to AP Central. She co-authored a Curriculum Module, AP English Literature: Developing Analytical Skills Through Poetry, for College Board. A member of the Board's Instructional Design Team and an Advanced NMSI Consultant, Dr. Jooma also creates resources for AP workshops and maintains strong ties with teacher education. She draws on this wide experience for her APSIs.
---
English Literature and Composition: Brian Sztabnik

Brian Sztabnik teaches AP English Literature and Composition at Miller Place High School in New York, where he is also the boys' varsity basketball coach. He has served as the College Board Advisor for AP Literature and Composition for the past six years; he is a member of the AP Literature Test Development Committee and is a part of the six-member College Board English Advisory Committee. He has been an AP Reader for the past six years and is the creator and moderator of the AP Literature Facebook group. He has presented at the AP Annual Conference, NCTE, and the New York State English Council Conference. In 2018, he was a finalist for the New York State Teacher of the Year. Brian is also the voice of Talks with Teachers, a top education podcast on iTunes, and an award-winning blogger for Edutopia. His writings have appeared in EdWeek, Heineman, and Teaching Channel.
---
English Literature and Composition: Nichole Wilson
Nichole Wilson has taught Advanced Placement English Literature and English 4 at William Mason High School in Cincinnati, Ohio, for 22 years. She is the Grade 12 ELA Team Leader at Mason, a Teacher Leader Liaison/Ambassador for the state of Ohio, and a co-chair for the Ohio Teacher Leadership Summit (2021, 2022).
She is an AP English Literature Consultant, Mentor, Exam Reader, and Exam Table Leader. She has spoken about best practices at several conferences, including the Advanced Placement Annual Conference (2017, 2018, 2019), the College Board's National Forum (2013, 2015, 2017), the Ohio Teacher Leadership Summit (2020, 2021), and NCTE (2021). She will be presenting at NCTE 2022.
Additionally, she was an organizer and speaker for Mosaic 2020 and Mosaic 2021, the unofficial AP English Literature & Language Conference. Nichole has also reviewed and contributed to several literature textbooks, including the third edition of the Bedford Literature and Composition Teacher Edition (2022).
Through the J. William Fulbright program, Nichole taught Literature, Language, and Media Studies at East Norfolk Sixth Form College in England. She worked as a journalist for a daily newspaper and as a Public Relations Director and adjunct instructor at the university level.
---
Environmental Science: Andrew Milbauer
Andy Milbauer received a BS in Zoology and a BS in Biological Aspects of Conservation from the University of Wisconsin, Madison. He also earned an M. Ed from the University of Minnesota, Twin Cities. He began teaching in 1999. His teaching experience includes outdoor classrooms, including tall ships along the East Coast as well as traditional classrooms. He understands the complexities of urban classrooms and other challenges unique to rural schools. Having strong experience in public and private schools, Andy provides empathy and ideas appropriate for all classrooms.
In his workshops, he provides lab activities that can be affordably done in most schools. He also strives to use "green chemistry," where all lab activities use safer chemicals. He feels it isn't good to generate hazardous waste in a course that addresses challenges with hazardous waste. He is a strong supporter of finding appropriate ways to bring students outdoors. His workshop will provide indoor and outdoor activities. He also helps teachers improve students' achievements on Free Response Questions by identifying common misconceptions.
Andy and his husband moved to Costa Rica from Colorado in 2020. They share their home with two rescued dogs: Linda and Spike. He continues to work in education. His hobbies include gardening, getting fresh air, learning the plants and animals of his new home, and learning Spanish.
---
Environmental Science: Katherine Morris
Kati Morris is an Upper School Science Instructor at Canterbury School in Fort Myers, Florida. Alongside her AP Environmental Science and Honors Chemistry classes, she oversees the Canterbury Upper School Independent Student Research program. She has taught biology, chemistry and environmental science for thirteen years, ten of which were at Title 1 public schools. Kati has also served as an AP Reader since 2016 and is one of eight teachers featured in the AP Daily videos included on the AP Classroom platform.
---
European History: Katie Landsea
Katie Landsea has taught AP European History at Coral Gables Senior High for twenty years in Miami, Florida. She serves as the AP European History trainer for Miami-Dade County Public Schools' Division of Advanced Academics and as a mentor for new teachers throughout the district. She has served at the AP European History Reading for the past fifteen years as a reader, table leader, and question leader for short-answer, long-essay, and document-based questions. For the past two years, she has served as an Exam Leader, overseeing different document-based questions. She delivered AP Live lessons during the pandemic in 2020 and AP Live review sessions for the College Board and was the lead teacher for the AP Daily videos available to teachers on AP Classroom. In addition, Katie has written curriculum and test items for McGraw-Hill and most recently worked on reorganizing the Spielvogel test bank and Fast Track to a Five review book to align with the current course and exam description for AP European History.
---
European History: Jim Kirkcaldy
Jim Kirkcaldy teaches AP European History in Hingham, Massachusetts. Jim has been an active AP workshop leader throughout the U.S. and Canada. He has taught AP European history for over 40 years and has been a reader and table leader for most of those years. He also has presented at numerous AP National conferences. He has published numerous articles on European History. He has offered specialized AP European History workshops on intellectual movements, diplomatic history, and the integration of the arts into AP European History.
---
European History: Kenneth LeSage
Ken LeSage is a certified College Board consultant with 28 years of teaching experience at Lewis-Palmer High School. Nestled at the foot of Pikes Peak, this public school is the only one in Colorado to be awarded the distinction of being on the AP honor roll for four consecutive years. He has 24 years of experience teaching AP European History. He has been a Reader for 20 years of the European History Exam. He has served as a Table Lead for the Short Answer Questions since their implementation. Ken uses his extensive global travels and his Professional Learning Communities to keep his content up to date and his teaching style accessible and relevant. He received his undergraduate degree from the University of Colorado at Boulder and his Master's in Education from the University of Colorado at Colorado Springs.
---
French Language and Culture: Deanna Scheffer
Deanna Scheffer teaches all levels of French in St. Augustine, FL. Her school is an AP/IB school, and she prepares her students for both exams. She is used to having combo-level courses. She has been involved in AP French Language and Culture Leadership and is the current AP Daily Live Lead. She also serves on the College Board Instructional Design Committee. She served on the College Board World Language Commission to create the AP French Language and Culture Curriculum Framework, as well as on The College Board Best Practices in College Courses Committee, The College Board Exam Form Committee, and The College Board Curriculum Design and Assessment Committee. She served two terms as the CBA liaison between The College Board and ETS while on the AP French Language and Culture Test Development Committee. She has been awarded AATF Chapter President of the Year, Florida French Teacher of the Year, and FLENEF Teacher of the Year. She is also a Chevalier in the Palmes Académiques.
---
German Language and Culture: Katrina Griffin
Katrina is the 2017 ACTFL Teacher of the Year. As a nationally recognized leader in her field, she is a prolific presenter on topics such as student engagement and STEM and is passionate about creating interdisciplinary connections for students. She is a former ACTFL elected board member and former Treasurer for the American Association of Teachers of German. Katrina works for the College Board as an AP German Consultant, the facilitator of the AP German Community, and a Reader/Table Leader during exam scoring. She is the department chair for World and Classical Languages at North County HS in Glen Burnie, Maryland. Katrina earned a Master's in German at Middlebury College in 2007 and B.A. degree in International Politics and German at Penn State University in 1999.
---
Human Geography: Jeanne Shin-Cooper
Jeanne Shin-Cooper is a social science teacher at Buffalo Grove High School, located in the northwest suburbs of Chicago. She is in her 18th year of teaching. In addition to AP Human Geography, Shin-Cooper teaches a dual-credit World Religions course and a Human Geography course for EL students.
Regarding College Board, Shin-Cooper has been an AP Reader for seven years and finds the experience rewarding. She completed her Masters in Geography at the University of Oregon. In 2018, she was one of twelve AP Human Geography teachers selected for a fellowship to travel to South Korea. It was a rewarding experience rooted in the importance of geographical naming and toponyms. In addition to Korea, she's traveled to over 25 countries and six continents.
Shin-Cooper is married to a fellow social science teacher with two young sons. For fun, we mostly play a lot of sports. I am their sideline mama for soccer/hockey/tennis, and they are my sideline babies for field hockey. In their last spare moments, you can find her on TV for the Big Ten Network as a color commentator for field hockey during the fall season.
---
Human Geography: Celeste Reynolds
Celeste Reynolds has been teaching at Mashpee Middle High School for twenty-one years and has been teaching Advanced Placement Human Geography for the past thirteen years. She also teaches Women's Studies, World History, and Current Events and is the coordinator for Senior Seminar. Celeste is also an Advanced Placement reader for the College Board, a member of the steering committee of TeachOSM, on the Teacher Advisory Board for the American Geographical Society, and serves on the Board of Directors for the National Geographic Education Council. She is passionate about geography education.
---
Italian Language and Culture: Ida Giampietro Wilder
Ida Giampietro Wilder is a teacher of Italian at Greece Athena High School in Rochester, NY (38th year), having taught Italian and the Foreign Language Methods course at Nazareth College of Rochester for 14 years. Also, she teaches Italian at SUNY Brockport and Rochester Institute of Technology. In addition, she was a consultant and writer for Regents exams for the NY State Education Department; co-chair for the ACTFL National Standards for Italian; presenter throughout the country on teaching strategies; organizer of yearly trips or exchanges to Italy, writer of curriculum guides levels 1- AP® for Greece Central School District, various articles on the study of Italian, "Seguimi," a communicative workbook and reviewed textbook for several publishers. She was a member of the Italian AP® Task Force; development committee; reader; table and question leader, and currently a College Board Consultant and teacher of the Italian AP® Summer Institute at various colleges. 2016 recipient of the President Award from NYSAFLT.

---
Macroeconomics: Theresa Fischer
Theresa Fischer is an adjunct professor at Fordham University and Iona University, teaching the Intro classes of Micro and Macro Economics.

She has been a Macro/Micro teacher at Ridgefield High School in Ridgefield, CT, for several years and has developed the AP Economics program at the school. She has participated in Euro Challenge and Fed Challenge, successfully winning several years.
Fischer has been a grader of AP Economics since 2000 and has served as a Table Leader for the last eight years. She has served on the Development Committee, which writes the exams for the AP Economics course and was also on the team creating the CED for teachers in Macroeconomics.
---
Macroeconomics: David Mayer

Mayer has been working with students and teachers of AP Macroeconomics for the last eighteen years and with guiding principles to keep the subject fresh, interesting, and applicable to our daily lives. That is no small order considering the subject matter. He has written some books on the subject, scored the exam, and conducted in-person and virtual professional development around the USA and China.
---
Music Theory: Joel Phillips
Dr. Joel Phillips is a Professor of Music Theory and Composition at Westminster Choir College and recipient of Rider University's Distinguished Teaching Award. His compositions have received a number of awards and are published by G. Schirmer, Inc., Transcontinental Music Publications, GIA, and Mark Foster Music (Shawnee Press).
Phillips is co-author of several textbooks in W. W. Norton's Musician's Guide series. The Musician's Guide to Aural Skills: Ear-Training and The Musician's Guide to Aural Skills: Sight-Singing, Rhythm Reading, Improvisation, and Keyboard are now in their fourth edition. The Musician's Guide to Fundamentals, now the most widely used rudiments text, is in its third edition. The Musician's Guide: Fourth AP Edition is the most widely used text in the AP Music Theory community.
A member of the editorial review board of the Journal of Music Theory Pedagogy, Phillips served for five years as Chief Faculty Consultant for the Advanced Placement (AP) Examination in Music Theory and the longest-serving College Board presenter for AP Music. Phillips is a founding member and past president of the Music Theory Society of the Mid-Atlantic and a former editor of the Society for Music Theory's Newsletter.
Phillips was the Grand Prize Winner in the 2015 Bulwer-Lytton Fiction Contest, an international competition that selects from among thousands of entries the supposed opening sentence to the worst of all possible novels.

---
Physics I & II: Barry Panas 
Barry Panas is a high school physics teacher at St. John's-Ravenscourt School in Winnipeg, Canada, where he teaches both AP Physics 1 and AP Physics 2. His teaching is not limited to the classroom, as he has performed physics demonstrations on live television and online via his YouTube channel, "The Physics Dojo." He has graded AP Physics exams numerous times as both a reader and as a table leader and has presented numerous AP Physics APSIs across the US, Canada, and overseas. He is the author of Strive for a 5 – Preparing for the AP® Physics 1 Examination and one of the authors of the Teacher's Edition of College Physics for the AP® Physics 1 Course, 2nd edition.
---
Psychology: Jessica Flitter
Jessica Flitter, MA, teaches AP® Psychology at West Bend East High School in West Bend, Wisconsin. She has taught the course since 2004 and has participated in the AP® Reading since 2014 as a Reader, Table Leader, Rubric Master, and Question Leader. Ms. Flitter was awarded the 2015 APA TOPSS Charles T. Blair-Broeker Excellence in Teaching Award for exemplary teaching, the advancement of psychology, and commitment to excellence. She has presented at regional and national conferences for AP Psychology teachers. Jessica Flitter is also the co-author of two editions of the review book AP Psychology All Access with Nancy Fenton. She has served on the high school educator content advisory board for the 3rd edition of the Myers-DeWall AP Psychology textbook, worked on several AP Psychology assessment banks, contributed to the iScore5™ Psych app, and writes for Books for Psychology Class, a blog that summarizes psychology-related books and provides class activities for teachers and students. She earned her BA in Psychology and Broad Field Social Studies at St. Norbert College and a MA in Quality Curriculum and Instruction at Marian University. She enjoys working with teachers to increase student interest and success in AP Psychology. Jessica's passion is all things psychology. She also enjoys spending time with her husband and pug named Sigmund.
---
Psychology: Nick Fernandez
Nick Fernandez is a teacher of AP Psychology at Livingston High School in Livingston, NJ. He has been teaching in Northern New Jersey for the past 17 years, 13 of which have been exclusively AP Psychology. Early in his teaching career, he worked closely with the Bergenfield School District in creating an open-enrollment AP Psychology course from the ground up. This course was met with great excitement and enthusiasm as each year, his schedule consisted of five sections with 30 students each. For the past four years, Nick has continued to teach AP Psychology at Livingston High School exclusively. In addition to teaching AP Psychology, Nick has served as a Reader for the AP Psychology exam since 2014 and as a Table Leader since 2017. Early in 2020, he was hired by the College Board to serve as a consultant for their AP Summer Institutes (APSI) and their one-day regional workshops.
Additionally, he was a member of the online faculty for the Virtual High School (VHS Learning) out of Maynard, MA. Nick was with VHS Learning from 2014-2022, teaching AP Psychology during the school year and Criminology during the summer. He earned his BAs in Criminal Justice, History, and Secondary Education at Caldwell University and an MA in Curriculum and Instruction, also from Caldwell University. When he is not immersed in AP Psychology, Nick enjoys spending time with his family, cooking, and traveling.
---
Spanish Language and Culture: Yensen Lambert
Yensen Sierra Lambert has been involved with the AP Spanish Language and Culture program for ten years. Her experience ranges from teaching at the middle and high school level to participating in the annual AP Reading as a Table Leader to co-authoring an AP Spanish textbook. Her objectives as an educator have been to help students complete the AP exam successfully, to prepare them for the world beyond AP, and to foster enthusiastic interest and love of the Spanish language. Recently, she was named Connecticut's Language Teacher of the Year. She lives with her teenage son in Connecticut, where she teaches AP Spanish Language and Culture and chairs a world languages department at a private school.
---
Spanish Literature and Culture: Maritza Sloan
Maritza Sloan received a B.A. degree in Spanish from Oklahoma State University, an M.A. in Education from Hamline University in Minnesota, and an Ed.D. in Social Justice from the University of Missouri – Saint Louis. In addition to her degrees, she has studied Spanish literature at the University of Salamanca and Santiago de Compostela in Spain.
This is her ninth year of teaching Spanish at Ladue Horton Watkins High School in Saint Louis, Missouri. Before Missouri, Maritza taught for 15 years at Plano Independent School District in Texas, where she started the AP Spanish Literature curriculum for the district.
Maritza is a College Board AP consultant for Spanish Language and Culture and Spanish Literature and Culture. She has presented many Spanish Language and Literature workshops and sessions at AATSP, APAC, MFLA, SWCLT, CSCTFL, and ACTFL. Maritza is the Past President of the American Association of Teachers of Spanish and Portuguese, AATSP, and served as the Secondary Education member and then Co-Chair of the Curriculum Development Committee for AP Spanish Language and Culture from July 2012 till June 2019. She is a Co-Author of EntreCulturas 1, a Spanish textbook. In 2012 she was named Texas Foreign Language Teacher of the year.
---
Spanish Literature and Culture: Kerry Sullivan
Kerry Sullivan has been an educator for over thirty years teaching Spanish in secondary and higher education and has been a member of the Spanish S.A.T. test development committee for three years.
Currently, she teaches AP/IB Spanish at Winter Springs High School, in Winter Springs, Florida. She has worked for Seminole County Public Schools supporting World Languages in various endeavors: writing curriculum and assessments for World Languages, textbook adoption, and imparting workshops to World Language teachers in the district. In 2015 she was awarded Seminole County's World Language teacher of the year. She currently directs the Spanish Language B program for the D.P. International Baccalaureate courses at Winter Springs High School.
Kerry Sullivan has been a College Board consultant since 2001 training AP Spanish teachers at one day workshops and APSI's throughout the country. She has presented at national conferences on various topics of language acquisition and Hispanic Literatures. She has been an AP exam Reader since 1999.
She served in a leadership capacity as a Table Leader at the AP Spanish Language Readings and currently reads for AP Spanish Literature. In 2014, Sullivan returned to graduate school at the University of Central Florida as a non-degree seeking graduate student to study Hispanic Literatures. Her B.A. in Spanish is from Stetson University in DeLand, Florida. She studied Spanish for one month in Caracas, Venezuela and another month in Guadalajara, México. Sullivan studied in Spain during her Junior Year Abroad in Madrid, at the Universidad Complutense de Madrid. She returned to Spain as a graduate student with Bowling Green State University of Ohio where she earned an M.A. in Spanish with a concentration on Peninsular Literature and Civilization. She has also studied one month in Moscow as a Fulbright-Hays GPA to Russia participant with the University of Central Florida. In the 2021-2022 school year, she completed a Master's degree in Education Leadership from Stetson University.
---
Statistics: Doug Cashing
Professor Emeritus of Mathematics at St. Bonaventure University; the reader or table leader at the AP Statistics Reading every year since 1997 (the first year the exam was given); teacher of introductory and advanced statistics, calculus, and a variety of other math courses; supervisor of student teachers; previous chair of the department.
---
Statistics: Dr. Joseph Oechsle
Rev. Dr. Joseph Oechsle has taught at the Malvern Preparatory School for 38 years - AP Calculus AB and BC, AP Statistics, AP Latin, AP German, Comparative Religions, Logic, Introduction to Philosophy, and all levels of mathematics. He also is an adjunct in mathematics at St. Joseph's University, Villanova University, and Montgomery County Community College. He is a faculty consultant to the College Board in AB Calculus AB and BC and AP Statistics. He presents annually in the Kentucky Science and Technology Corporation program for rural public schools and Project Reach in New York. He has read the AP Calculus and AP Statistics examinations and is now an AP Table Leader in Statistics. He has been an active member of the Norriton Fire Company for 40 years.
---
Statistics: Paul Buckley
Paul Buckley has a BA in Mathematics from the College of the Holy Cross and a Master in Education from George Washington University. He has been teaching math for 29 years, the last 25 of which have occurred at his alma mater, Gonzaga College High School, in Washington, DC, where he is also currently serving as the Chair of the Math Department.  For the past 22 years, he has taught AP Statistics. For the past 15 years, he has attended the AP Reading for Statistics, serving first as a Reader, then Table Leader, and then Early Table Leader/Rubric Team Member. He has presented on the teaching of Statistics locally in DC and nationally at NCTM and AP Annual Conferences.  He was a member of the Instructional Design Team that created the CED Binder. He has been a content creator/consultant for Collegeboard, Barron's, Hewlett Packard, the Practice of Statistics (5th and 6th editions), and the Skew the Script website. He also runs the theater program at his high school.
---
Statistics: Steven Willott
Steve Willott began teaching statistics in the 2003-04 school year and taught AP Statistics for 18 years before retiring at the end of the 2021-2022 school year. He taught middle and high school for 30 years and, during that part of his career, taught nearly every math course from 6th grade through AP Calculus BC. Steve has been an adjunct instructor in math at St. Charles Community College in Cottleville, MO, since the fall 2000 semester and was an adjunct in the School of Education at Lindenwood University in St. Charles, MO, for ten semesters, where he taught the Methods of Teaching Secondary Mathematics course. Steve served on various committees in the Francis Howell School District, most notably writing curriculum for several math courses during his 28 years there. He achieved National Board Certification in 2003. He was named the Francis Howell School District Teacher of the Year in 2007, and received the 2009 Presidential Award for Excellence in Mathematics and Science Teaching. Steve has presented at numerous workshops and conferences at the district, local, state, regional, and national levels. Steve attended Truman State University in Kirksville, MO, earning his B.A. in Mathematics and M.A. in Education.
---
U.S. Government: Bryan Ashkettle
Bryan Ashkettle is an AP US Government and Politics teacher at Solon High School near Cleveland, Ohio. This is his 28th year in the profession, with 20 years of experience teaching AP Government. He has been an AP Reader for 15 years and was hired by the College Board as an AP Consultant. He is also an adjunct professor and educational consultant for Ursuline College in Pepper Pike, Ohio. He received his Ph.D. in 2014 from Kent State University. His research interest is self-study as a tool for better instructional practice. 
---
U.S. Government: Christopher Lundgren
Christopher Lundgren is the Social Science Dept. Chair and AP U.S. Government & Politics and Economics teacher at KIPP Nashville Collegiate High School. A classroom teacher for 16 years, including six with APGov, Christopher has taught five different AP courses and history-focused resource classes for students who need additional support. He taught for eight years at private schools and is completing his eighth year at Collegiate, a charter school whose mission is to create a path to college for Nashville's students of color.
Christopher has served the College Board as APGov Mentor and Consultant and as an exam reader since 2018. In 2020, he was part of a two-person team that wrote daily APGov lesson plans for the KIPP Foundation's AP for All initiative, which is used by KIPP teachers throughout the country. The following year, he revised those lessons to reflect best practices for culturally responsive teaching of the APGov curriculum. In addition, Christopher trained KIPP APGov teachers from across the country in effective virtual instruction during online learning and serves as an instructional coach at Collegiate, helping social science teachers improve classroom management and their student's academic achievement. He has written assessment materials for several social science courses, including APGov, for Albert.io, a test-practice website.
In addition to academic instruction, Christopher is the Youth in Government advisor and Girls' Soccer coach for KIPP Collegiate, an instructor of Shotokan Karate, and serves on the board of the Tennessee Environmental Council. He holds a B.A. in Biology from the University of Chicago and master's degrees in religion and history from Yale and the University of Virginia, respectively. When not teaching or writing, Christopher spends time with his wife and three school-aged children and enjoys drinking espresso to keep up with them.
---
U.S. Government: Dr. Maria Schmidt
Dr. Maria Schmidt was the Supervisor of Social Studies K-12 for the Westfield Public Schools in Westfield, N.J. She taught social studies at Westfield High School and authored the curriculum, and initiated and taught the law-related education courses and the AP United States Government and Politics course there. She is an attorney, former adjunct professor of education at Seton Hall University, a former trustee of the NJ State Bar Foundation, and a member of its Law-Related Education Committee.
Dr. Schmidt has served as a Reader, Table Leader, and Question Leader at the annual scoring of the AP US Government and Politics examination and currently serves as a consultant for the College Board, leading AP workshops and summer institutes throughout the United States. She has authored teacher's guides for the teaching of the AP US Government and Politics course and has reviewed and edited AP US Government and Politics test preparation materials for various publishers. Over the past several years, she has worked with college textbook publishers in developing AP US Government and Politics teaching ancillaries for use with their U. S. Government and Politics textbooks.
---
U.S. History: Scott Horton 
Scott Horton has been a social studies teacher at Williamsville South High School since 1994. He began teaching Advanced Placement American History in 1998 and has been a reader of the U.S. history exam since 2003 and a table leader since 2015. In addition, Mr. Horton has taught survey-level American history courses in the history department at Buffalo State College since 2001. He has served in various roles in Williamsville, including assistant coach for the varsity ice hockey team, First Vice President for the Williamsville Teachers Association, and advisor to clubs, including Guitar Club, Model U.N., and Chess Club. He lives in Getzville with his wife and two sons, who are both graduates of Williamsville South.
---
World History: Kit Wainer
Kit Wainer teaches Advanced Placement World History at Leon M. Goldstein High School in Brooklyn, NY. He has been a teacher for more than thirty years and has taught AP History courses for 19 years. Kit is a Table Leader at the AP® Exam Reading. He is the author of Strive for a Five: Preparing for the AP® World History Exam (2019), a contributing author to Strayer and Nelson's Ways of the World, 4th edition (2019), and several articles on content and pedagogy for World History Connected and the Bulletin of World History. Kit also works as a mentor for new teachers and teachers who are new to AP World History.