Manhattan College Names Milo Riverso, Ph.D., P.E. as its New President
Dr. Riverso succeeds Brother Daniel Gardner, FSC, to become the College's 21st president.
The Manhattan College Board of Trustees announced today the appointment of Milo Riverso '81, Ph.D., P.E., as its 21st president. Dr. Riverso, an alumnus of the College, is a highly accomplished leader in the engineering and construction industries, has a deep understanding of the higher education landscape and a long history of service to Manhattan College. He succeeds Brother Daniel Gardner, FSC and begins his tenure on July 1.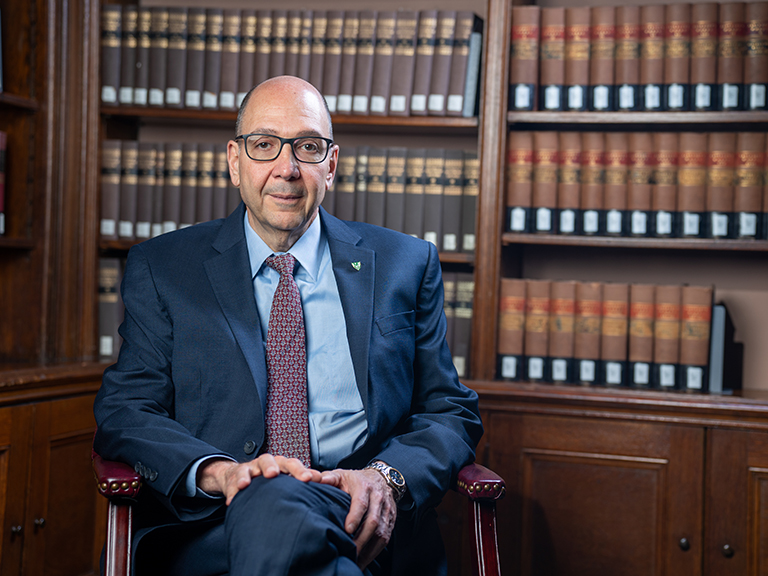 Manhattan College conducted a nearly four-month presidential search that attracted a diverse slate of candidates from across the country with a variety of backgrounds. The 10-person search committee was made up of trustees, faculty and administrators who engaged with the College community via listening sessions, conducted a rigorous selection and interviewing process. 
"Dr. Riverso is a visionary leader with a passion for education," said Stephen Squeri, chairman of Manhattan's board. "He is the ideal person to lead Manhattan College into the future. I am confident that he will build on the College's strong foundation and continue to advance its mission of providing a high-quality education to students from all backgrounds."
For nine years, Dr. Riverso was president and CEO of STV Group Inc., one of the nation's most prominent engineering, construction management, planning and architectural firms, before retiring from the organization in 2020. During his 15-year tenure at STV, he guided the firm through an unprecedented period of growth and profitability, overseeing many notable projects including the Freedom Tower, the 9/11 Memorial and Museum complex, and the redevelopment of LaGuardia Airport. 
"I am honored to be named the 21st president of Manhattan College," said Dr. Riverso. "I have a deep love for this institution and a strong commitment to its mission. I look forward to working with the College's talented faculty, staff and students to build on its success and prepare graduates for lives of personal development, professional success, civic engagement and service to their fellow human beings."
Before his tenure at STV, Dr. Riverso served as senior vice president at AMEC, a construction management company. From 1997 to 2001, he oversaw a staff of 900 employees as president and CEO of the New York City School Construction Authority (SCA). At the SCA, he was responsible for the capital improvements and new construction of New York City's public schools. The NYC SCA was widely regarded as one of the premier construction agencies in the nation under his leadership.
Dr. Riverso also works on behalf of numerous professional and academic organizations. He is the chair of the National Academy of Construction, a past trustee of the MOLES, and chair emeritus and fellow of the Construction Management Association of America. From 1998 to 2016, he served on the board of directors of the ACE Mentor Program of Greater New York, including eight years as board chair. He was named chair emeritus in 2016. He is a member of the Board of Advisors of the Center for Buildings, Infrastructure and Public Space at Columbia University and has served on the master's construction program curriculum review committee at NYU.  
Dr. Riverso received his Ph.D. in civil engineering from Purdue University in 1984 and a master of science in civil engineering, also from Purdue, in 1982. He earned a bachelor of engineering from Manhattan College in 1981, and is licensed as a professional engineer in New York, New Jersey, Connecticut and Pennsylvania.
For several years, beginning in 1989, he  was an adjunct professor in the Manhattan College civil engineering master's degree program. He also served on the Engineering Curriculum Review Committee for 25 years and on the Facilities and Development Committees since 1999. In addition, he was a member and president of the Jasper Mentor Program for over a decade. Dr. Riverso has been a member of the Manhattan College Board of Trustees since 2015 and in 2014 was awarded Manhattan's De La Salle Medal in recognition of his corporate leadership and dedication to the College.
Dr. Riverso has been the recipient of numerous awards and distinctions. In 2022, he received the Women Builders Council Champion Award. He was named 2012 Man of the Year by the New York Landmarks Conservancy and, in 2010, received the New York Building Congress George A. Fox Public Service Award. In 2003, Catholic Charities named him Man of the Year. He is currently a consultant to the architecture, engineering and construction industry and a board member of the Railroad Construction Corporation. 
Dr. Riverso and his wife Michele live in Scarsdale, New York. They are the parents of four grown children: Michael, Anthony, Nadia and Peter.