Alixandria James '23 Receives Joseph J. Gunn '30 Medal
James has spent her four years in college serving others and excelling academically.
Alixandria James '23 was awarded the Joseph J. Gunn '30 Alumni Senior Medal at the 2023 Spring Honors Convocation on Thursday, May 18.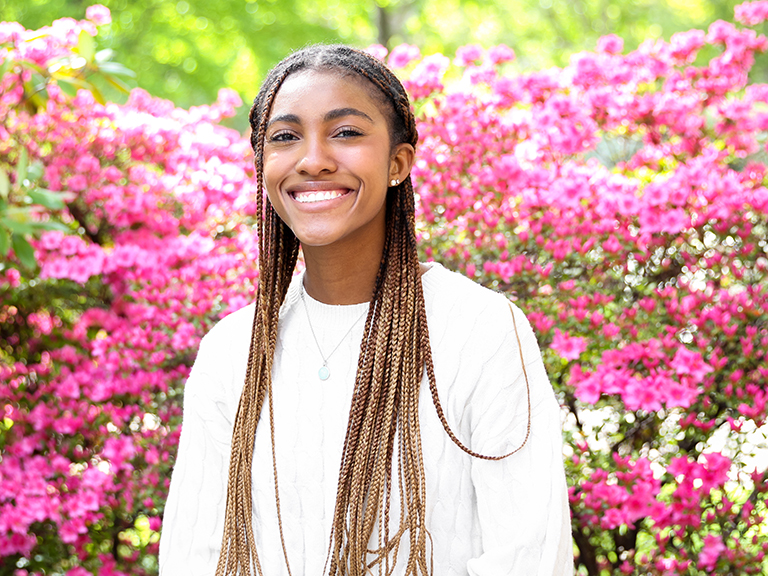 The Gunn Medal is given to a graduating senior, or seniors, who embody the College's Lasallian mission and have made a significant contribution to the College during their undergraduate years. It has been recognized throughout the years as one of the College's highest honors given to an undergraduate student.
James is a public health major, management minor and the first Manhattan College student to earn a Truman Scholarship. She was also selected as the undergraduate class of 2023 valedictorian and served as the 2022-23 student government's vice president for academic affairs.
She has impressed both classmates and her professors with her writing and research skills, intellect, work ethic and strength of character. James has a passion for social justice issues and has an innate ability to connect with professors, administrators and her peers.
"Ali is humble, hard-working, reflective and most of all, interested in learning and making the most of the opportunities available to her," said Evelyn Scaramella, Ph.D., associate professor of Spanish and Comparative Literature and co-director of the Lasallian Women and Gender Resource Center. "She uses her talent in research to benefit the communities around her from
spearheading cutting-edge research methods to lead a campus climate survey on race for students of color, to serving underrepresented communities in her work with New York Presbyterian in the healthcare field."
James completed her academic career with a 4.0 average and made the Dean's List in every semester. In addition to the Truman Scholarship and Gunn Medal, James has received numerous academic honors, including the Thomas H. Lindgren Medal for Excellence in Education which recognizes a student that has achieved excellence in their academic pursuits as well as making significant contributions to the life of Manhattan College and the School of Education and Health. As a junior, she received the Newman Civic Fellow, a national fellowship awarded to 173 students from around the country who have demonstrated a commitment to creating positive change in both local
and global communities.
James will pursue a summer internship with SAMHSA (Substance Abuse and Mental Health Services Administration), followed in the fall by a one-year, full-time position with the National Advisory Committee on Rural Health and Human Services (NACRHHS). The job with the NACRHHS is only available to Truman scholars. Both SAMHSA and the NACRHHS are part of the Department of Health and Human Services in Washington, D.C. In 2024, James plans to enroll in graduate school to earn a master's degree in public health with a focus on health policy.
"At Manhattan College, Alixandria is well-known and highly regarded on campus as she had touched the lives of many in our community," said Rani Roy, assistant professor of Public Health and associate provost. "I truly consider her a colleague."
"Fueled by the critical Lasallian attribute of service to others Alixandria has channeled her passion to various avenues of campus life including research, student government, the Lasallian Women and Gender Resource Center and the Diversity Council," said Terrence Gaffney '74, president of the Manhattan College Alumni Association, when presenting her award at the 2023 Spring Honors Convocation. "Through these platforms she has worked tirelessly to develop initiatives that safeguard the health and well being of all students with particular emphasis on amplifying the voices of the vulnerable and underrepresented."
James grew up in Stamford, Connecticut, and attended Mamaroneck High School in Westchester County.