Student-Faculty Collaboration: Visualizing the Unseen
Richard Kirchner, Ph.D., a School of Science professor emeritus who has inspired generations of Jaspers, continues crystallography research with students.
When Christine Schmidt '17 walked into her first general chemistry class during her freshman year, she was hoping for a painless required course toward her biology degree. Chemistry was not her favorite subject in high school. She would never have predicted that taking that course would inspire her to change her major to biochemistry, lead to three years of collaborative research with faculty, and eventually acceptance into the Ph.D. program in chemistry at the CUNY Graduate Center.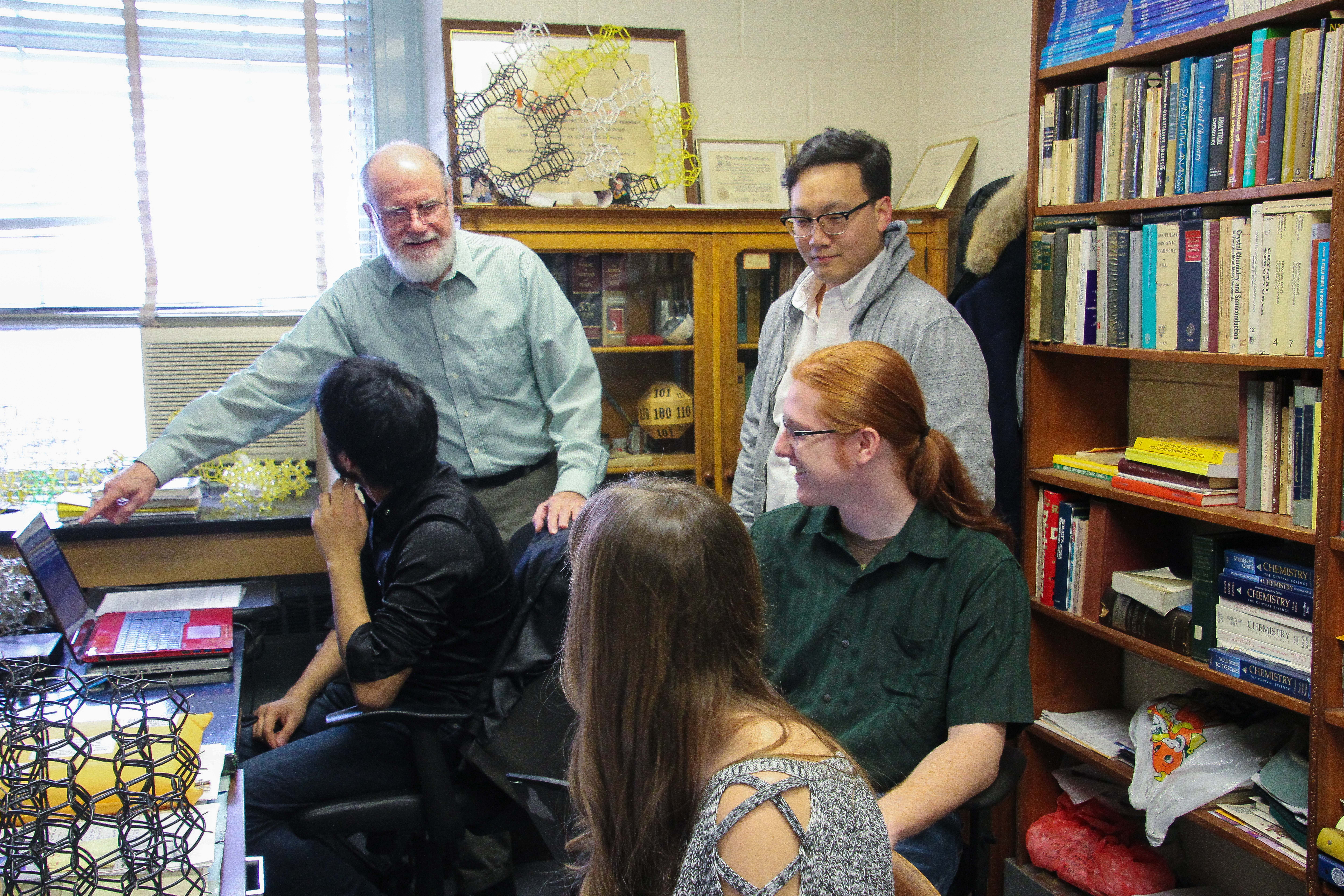 Schmidt, whose latest research is published in the Fall 2017 Edition of the Manhattan Scientist, is one of hundreds of Jaspers that Richard Kirchner, Ph.D., professor emeritus of chemistry and biochemistry, has inspired and mentored across five decades at Manhattan College. Teaching is Kirchner's passion, and while he doesn't describe himself as charismatic, his gift for connecting with students is evident.
As a crystallographer, he specializes in determining the arrangement of atoms in crystalline solids, specifically zeolites, which are used in manufacturing, mainly as adsorbents and catalysts. These structures must be determined using sophisticated crystallographic programs that analyze X-ray diffraction data. But when the West Coast native arrived at Manhattan in 1973, directly from his postdoctoral position at Northwestern University, Manhattan didn't have access to X-ray research equipment or capable computers.
So he reached out to a contact at Union Carbide, and struck a deal: Kirchner would align the equipment and keep it in good working order in exchange for access. It was the beginning of a long and mutually beneficial collaboration.
"The contact, J.M. Bennett, Ph.D., was collecting data on a structure and I was able to help him solve one that led to a consultancy," Kirchner says. "It was really the best of all the worlds because I had access to a leading group doing zeolite research who needed a crystallographer. It allowed me to bring all kinds of spin off projects to students to work on [at Manhattan] so we could do some good research on industrially important materials."
Due to developments in industrial processes, the field of zeolite crystallography is not quite as extensive as it once was, however it remains an excellent area for students to learn about the building blocks that assemble to produce physical properties. For undergraduate students like Schmidt, this complex research begins with building physical models. And while structures are usually determined using sophisticated programs, it's occasionally possible to predict the structure of a new material only by creative model building.
In the lab, this work is highly collaborative and interactive. At any given time Kirchner's research group has between one and four students, ranging from sophomores to seniors. When they're not building physical models, they're mapping out structures digitally, using sophisticated computer programs that give suggestions about what the structure could be.
During the fall 2017 semester, Schmidt along with fellow Jaspers Chris Kim, Anthony O'Mara, Jesse Dolores and Daisuke Kuroshima had a breakthrough moment. 
"My fellow researchers made one change and then everything worked," says Schmidt, who had been working on SUZ-9, a complex zeolite, for nearly two years at the time.  
"I wasn't a very optimistic person, so every time we made a new model for a structure I would say 'this is definitely not it. It can't be it.' So with this one, I kept doubting it, but finally we saw that it was correct in our calculations," she says. Schmidt made many modifications to improve this first promising model. "I learned so many things from doing research with [Dr. Kirchner] and I loved the experience." 
Students presented their results at symposiums and conferences, including the 2017 Undergraduate Research Symposium at Fordham University as well as Manhattan's 2017 Sigma Xi Induction. These experiences translate well to future interviews for jobs, as well as graduate and professional school. Students also earn a stipend for their efforts.
When Kirchner retired from fulltime teaching in 2015, he was able to continue his collaborative research thanks to a Senior Scientist Mentor Award he received through The Camille and Henry Dreyfus Foundation. The Dreyfus Foundation provides a $20,000 grant to eight emeritus faculty members in the chemical sciences in support of undergraduate research to be conducted under their guidance. The award was renewed in 2018.
When asked what has motivated him for more than 45 years, he doesn't need a moment to consider his answer. It's the students.
"At Manhattan, I found a place I could teach where teaching is important," Kirchner says. "And it isn't in a lecture hall with 600 students sitting there, watching a TV monitor. I got to know the students, interact with them in small classes, and develop really exciting research with them. That's why I continue to do what I do."