Internship with Al Roker Puts Communication Major Behind and In Front of the Camera
Matt Marcello traveled all over New York City at a summer internship that gave him unique, valuable experience.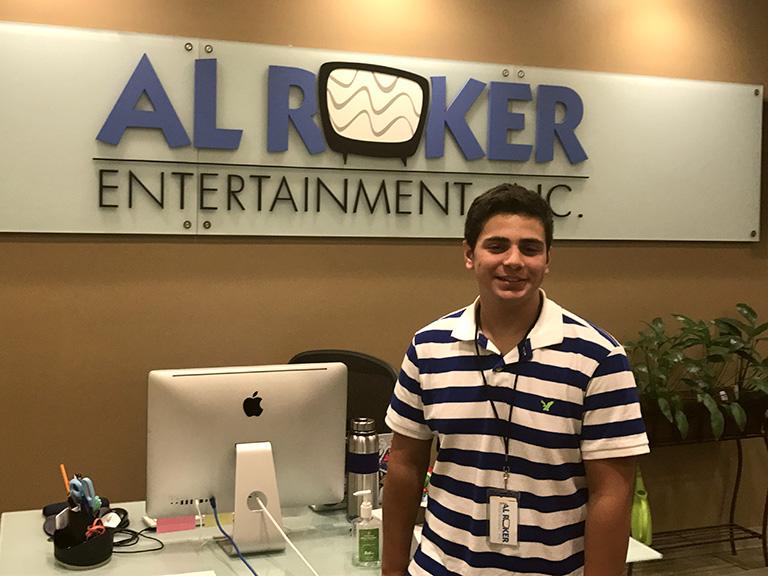 Matt Marcello '19, a communication major from West Haven, Conn., spent this past summer working as an intern for Al Roker Entertainment. Marcello, who is concentrating in broadcasting and film studies, was able to take all of the lessons he's learned in his Manhattan College classrooms and bring it to a once-in-a-lifetime opportunity working for Al Roker's entertainment company.
Marcello was inspired to pursue broadcasting as a concentration due to his television-watching obsession, along with taking advantage of the live productions always happening in New York City. It was at those filmings, watching how an actual television show was produced, that he could see himself doing something exactly like it.
"All that really interested me, and around sophomore year of high school, I thought 'Wow, this is really exciting. This is what I want to do,'" Marcello said.
Upon arriving at Manhattan College, he soon began taking his broadcasting concentration classes, learning how to make powerful television, produce clips and work both behind the scenes and on-camera. Marcello credits the Communication department faculty, especially Helen Pfeffer and Michael Grabowski, Ph.D. for helping determine the skills he can bring to specific aspects of broadcasting.
Grabowski teaches the majority of the concentration courses, with Studio Television Production (COMM 308) being Marcello's favorite. Pfeffer teaches Scriptwriting (COMM 316), a course that opened up another possibility for Marcello, who hadn't considered a career in writing before.
"I like how professor Pfeffer gave us free reign and a lot of criticism, but it was constructive criticism. With Grabowski, instead of having us read from the textbook all the time, he would have us do all of the hands-on activities within the studio. We got to produce our own talk show, and do the script for the final project – a lot of hands-on work that you won't see in a textbook," said Marcello.
Finding the Right Internship
During the spring semester of his sophomore year, Marcello began his search for a summer internship in New York City. Taking everything he had learned so far in his two years, he began looking for internships that he could put his skills to the test.
Marcello used Handshake, the website Manhattan College uses to inform students of internships, through the Center for Career Development. The site has allowed many students to find opportunities for internships from hundreds of companies. Marcello is just one student who has found the site beneficial in obtaining the best internship.
"I applied to everything that came up and I saw 'Al Roker Entertainment' and thought 'why not?' With a big name like that, I didn't think it would ever happen but I thought I might as well if it's there," said Marcello.
When he got to the Al Roker Entertainment offices, he interviewed with Evie Yannakidis (also known as "Evie Why"), a popular creator on the live-streaming app YouNow and winner of an online reality show called Sequester, which he watches frequently. That connection made him realize he was applying to the right place. Leaving the interview, Marcello felt confident in himself and his abilities. Soon enough, he had gotten the job at Al Roker Entertainment.
At his internship, Marcello participated in shoots on a Weather Channel show called Weather Hacks, did media research on changes in the livestreaming process, helped make storyboards and sat in on table reads for pilot scripts of shows being pitched. He also got to work with one of the creators of the Daily Show on Comedy Central, while she was leading a development meeting for a new game show.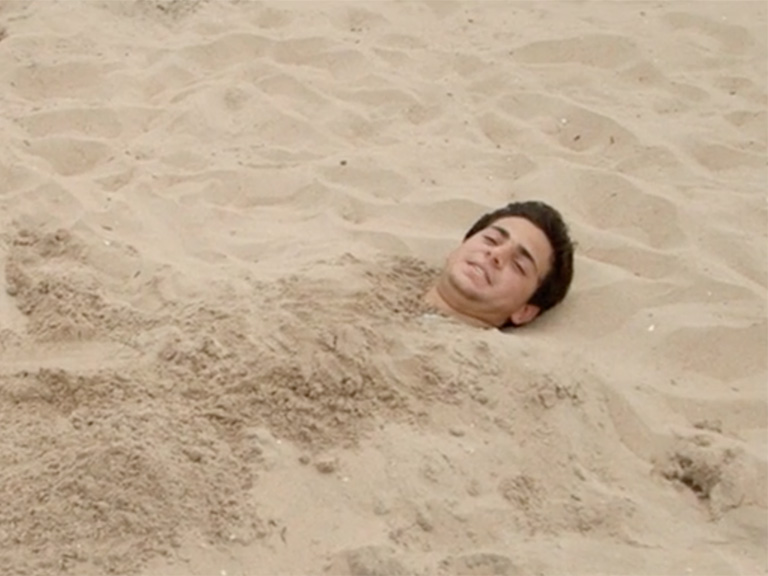 For Weather Hacks, Marcello went to Brighton Beach, Brooklyn with Roker and the show's producer. He wrote and held cue cards for Roker, and was an extra on Weather Hacks as a hand model.
"I had to carry out hacks on screen. I put a phone into a container to keep it safe when you're at the beach. Then they had me buried in the sand. The scene focused on Al saying what not to do because the sand is so dirty, so they told me, 'Matt, get buried' and I thought OK, whatever.' [I did] a lot of media stuff, which was awesome," said Marcello.
Marcello believed the most important thing he learned from his internship were the connections. He now gets to say that Al Roker knows who he is. Making connections, even with his supervisor, who was the receptionist for the company, helped him get involved with the tasks that benefited him – being an extra on shoots and doing development for a new game show.
What comes next? Marcello will intern for the Dr. Oz Show during the spring semester, using the skills and connections he made at Al Roker Entertainment. He's hoping to make that younger Marcello, sitting in a live television audience, proud.
"I hope to keep applying for internships and seeing what I can get, using this as a stepping stone to get something else," Marcello said. "If they presented the opportunity to me [to return to Al Roker Entertainment], I'd consider it. I really enjoyed working there."