New Campus Store Showcases Students' Business Smarts and Fair Trade Values
School of Business students created a business and marketing plan for the store, enhancing offerings to the College community.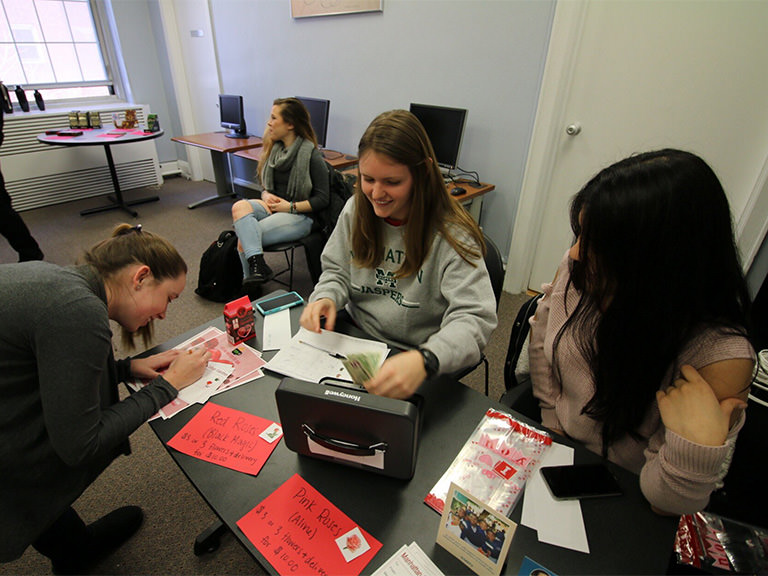 Last spring, when students from Manhattan College's School of Business were brainstorming potential group projects for the 2016-17 academic year, dean Salwa Ammar, Ph.D. and associate professor Gwendolyn Tedeschi, Ph.D., brought up the idea of a student-run store focusing on selling fair trade products. A large group of students quickly embraced the idea and Fair Trade Fuel has become a popular space for buying, selling and entrepreneurship in action.
The idea was a logical partnership of the School of Business's innovative culture and the leadership of Campus Ministry and Social Action in the fair trade movement. In 2012, Manhattan College became the first Fair Trade Certified College in New York City, which means they must adhere to several guidelines required for the designation. For example, the institution must carry a certain number of items that were produced by farmers and artisans in developing nations that receive fair wages and can perform their duties in a safe working environment.
Fair Trade Fuel directly furthers this mission.
"We could've opened up a store and sold anything," Aileen Farrelly '95, assistant professor and assistant dean in the School of Business, said. "Fair trade embodies our Lasallian values, is critical to the College's mission, and using fair trade products to launch this project helped our students learn about all aspects of running a business."
Putting the Plan into Action
In September 2016, 30 students began to put together a business plan for the fair trade store, and quickly zeroed in on the Christmas season to open, a prime time for students and employees to easily shop for gifts. The group decided to create a pop-up outfit named Fair Trade Fuel on the second floor of De La Salle Hall during the last three days of classes in December, a few weeks before Christmas.
To prepare for the store's opening, the students had to define their organizational structure. One group of students took charge of the accounting and financing, making sure that the store would offer reasonable prices yet would be sustainable enough to stay open. Another group put together a marketing and publicity plan, strategically using social media and on-campus flyers and posters to spread the word about the opening. Another group would handle customer service at the store, ensuring products were properly displayed and customers' needs were met on site.
"We came up with different questions that would come up in the daily life of the business," said marketing major Claudia Biddle '19. "We talked about products to offer that would be most attractive to students, when students would drop by between classes, who would work in the store, how would we train the workers? There were a lot of considerations to make."
The group worked across campus with a number of offices, consulting with Gourmet Dining, the College's award-winning food provider, about how their services work in dining facilities and other areas on campus. The students also gathered data from the registrar's office to determine the peak times between classes that would yield the most foot traffic outside the store and subsequently increased staffing inside the store at those times. Students also built on a relationship with fair trade organizations Serrv, Divine and Ten Thousand Villages to sell chocolate, clothing and crafts that sold out quickly over the three-day span in December, proving the pop-up store to be a success.
"It was nice to see the business start out as an idea and then develop into a real business where we could see everything being sold and the result of our hard work," Biddle said. "That was the most rewarding part of it."
The Next Steps
Fair Trade Fuel was so successful that a second pop-up sale was planned around Valentine's Day in February. The store again opened for three days, selling fair trade chocolates and flowers, with free fair trade coffee servings to entice sleepy students to stop by in the mornings.
"It's been great practical experience," said marketing major Chloe Sweeney '18. "We've learned how much all the products cost, how to price them, then advertise and put together promotional materials to spread the word."
The group is planning another pop-up sale before Mother's Day, coinciding with the end of the semester in May. The group's long-term goals include accepting Jasper Dollars and having the store open full-time during longer periods during the academic year. Until then, the School of Business students and faculty have succeeded in providing an outlet during seasons of giving, displaying excellent customer service to the campus community, while advancing the sustainable fair trade movement that the College has spearheaded for the last five years.