Entrepreneurial Students Dream Big by Starting Small
With New York City's startup culture as a backdrop, Jaspers form a hub of creativity and innovation right here, on campus.
From the classroom and the quad to the residence halls, there's a growing entrepreneurial community at the College that is making the "start" in "startup" a little easier. Carolyn Predmore, Ph.D., professor of management and marketing, has led these efforts by developing increased offerings in innovation and entrepreneurship.
Undergraduate students in her Marketing Honors Seminar develop full-length business plans, which often helps seniors in the School of Business hash out their startup ideas before graduation. Their research and discoveries, however, don't occur in vacuums — far from it. Under Predmore's direction, students reinvest this knowledge back into the campus community in two ways. First, by presenting their business plans as part of the School of Business Seminar Series, and second, by maintaining an ever evolving document, Manhattan College's Lean Green Guide to Entrepreneurship. The guide, available to all Jaspers, includes best practices of beginning a business as well as creative exercises that will help any entrepreneur make important decisions about key demographics, branding and beyond.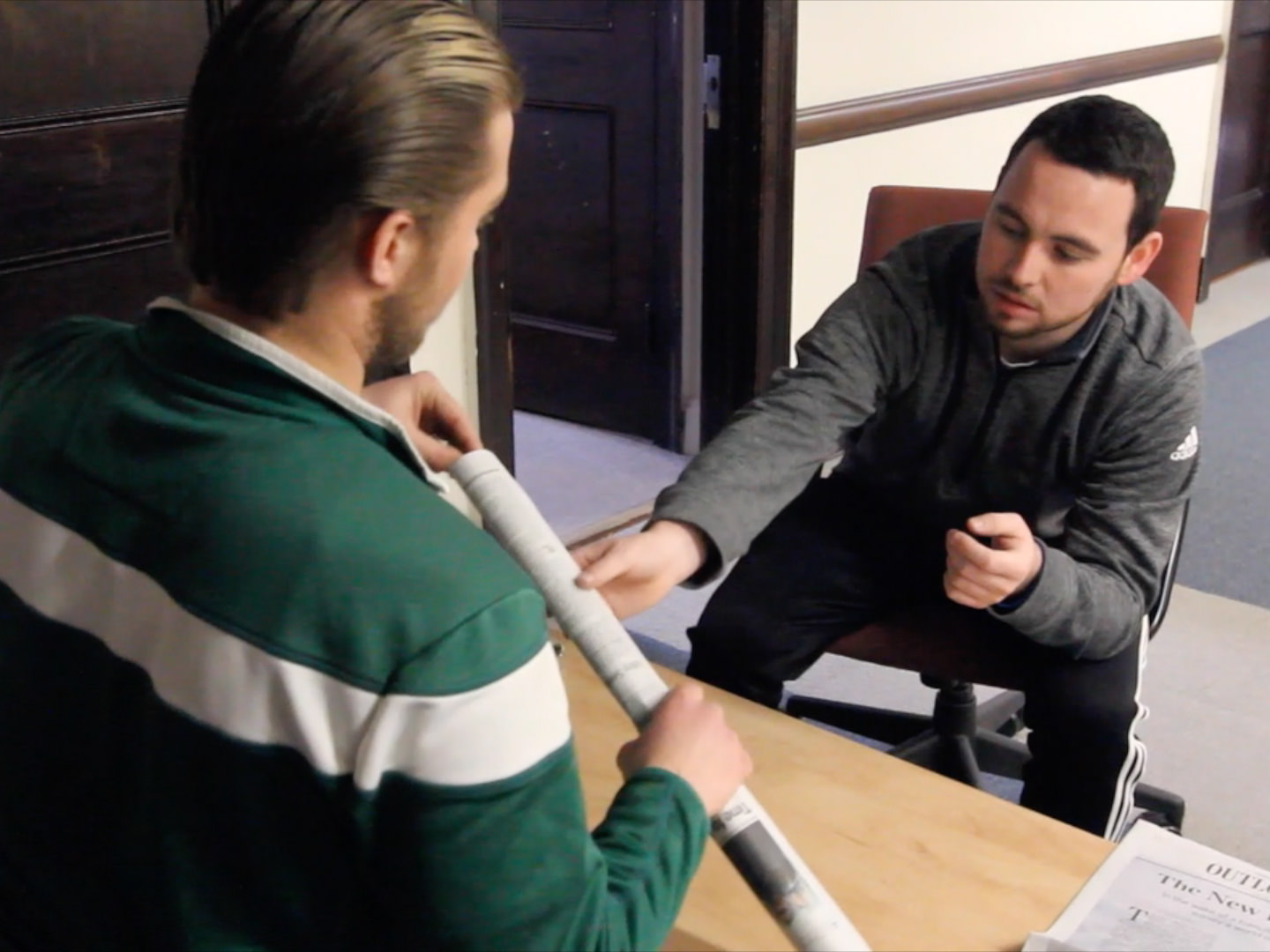 At the graduate level, Predmore's Management of Innovation course includes, among its more traditional lectures, many similar innovation and creativity exercises to help students practice the art of thinking outside the box. Or, as Predmore prefers it, getting comfortable with being uncomfortable.
These activities often begin with an outlandish request, such as building the tallest freestanding tower with nothing but three sheets of the Wall Street Journal and scotch tape. The only rules? You may tape the tower to the floor but not to any wall, furniture or ceiling.
It may sound more like a task more attuned to an engineering course, but after years of employing this exercise in her classes, Predmore says it has less to do with construction and more to do with the type of thinking required of successful entrepreneurs.
"We need to know where we're comfortable and where we're not, and then to be able to push a little past that — that helps us look at innovations," she says. "Another definition is when you can hold two or more disparate, unconnected ideas together in the same mind space to see how they might intersect. That should be done on a more regular basis."
What happens inside the classroom is just a small fraction of all of the entrepreneurial enrichment that is taking place on campus. The School of Business hosts an Innovation Challenge each spring that invites teams of students to pitch their ideas and business startups to a panel of faculty, alumni and entrepreneurs in the same fashion of ABC's hit reality show Shark Tank.
The competition, now in it's fourth year, is run by Aileen Farrelly '95 CPA, MS, Assistant Dean, in part due to the increasing popularity of the Entrepreneurship Club. Open to all majors on campus, the club meets with entrepreneurs to learn about starting a successful business or venture. Now with approximately 30 members, the club has extended its offerings to the College community with campus wide events. In the past, these have included presentations by Larry Kosilla, founder of AMMO NYC, as well as Manhattan College alumnus Jim Matteo '81, founder of Bird Rock Systems. In the future, the club hopes to welcome back successful young alumni such as Brett Conti '13, founder of New York City-based skateboarding brand Fortune.
The most recent vestige of entrepreneurial spirit at the College came in the the form of a Common Interest Community (CIC). Piloted in fall 2016, the Entrepreneurship CIC attracted 53 students from nearly every major, who live together in one of the College's residence halls and engage in regular informational sessions and development activities aimed to help each student discover their potential.
While Predmore is the official faculty advisor to the CIC, Ryan Quattromani '18 heads up the student faction as resident assistant and mentor. The mechanical engineering major founded a successful lifestyle brand, Chapman (formerly known as Seaworthy), during his sophomore year at the College, and has picked up a wealth of experience along the way. In addition to serving as a resource to his residents by offering a listening ear and friendly advice, he's working to establish an Innovation Center.
"It is clear, entrepreneurship is on the mind of many Manhattan College students," Quattromani says. "There are a few businesses already being developed by students. Establishing an innovation center— a dedicated space for students to manufacture products and collaborate — is a dream of mine."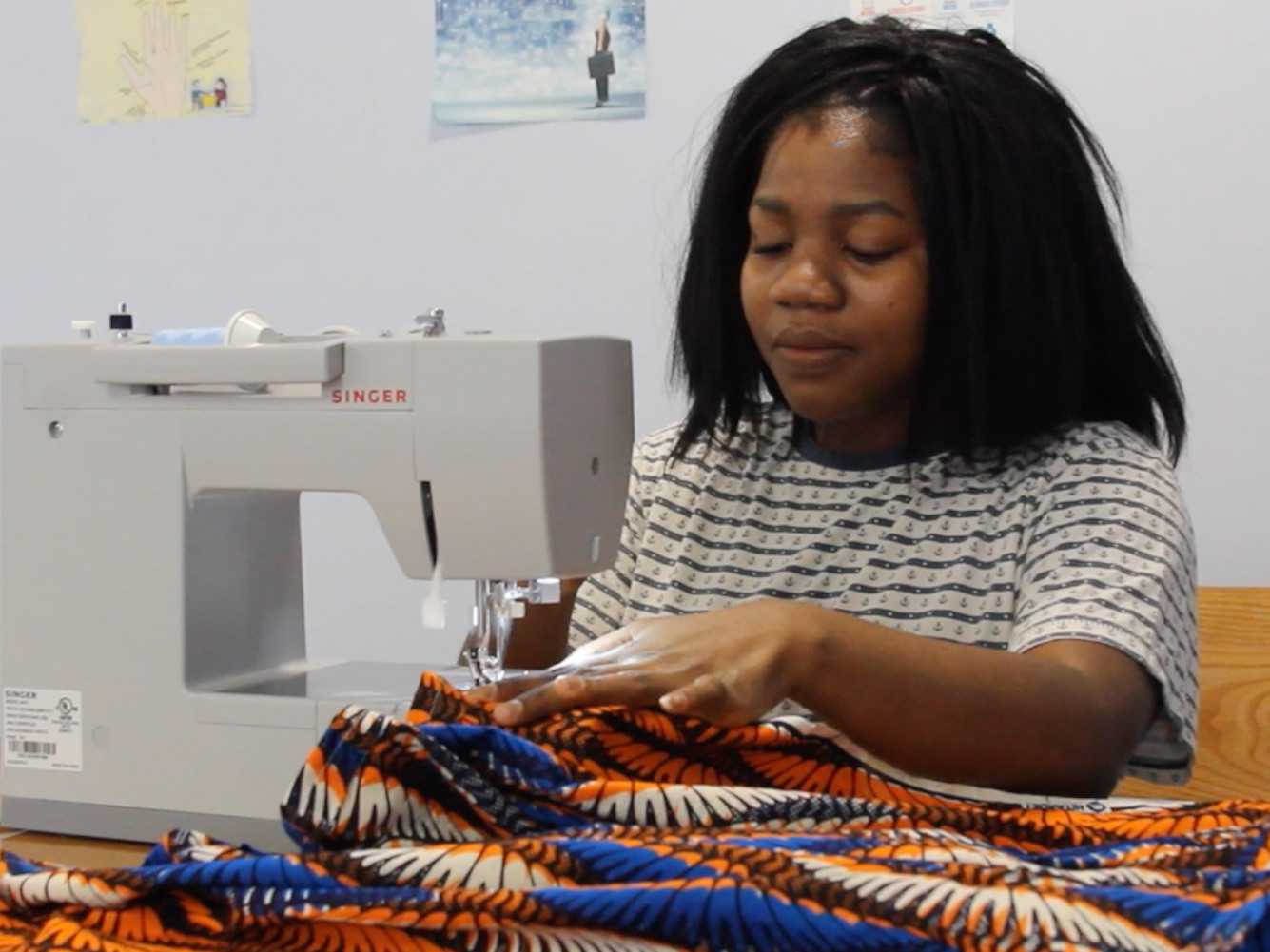 One of the first resources Quattromani acquired is a sewing machine. And with Predmore's help, who is a savvy sewer as well as an acclaimed knitting podcast personality, the sewing machine became an instant staple to the community. It is regularly used by residents in the community to develop fashion-related products.
Among them is Lola Ayodele '18, an accounting major who has begun designing her own line of clothing. Originally from Nigeria, her creations fuse iconic American fabric, such as denim, with African textiles. Inspired by her own difficulties in finding clothes that suited her body type, Ayodele hopes to give women a voice through her designs.
"Women are so powerful, but we often hold ourselves back because of our insecurities," she says. "We shouldn't have to feel like we should be anything else but ourselves— any size but our own."
Ayodele will be debuting her original creations as part of a campus Spring Fashion show on April 29, which will highlight student products and other creative talents at the College. The event, instituted by Quattromani and organized by members of the CIC and Entrepreneurship Club, will feature the photography, videography, singing, dancing, fashion, and event planning skills of 15-30 students from a variety of academic majors. 
"Even though we all have different interests, we all have big goals, so in that sense we are all very similar," says Ayodele. "It's really encouraging and inspiring to be around people who want to make a change in the world."