Government Faculty Members Analyze 2016 Election
Government faculty members Pamela Chasek, Margaret Groarke and Jonathan Keller share their thoughts on the upcoming election, as the campus comes together to discuss the issues raised throughout the campaign.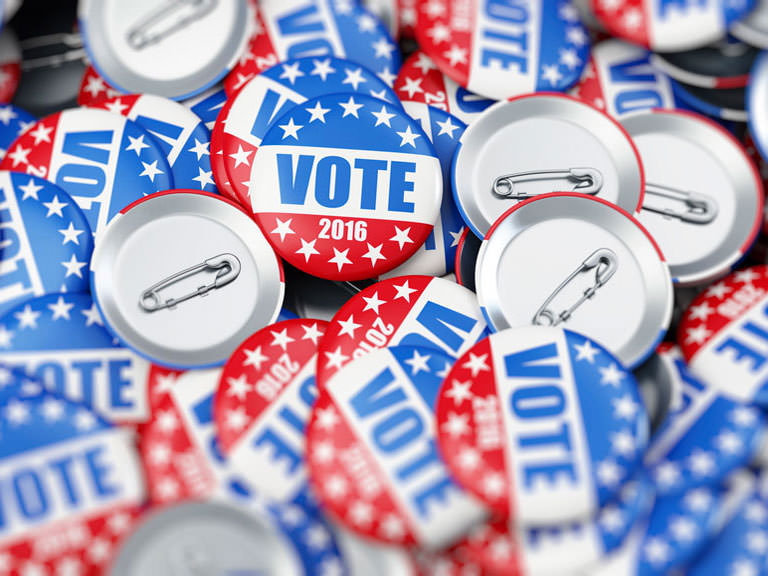 Like many other campuses across the nation, Manhattan College has become a place where students have engaged in passionate debate and information sharing about the 2016 presidential campaign and other national issues as Election Day approaches. There have been several on-campus events prior to Election Day, and on Wednesday, Nov. 16, the College will host a special recap of the election results.
The government and politics club has sponsored a

voter registration drive

and a campaign to encourage students registered to vote outside of the Bronx to submit absentee ballots.

The Office of Student Engagement hosted students in the Kelly Student Commons for

watch parties

during the three presidential debates.

On Wednesday, Nov. 16,

Harry Enten

, senior political writer and analyst from

FiveThirtyEight.com

, and a Riverdale native, will visit campus to break down the results from Election Day. The discussion will take place in Hayden 100 at 5:30 pm.
Three faculty members in the College's government department - Pamela Chasek, Ph.D., Margaret Groarke, Ph.D., and Jonathan Keller, Ph.D., also provided insight on different topics surrounding the election.
What issue or issues do you believe have not received enough attention during the presidential debates and the leadup to Nov. 8?
Pamela Chasek: All of them. The presidential campaign was more about personality issues and flaws rather than issues of governance. Hillary Clinton did have policy proposals on most everything, but the debates were more devoid of policy than ever before. Specifically, climate change, energy and environmental policy were barely touched in any of the debates and in the candidates' general speeches. Climate change is perhaps the largest threat to national security and no one talked about it.
Margaret Groarke: There has been little conversation about poverty and income inequality in the United States, with the exception of some debate about raising the minimum wage.
What impact do you see the youth vote having in this year's election?
Jonathan Keller: It's hard to say at this point. On one hand, the number of eligible millennial voters is now about equal to the number of eligible Baby Boomers, so heavy millennial participation could be decisive up and down the ballot. I am skeptical, however. More than a few students have commented that neither of the two major candidates has said much that appeals to millennials. And the youth vote has historically been difficult to turn out. In fact, the highest it's ever been is 55%, which McGovern reached in 1972 — one year after the 26th Amendment was ratified granting 18 year-olds the right to vote. Even Barack Obama's first presidential campaign in 2008 only generated a 50% youth turnout. And it fell to 45% in 2012, whereas 70% of Baby Boomers and 61% of Gen Xers voted in both of those elections.
Chasek: I think the youth vote could have quite an impact. In one sense, they may not vote at all, which could have negative implications for all candidates. I think some of them will vote for Trump because they see him as an outsider who can fix Washington. Many of them will vote for Clinton because they think she has said more about the cost of college and other issues that interest the students.
Groarke: People have often referred to the Latino vote in the U.S. as a "sleeping giant" and I think the same could be said for the youth vote. Only 45% of those between 18 and 29 voted in the 2012 election. Young people have distinct views on a lot of issues and particular interests. If they voted in larger numbers, politicians would have to pay attention.
Both major party candidates have historically low approval ratings that have some voters looking toward third party candidates. Can a third party candidate win electoral votes in this election or in the future?
Keller: Because of the winner-take-all system in the United States, it is extremely difficult for a third party candidate to win even one electoral vote. Even Ross Perot, who won 19% of the popular vote in 1992, did not pocket a single electoral vote. This time around, neither of the two highest-polling third party candidates, Jill Stein and Gary Johnson, is likely to get anywhere near that. So the best either of them can hope for is to be a spoiler for Trump or Clinton in a handful of swing states. The only — admittedly remote — exception this time around, ironically, is reliably red Utah and its six electoral votes. Utah has a very large Mormon population that has been consistently resistant to Trump, and third party candidate Evan McMullin, a Mormon, has been polling pretty well there.
Chasek: I don't think a third party candidate can win electoral votes in this election. The only way one can win in the future is if we make it easier for them to get on the ballots in all 50 states, include them in presidential debates and move away from the two-party dominant system. Otherwise, third parties will never have a chance.
Groarke: The manner in which our electoral system is organized makes it difficult for third parties to play a significant role. Sometimes third parties are successful at pushing one of the major parties to move on an issue — Perot gets a lot of credit for Bill Clinton's successful effort to reduce the national debt. But for a third party to achieve real power, one of the two existing major parties would need to be on the point of disintegration.
The presidential campaign has received significant attention, but there are many races occurring for seats in the Senate and House. What are some races or trends that voters should be aware of in the down-ballot races?
Chasek: Control of the Senate is in the balance and there are a number of races worth watching. In New York, Chuck Schumer has a lock on re-election and will take over as Senate Majority Leader if the Democrats gain control of the Senate. Races that could change the balance include North Carolina, Wisconsin, Illinois, Missouri, New Hampshire, Nevada, Indiana and Pennsylvania. Those are the ones to watch. As for the House, it is less likely that we will see a change in control. However, low voter turnout among Republicans could have an impact on a few races. Some of the more interesting local races include NJ-5 where Scott Garrett, the incumbent Republican is facing a strong challenge from Josh Gottheimer, a former Clinton speechwriter. NY-24 (near Syracuse) has the incumbent John Katko defending his seat against Democrat Colleen Deacon. In the Hudson Valley, Republican John Faso and Democrat Zephyr Teachout are both vying for the seat in New York's 19th Congressional District, being vacated by retiring Republican Rep. Chris Gibson.
Groarke: Which party ends up controlling the Senate will have a big impact on what happens the next few years — and on who sits on the Supreme Court for the next few decades. According to fivethirtyeight.com (as of Oct. 24) there are currently six Senate races in states (Pennsylvania, North Carolina, Missouri, Nevada, New Hampshire, Indiana) where the projected margin of victory is less than three points. Those are the states to watch on election night.
Keller: That's the $64,000 question. We have two historically unpopular candidates running in this election, so it's not a question of who might have coattails but rather of which candidate can summon greater animus from the opposing party in down-ballot races. In the Senate, the Democrats are unlikely to lose any of the 46 seats their caucus currently holds. The Republicans, however, could lose as few as 4 or as many as 8 of their current 54. As election night goes on, we should pay close attention to the tight races for seats currently held by Republicans. If Nevada, New Hampshire and North Carolina all fall, we'll know that the "Trump effect" was significant. If Marco Rubio loses in Florida, we'll know it's a wave. The House is a different story. Because of redistricting, less than 40 seats are truly competitive every two years. The Democrats need a net gain of 32 seats to take over the chamber. Only a Democratic tsunami will allow the Democrats to reach that number. The Republican losses look to be significant, but not that high, in part because the national Republican Party has recently concentrated its efforts toward protecting its firewall in the House.
After Election Day, how do you foresee the country and the world reacting to this election cycle?
Chasek: Iran and Russia have shown the debates on TV to show that U.S. democracy is a farce. If Hillary Clinton wins, which is looking likely, the rest of the world will continue to see the U.S. as a country where democracy is strong and the "real" candidate has won. If Trump challenges the results, it will have a lasting negative impact on democracy and how the U.S. is seen around the world. We have had a peaceful transfer of power for more than 200 years. Our reputation is at stake. If Clinton wins, it will be essential for her to reach out to the disaffected Trump supporters and try to bring the country back together, with help from Congress. They need to govern and it won't be easy.
Groarke: Many people will want to shake their heads and forget some of the uglier moments of this election. To answer this question, I need to recognize that the most likely outcome at this point is that Hillary Clinton will win the presidency. I think that Republicans — both party officials and regular voters — will want to examine how they got from 16 candidates to Donald Trump, and what they want to do about that. I think that Democrats will need to think about how to get past the obstructionist politics of the last eight years — what can they get done?