More than 120 students, faculty and staff traveled to 10 destinations around the world during the winter intersession through Manhattan College study abroad programs, field study seminars and L.O.V.E. trips. This year's trips featured some of most unique learning opportunities to date.
Preserving Paradise in the Galapagos Islands
In mid-January, five Manhattan College students warded off the winter blues with the clear blues of the Pacific during a once-in-a-lifetime trip to the Galapagos Islands.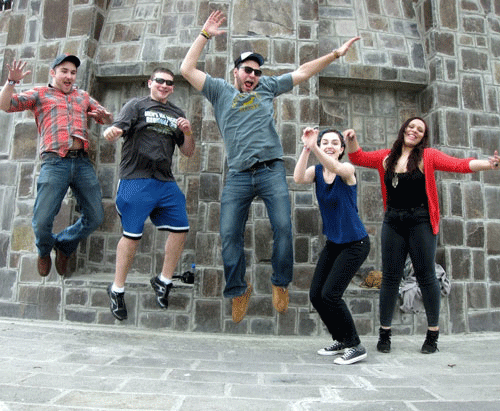 Located 600 miles off the coast of Ecuador along the equator, the Galapagos Islands are a wildlife paradise preserved as a UN World Heritage Site, and a fitting place for this year's National Model UN Conference: Latin America, which focused on environmental protection.
Nearly 150 students, faculty and advisers from around the world attended the three-day conference, hosted by the Galapagos Academic Institute for the Arts and Sciences in partnership with Universidad San Francisco de Quito in Ecuador.
Led by Pamela Chasek, Ph.D., professor of government and director of Manhattan College's international studies program, the Manhattan students served as delegates of the United States on commissions ranging from population development to world security to the status of women in an environmental context.
"Most people can agree that something needs to be done on environmental issues," says Jared Hayes '13, an international studies major who served on the UN commission for sustainable development. "There are many problems and interests of people in other countries. They have different needs."
As part of their visit to the Galapagos Islands, the students lent a hand in preserving parts of San Cristobal Island by cutting off invasive wildlife on ecotourism sites and along hiking trails.
On their days off, they embraced the lack of Wi-Fi and cell service by snorkeling and swimming with an array of sharks, sea lions and turtles.
"We actually experienced the environment," says Arielle Simmons '14, a communication major who served on the UN commission of science and technology development. "And that's the purpose of why we were there as countries, as delegates and as students. We were there for the environment. And to see and experience and have fun with the things that we're trying to protect, was just an incredible thing."
Traveling home to chilly New York the night before classes started, the Manhattan delegation returned with fresh tans, new friendships and their proudest achievement — an honorable mention award from the conference.
"I am so proud of how the students performed," Chasek says. "And even more excited that they all developed a greater appreciation for climate change and other environmental issues through the conference and the experience on the Galapagos Islands."
Doing Business in Paris
When visiting Paris, it's essential to see the Eiffel Tower, enjoy a crepe — and develop a business plan for a French startup wishing to break into the American market.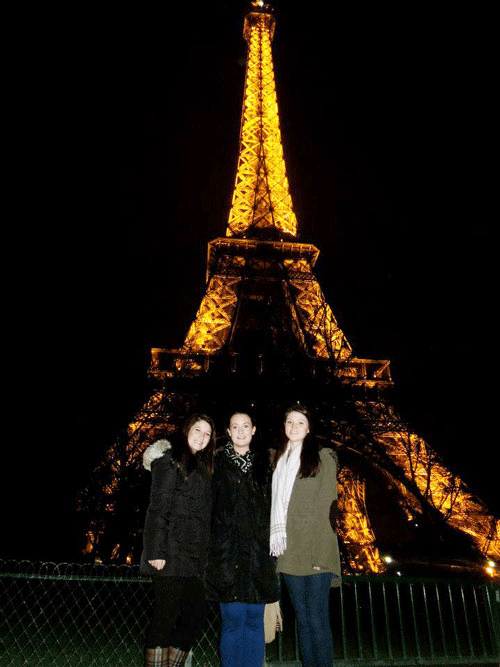 That was indeed the task of eight graduate students in the International Marketing Field Project course at Manhattan College who spent 10 days of winter break in France.
Accompanying the MBA students were nine undergrads enrolled in the School of Business' International Field Studies Seminar along with Carolyn Predmore, Ph.D., professor of management and marketing.
"Looking at the multicultural world through a business perspective is important," Predmore says.  
In addition to visiting cultural wonders such as Versailles and Mont Saint-Michel, students attended financial seminars on investment and policy, competed in a case study at J. Walter Thompson, toured the L'Oréal factory headquarters and consulted with tonic wine startup company So Bacco.
The MBA students learned that So Bacco's faces a number of business hurdles including a limited staff, an audience that isn't familiar with its product category, a language barrier and a law that restricts advertisements showing the enjoyment of alcoholic beverages.   
Hoping to export to the United States, So Bacco eagerly partnered with the MBA cohort through a LinkedIn connection, tasking them with creating a business plan to include cost figures, supply chain management and marketing initiatives.
"Traveling to Paris to work for a startup company taught me more than an in-class course ever could have abroad," says Maureen O'Connor '12, '13, an MBA student and contributor to the class blog. "We learned how to work past our cultural differences to create a successful business plan while also enjoying the wonderful sights and scenery of Parisian life."
The success of the trip has prompted Predmore and the School of Business to look into more destinations in the European Union next year, including Poland and Germany.
"I have a vision to create a Manhattan College manual for consulting so that essentially we can be drop-shipped anywhere," Predmore says. "I'm very proud of all of them."
Finding Family in Argentina
As winter picked up in New York, English major Elizabeth Rosenberger '14 and allied health major Lauren Hanley '14 headed south toward summer, eager to experience Manhattan College's study abroad program in Buenos Aires.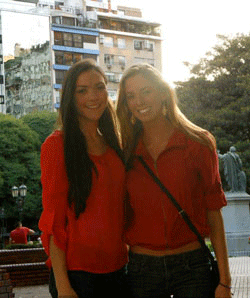 Enrolled in a sociology course, the two began learning about and analyzing significant events in Argentine history, only to discover that they'd be making their own history abroad. 
"I am the first person from my family to travel to Argentina since my mom moved from there to the States when she was 13," Hanley explains. "It was an extremely emotional trip for my family and me."
The vibrant city boasted warm temperatures and even warmer welcomes for the two, who were both visiting for the first time. Hanley was fortunate enough to meet with her extended family of aunts, uncles and even her mother's 91-year-old godfather during their two-and-a-half-week trip. Her cousins hosted a traditional Argentine asado, or barbecue, for the pair when they arrived, and also took them sightseeing and to a tango club.
Despite the language barrier, they felt at home 5,000 miles away.
"Everyone there was so nice, so friendly, so happy to have us there. They were thanking us for coming," Rosenberger says.
Gaining an inside look at life in Buenos Aires, the pair analyzed each experience they had outside of the classroom — from salsa dancing to kayaking, and everything in between.
While they noticed some differences between New York and Buenos Aires — a slower-paced lifestyle and a dinnertime of 10 p.m. or later — they agreed that the sentiment of the words spoken, whether English or Spanish, was inherently the same.
"As an English major, you take every situation you're ever in and analyze everything to the 'nth' degree, and it's so amazing to see different cultures, how different people are in different areas or how similar they are, even though you're on a different continent," Rosenberger says. "It brought a new perspective to things."
"I truly fell in love with Buenos Aires immediately," adds Hanley, grateful for the opportunity to see life through her family's eyes. "Liz and I made many friends and have memories that will last a lifetime."
Learn more about Manhattan College's winter intercession study abroad opportunities in London, Paris, Scandinavia, the Galapagos Islands and Argentina or learn more about CMSA's winter intercession L.O.V.E. trips to Namibia, Kenya, Ecuador and New Orleans.