First Laudato Si Day at Manhattan College Will Present Activities Focusing on Sustainability and Environmental Justice
Manhattan is part of a worldwide community of colleges and universities that are committed to addressing growing environmental challenges.
On Friday, April 21, Manhattan College will launch its inaugural Laudato Si Day, inspired by Pope Francis's encyclical and commemorating Earth Day. The program will offer a variety of events focused on education and action for sustainability and environmental justice. The Pope's public letter entitled Laudato Si (Praise be to you), focuses extensively on care for the natural environment and more broadly on the relationship of God, human beings and the planet.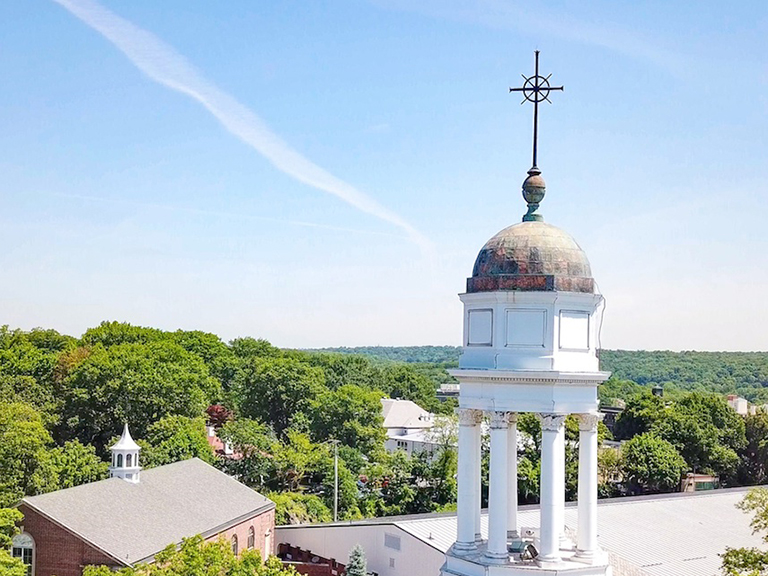 Pope Francis described how our "common home has fallen into disrepair" and that politicians, businesses and individuals need to make changes in environmental practices to address the growing crisis.  Integral ecology recognizes the complex interrelatedness of socio-environmental concerns. 
Pope Francis's encyclical Laudato Si' and the United Nations Sustainable Development Goals (SDGs) are two landmark documents of our time: they represent two different perspectives towards the common goals of ending poverty, caring for all people and the natural environment and leaving no one behind. 
Last August, Brother Daniel Gardner, FSC, president of Manhattan College, committed to participating with other universities around the world in a seven-year journey towards integral ecology. The College is gathering students, faculty, staff, administrators and neighbors to develop a Laudato Si Action Plan that will leverage our expertise and resources, and develop a pathway to recognition as a Laudato Si university.
"I am looking forward to Friday's program when we can showcase some of the extraordinary work that is already being done on campus, while we plan for even greater future contributions in the years ahead," said Colette Geary, Ph.D., interim vice president for mission and strategic initiatives and chair of the Laudato Si Day Steering Committee. "As a Catholic, Lasallian institution, these initiatives are highly visible examples of our commitment to promote the common good, contribute to human flourishing and advocate for social justice." 
One of the Laudato Si Day's highlights will take place from 1 p.m. to 3 p.m. on the plaza outside of Squeri Hall.  Brother Daniel Gardner, FSC, president of Manhattan College will make opening remarks in a Welcome to Laudato Si Day presentation, discussing the significance of the mission and the importance of strengthening the commitment to issues of sustainability and environmental justice.  This will be followed by the Blessing of the Quadrangle Trees, by Father Thomas Franks, director of Campus Ministry and Social Action.  
Another highlight is the Greenhouse Opening from 3 p.m. to 4 p.m. on the 5th Floor of Leo Hall. Participants will have the opportunity to view a renovated greenhouse, help set up the garden, and enjoy light refreshments. This space includes  hydroponic grow beds, an energy lab, an automation control system and sources of renewable energies. The opening is sponsored by the Environmental Studies Program, the Center for Urban Resilience and Environmental Sustainability (CURES) and the Green Club.  
Many events are scheduled throughout the day including Forest Restoration Fridays at Van Cortlandt Park (9 a.m. to 12 p.m., VCPA Garden and Compost Site, 6394 Broadway), Neighborhood Cleanup at Brust Park (12 p.m.), Guided Hike, Van Cortlandt Park Trail (12 p.m. to 1 p.m.), Van Cortlandt Park Dogwood Junction Planting (10 a.m. to 12 p.m) and a Sustainability and Action Fair (12 p.m. to 3 p.m.), on the plaza outside Squeri Hall and the Quadrangle. 
On Thursday, April 20, at 9 a.m. there will be a virtual panel discussion, "Global Inspirations: A Shared Dialogue on Lasallian Commitments to Sustainability."  International panelists will share current sustainability initiatives at Lasallian institutions throughout the world and identify priorities for global collaboration.
During the next seven years, Manhattan College will address the seven Laudato Si Goals: respond to the cry of the Earth, respond to the cry of the poor, adopt a sustainable lifestyle, offer ecological education, foster ecological economics, develop ecological spirituality and support local communities. 
Manhattan is currently the home of the Center for Urban Resilience and Environmental Sustainability, which stimulates both research and scholarship in projects of relevance to the well-being of our broader community, such as asthma and air quality and monitoring local water quality.