Peace and Justice Week Begins with Annual Dorothy Day Lecture
Melissa Cedillo, Colleen Dulle and Eileen Markey will participate in a panel discussion on March 29.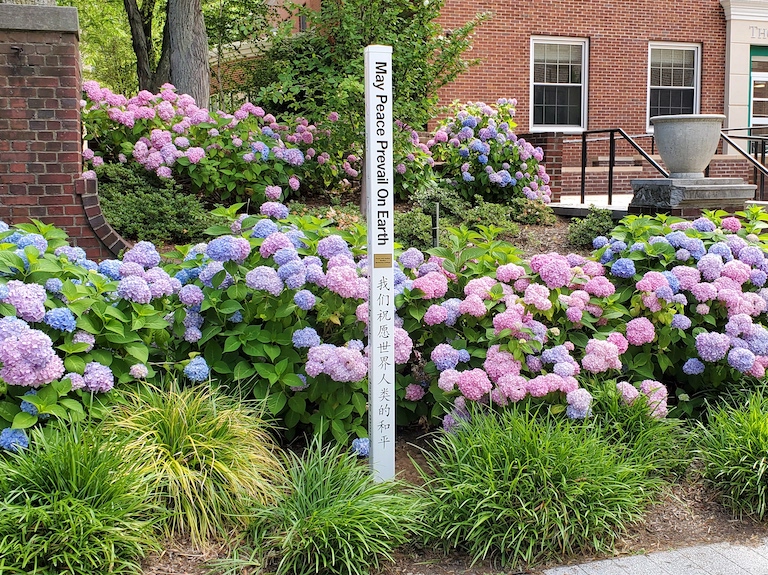 The theme of Manhattan College's annual Peace and Justice Week is "Contemporary Pathways to Peace and Justice." Peace and Justice Week, which spans two weeks this year, will take place from Tuesday, March 29 to Wednesday, April 13.
Here is the full schedule of events: 
Tuesday, March 29, 3:30 p.m. - virtual event (join here)
The Annual Dorothy Day Lecture
Dorothy Day and The Radical Vocation of a Journalist  
This will be a panel discussion with Melissa Cedillo, the Latino Catholics Project fellow at the National Catholic Reporter, Colleen Dulle, associate editor at America and co-host of the "Inside the Vatican" podcast, and Eileen Markey, reporter and assistant professor of journalism at Lehman College of the City University of New York. Sponsored by the Peace and Justice Studies department, Campus Ministry and Social Action, Religious Studies department, Communication department, The Dorothy Day Guild, and Pax Romana-ICMICA. 
Wednesday, March 30, 4 p.m., Hayden 100
Writing for Peace in Colombia 
Kate Vieira, Ph.D., School of Education, University of Wisconsin-Madison, will reflect on how community members use creativity to work toward peace. In the aftermath of the decades-long armed conflict in Colombia, the violence of which continues to reverberate in everyday lives, how do members of a community—including literary writers, youth poets, and activist writing teachers—use writing in their efforts to construct a lasting peace? This talk, based on ethnographic fieldwork funded by Fulbright and ICETEX addresses this question. Sponsored by the Office of Student Life, departments of Religious Studies, English, Education, Catholic Studies, Peace and Justice Studies, International Studies, Office of Study Abroad, and the Office of Graduate School and Fellowship Advisement. 
Tuesday, April 5, 3:30 p.m., De La Salle 300
Working for Peace: MekongNYC Style 
The keynote speaker will be Chhaya Chhoum, Executive Director of MekongNYC, a non-profit organization that serves Southeast Asians in the Bronx and throughout New York City. Sponsored by History, Political Science, Peace and Justice Studies, and the Office of Study Abroad.
Wednesday, April 6, noon, Hayden 100
Labor Studies Colloquium
Labor under Monopoly Capital: How Corporations Stacked the Deck Against Workers
Brian Callaci, Ph.D., chief economist, Open Markets Institute, will discuss the legal responsibilities and power of corporations. Corporations have increased their power over workers in recent decades, while at the same time reducing their legal responsibilities as employers. How have they managed to do this? This talk details the 40-year corporate lobbying and litigation effort that made trademark, antitrust, and labor laws much friendlier to corporations, and more hostile to workers. Sponsored by the departments of Labor Studies, Peace and Justice Studies and Economics. 
Thursday, April 7, 6:30 p.m., Alumni Room (O'Malley Library 100)
Major Author Reading Series
Hala Alyan: Palestinian-American Poet, Novelist and Clinical Psychologist 
Hala Alyan is the author of the novel Salt Houses, winner of the Dayton Literary Peace Prize and the Arab American Book Award and a finalist for the Chautauqua Prize, as well as the forthcoming novel The Arsonists' City, and four award-winning collections of poetry, most recently The Twenty-Ninth Year. Her work has been published by the New Yorker, the Academy of American Poets, Lit Hub, The New York Times Book Review, and Guernica. Sponsored by the Major Author Reading Series; Co-sponsored by the department of Peace and Justice Studies, Student Engagement, and the Diversity Council. 
Monday, April 11, 4 p.m., Kelly Commons, 5A/B
The 2022 Aquinas Lecture
A Black Existential Philosophical Analysis of Race and Racism 
Lewis R. Gordon, Ph.D., department of Philosophy, University of Connecticut, Storrs, will offer a portrait of Black existentialism as understood in Africana philosophy. Gordon will outline its key problematics—including its critical treatment of race and racism—and its dedication to a philosophy attuned to living reality and lives worth living. Sponsored by the departments of Philosophy, Peace and Justice Studies, and Critical Race and Ethnicity Studies. 
Tuesday, April 12, 3:30pm, Virtual Event (join here) 
The Noberini Psychology Colloquium
Standardized Testing's Role in a More Just Education System
Howard Everson, Ph.D., educational psychology, City University of New York - Graduate Center, Senior Research Scientist in the Center for Educational Research & Innovation, SRI International, Former Vice President and Chief Research Scientist, The College Board, and Jay Verkuilen, Ph.D., educational psychology, City University of New York - Graduate Center, will review standard testing. Like other powerful tools, standardized testing can be used well or poorly. There is currently a great deal of anti-testing sentiment, in part as a counter-reaction to "tyranny of the test" in the wake of the school accountability movement, as well as overuse of standardized testing in college admissions. However, many critiques of standardized testing do not think clearly about the "what is the alternative?" question. In this colloquium, the weaknesses and strengths of standardized testing are reviewed, alternatives to standardized testing are assessed, and a set of prescriptions are put forward regarding better design methods and social practices that can make standardized testing fairer. Standardized testing – if done correctly – can be a key tool in making our education system more just. Sponsored by the departments of Psychology, Peace and Justice Studies, Education, and the School of Education and Health.
Wednesday, April 13, noon, Virtual Event (join here) 
Faculty/Student Virtual Brown Bag on Standardized Testing 
A Discussion of Noberini Psychology Colloquium
Drs. W. Mac Furey (Education), Arno Kolz (Psychology), Ian Levy (Education), and Kerri Mulqueen (Education) will lead a conversation with students about the key points/arguments on standardized testing made by the speakers at the Noberini Psychology colloquium the day before. Sponsored by the departments of Psychology, Peace and Justice Studies, Education, and the School of Education and Health.
For more information regarding these events, contact Nuwan Jayawickreme, Ph.D., Director of Peace and Justice Studies, at nuwan.jayawickreme@manhattan.edu.