Campus Activities for Students Thrive Despite Pandemic
Student Life departments have hosted exciting events in unorthodox ways.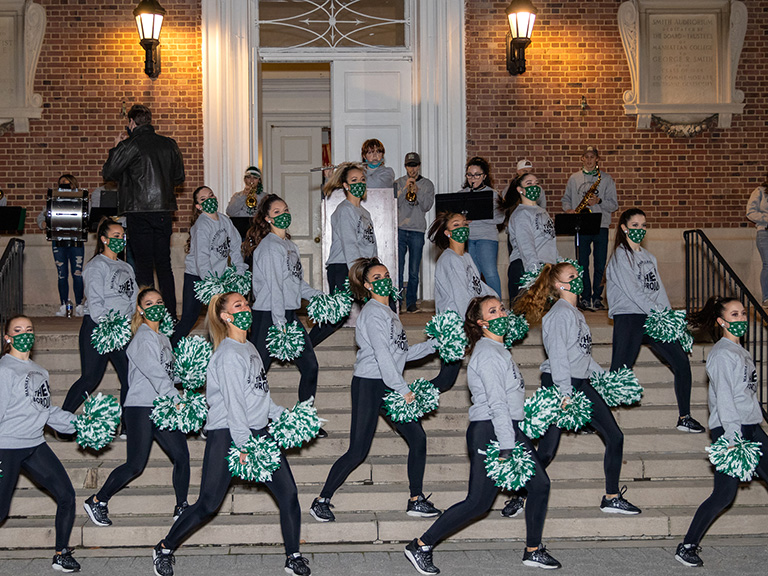 by Nora Nugent, '20 '21 (MBA)
The COVID-19 pandemic has changed the way that we gather, communicate, and grow.
Welcoming students back for the 2020-21 academic year not only challenged residence life and professors, but also the departments tasked with entertaining and socializing students. 
The office of Student Engagement faced the challenge of getting students involved. Many of the events the office had held in previous years would not be allowed under social distancing guidelines. 
Under the direction of John Bennett, Student Engagement was able to pivot their offerings to still provide students with great activities throughout the fall semester. One way was converting the annual lecture series to virtual events. 
"At first we were a little hesitant to move the lecture series to an entirely virtual format - as we knew one of the most attractive things about them was the chance for a student to take a picture with the speaker at the end and truly to meet them. What we never expected was that these virtual lectures would be so personable and intimate - and that more students would get to interact with the speaker than if they were in person" says Bennett. 
The lecture series was a success, as Bennett notes, "Some of the agents that we worked with in securing our speakers remarked to us after the fact, saying out of all the shows they've hosted virtually this past year, how our students were the most interactive and engaging."
Making the Best of Outdoor Spaces
Another way that Student Engagement was able to safely entertain students was through a series of events on the Quad. In addition to a fall spirit squad showcase featuring members of the Pep Band, cheerleaders, and Jasper Dancers, there were also movies shown on some Friday nights. 
Students were able to maintain social distancing while watching some of their favorite movies, such as Ferris Bueller's Day Off and Halloweentown, while relaxing on blankets provided by Student Government. 
Finally, the office of Student Engagement was able to hold the popular fall Family Weekend in a safe but memorable way. Around 600 participants were able to enjoy a virtual cooking class, trivia competition, scavenger hunt, and concert from former Backstreet Boy Brian Litrell and his son. 
Senior Alex Nieves '21 attended some of the events with family. "My brothers and I attended the virtual family weekend, and we actually had a good time," said Nieves. "I remember us playing some games together, and even though we could not be physically together, it was nice for us to share a couple of laughs when we participated."
Keeping the Spirit Alive
Another department tasked with supporting students during the pandemic was Campus Ministry and Social Action. Keeping the inclusive community of Manhattan alive while gatherings were limited was no easy task. However, Campus Ministry rose to the challenge, hosting numerous in-person and virtual events. These included the popular Agape Latte speaker series, which was held as a hybrid event, as well as various retreats that allowed students to connect during the difficult time of COVID-19. 
In addition, regular masses were offered in the Chapel of De La Salle and His Brothers and virtual peer ministry sessions were held weekly. Finally, Campus Ministry aided students in finding community-engaged federal work study program positions. These are just some of the many great events that helped the community stay connected during the pandemic. 
Staying Fit Inside and Outside
Another department that was challenged during the pandemic was the campus Fitness Center. Keeping students safe yet active was a large undertaking. Led by Jay Ahmed, the Fitness Center began offering virtual exercise classes to students soon after the pandemic hit in March 2020. 
These classes continued into the summer, but when students returned for the fall semester, there was a demand for in-person activities. The Fitness Center then began providing a series of outdoor fitness classes in both Jasper backyard and on the Quad. The classes included yoga, bootcamp fitness, total body workout, mixed martial arts and Tae Kwon Do. 
"We adjusted to the new safety guidelines making sure everyone had masks on and following social distancing guidelines during every class and there were never any issues," says Ahmed. "We were limited to equipment we could use but were able to get creative and use alternative methods of fitness training with minimal equipment. The number of participants were growing consistently and the positive feedback was very encouraging."
As New York State began the process for reopening gyms, the Fitness Center prepared to pass an inspection for reopening. With a properly distanced layout, reduced occupancy limits, and frequent sanitizing, the center was able to reopen to students. Ahmed credits the student workers of the Fitness Center for its success. 
"They understood and were able to meet the requirements that were asked of them to ensure that our facility is operating in a safe manner in the interest of our patrons and the campus community". The center continues to be open for student use, and virtual and outdoor fitness classes are available to keep students safe and healthy.
The COVID-19 pandemic altered the daily lives of everyone, especially college students. By providing the highlighted activities and others, Manhattan was able to keep students social, entertained, and most importantly, safe.