Manhattan College to Partner with Aramark Higher Education
Aramark will provide a range of integrated campus services, beginning in fall 2020.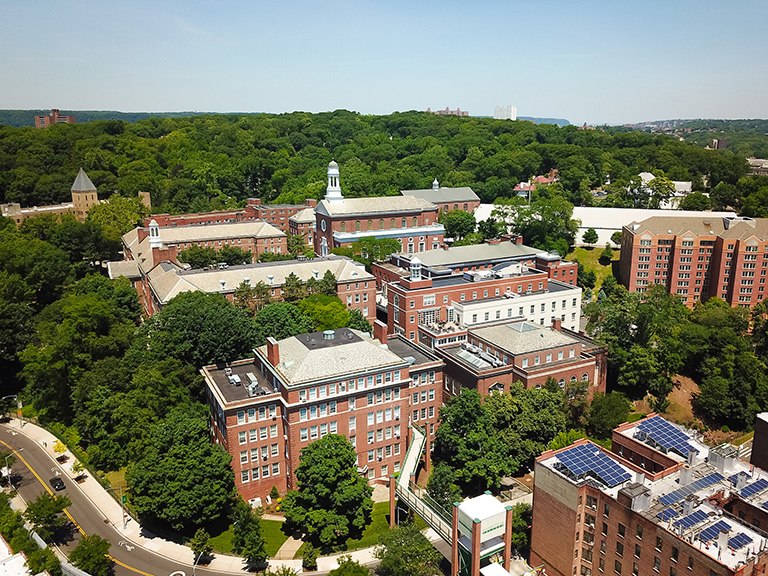 Manhattan College is partnering with Aramark for a range of integrated campus services, beginning in fall 2020. The partnership calls for Aramark Higher Education to manage the College's dining services and nonresidential custodial services. This is part of a comprehensive plan with Aramark that will ultimately include facilities, energy management and residential custodial services.
All affected Manhattan College staff, supervisors, and managers who will join Aramark will retain specific Manhattan College benefits such as tuition remission, while benefiting from Aramark's range of benefits, services, and opportunities. Aramark has also committed to recognizing Manhattan College's collective bargaining agreement with Local 153, the employees' union that represents physical plant and residential life housekeeping.
Aramark is working closely with our own Human Resources team to assume responsibility for integrated campus services this fall. Aramark leaders soon will be meeting with current employees to discuss the transition.
In the coming days and weeks, Aramark and the College will be providing many opportunities for members of the community to participate in the transition—to learn details of the various elements of the comprehensive and integrated plan of service and to provide input for adapting plans to our community's particular needs and expectations.
Re-Opening with EverSafe™
The partnership also brings extensive expertise and resources in areas requiring special attention as Manhattan College implements its return to campus. EverSafe was developed by Aramark in accordance with recommendations of the Centers for Disease Control and Prevention (CDC), the World Health Organization (WHO), and other leading health organizations.
EverSafe features five distinct pillars:
Embedding good health and hygiene practices to support the safety and well-being of everyone on campus. This includes health monitoring, temperature checks and Personal Protective Equipment (PPE) for all dining employees, as well as promoting a culture and environment to sustain healthy practices.

Creating appropriate spatial separation practices through visual cues and floor decals, physical alterations and other service enhancements, including installation of additional splash guards in Locke's Loft and Kelly Commons.

Implementing new and enhanced cleaning, sanitation and disinfecting procedures. This includes new processes, equipment and cleaning agents, as well as careful assessment of high-risk areas that require special attention.

Employing available and emerging technology, including mobile ordering, self-order and pay kiosks to further improve everyone's safety, convenience and experience.

Expanding and introducing new service offerings and capabilities to best meet the needs of our community.
New, Innovative Offerings
"Create Kitchen" will be a teaching kitchen where students can receive cooking instruction from Aramark's trained chefs and make their own meals. Faculty and staff are also welcomed to participate in this unique culinary experience.

Mobile ordering and self-ordering will be installed in locations across campus

An increased focus on health, variety and sustainability, including rotational cuisines and continued partnership with the campus community garden.

A dedicated student dining committee will be formed and meet regularly, providing real-time feedback in person and through a digital survey platform.
Nationally, Manhattan College joins more than 500 colleges and universities working with Aramark to meet the needs of students. The company serves about three million students in North America alone.
The relationship with Aramark allows the College to enhance a broad range of campus services while creating cost efficiencies and providing opportunities for continuous improvement in support of the overall mission of the College. As a leading provider of services throughout higher education, Aramark gives the College access to its extensive and comprehensive organizational resources and support — technical, managerial, operational and financial. 
In addition, the College gains access to capital that will drive innovation and further facilities development, including state-of-the-art energy management strategies to promote long-term environmental sustainability. 
Aramark hosts several programs that align with Manhattan College's mission, including the Aramark Ignite Program, an effort to energize the classrooms of Philadelphia high schools, thereby increasing the workforce skills, high school graduation rates and post-secondary success of the participating students. The ultimate goal of the program is to enhance the economic outlook of the student's future, with a focus on career exposure to the food services and facility management industries, mentoring and 21st-century skill building.
Aramark also shares in Manhattan College's mission of assisting formerly incarcerated individuals to return to education and the workforce. Aramark helps the transition of returning citizens from incarceration to society through its IN2WORK vocational training program. This program, offered at no cost to taxpayers, has helped reduce recidivism by as much as 30% for participants. The IN2WORK program has earned the National Governors Award for Public-Private Partnerships.
About Aramark:
Aramark proudly serves the world's leading educational institutions, Fortune 500 companies, world champion sports teams, prominent healthcare providers, iconic destinations and cultural attractions, and numerous municipalities in 19 countries around the world. Our 280,000 team members deliver innovative experiences and services in food, facilities management and uniforms to millions of people every day. Aramark strives to create a better world by making a positive impact on people and the planet, including commitments to engage our employees; empower healthy consumers; build local communities; source ethically, inclusively and responsibly; operate efficiently and reduce waste. Aramark is recognized as a Best Place to Work by the Human Rights Campaign (LGBTQ+), DiversityInc, Equal Employment Publications and the Disability Equality Index.