Students' Entrepreneurial Ideas Shine at Virtual Innovation Challenge
The winning team plans to seize the digital moment.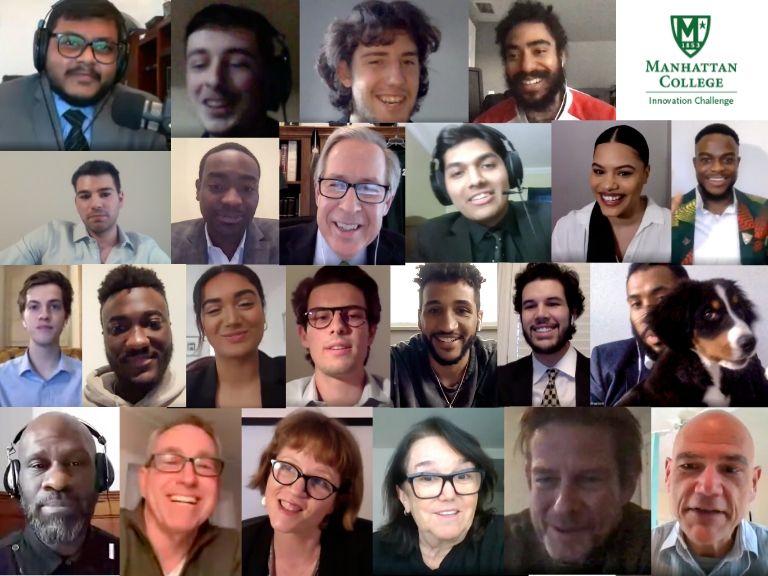 The virtual format may have been new, but the levels of competition and audience interest were as high as ever on April 16, when the O'Malley School of Business hosted its annual Innovation Challenge on Facebook Live. Living up to its name in both content and presentation, the contest between eight student teams showcased the rigor and collaboration that are Manhattan College hallmarks.
In what Donald Gibson, dean of the O'Malley School of Business and host of the event, termed "Shark Tank, Manhattan style," budding entrepreneurs from the business school and School of Engineering pitched their business ideas to a panel of alumni, friend and faculty judges for prizes totaling $6,500 in startup cash. Via webcam technology, each team member was allotted screen time to discuss their idea and show presentation slides, as well as answer questions from the judges. Meanwhile, Facebook Live viewers from as far away as France contributed a steady stream of likes and supportive comments.
Digital Media Audits Are a Foot in the Door
Marketing majors Jeffrey Bartlett '21 and Desmond Cole '21 were awarded first prize of $3,000 for their company DYFRENT, a digital media consulting service that provides clients with social media design and management, lead generation, targeted outreach and web design. The market has a need for their services, Cole explained during their presentation. "It's an unavoidable mandate to have a quality digital brand experience in 2020 and going forward," he said.
DYFRENT's strategy for building the business is to perform complimentary digital media audits for prospective clients that will pinpoint the brand's strengths and highlight areas in need of improvement. Even with a conservative estimated conversion rate of 4%, Bartlett and Cole project profitability and a share of New York City's entertainment, arts and social spending. Their mission statement is, "Where the best come together to do their best."
Praising the team, judge Patricia Sigmon said, "You have a great skill set, the timing is right, you have great marketability and a plan of action with specific tasks. I think that the audit is perfect as a starter for meeting clients … Your biggest challenge is that you're going to get more clients than you think you are." Sigmon founded a software development and implementation firm and served as its CEO for 30 years.
A Wealth of Entrepreneurial Ideas
Marketing major Joseue Encarnacion '20 and business analytics major Adrian DeJesus '21 took home second prize of $2,000 for their product, Baythoven, which is aimed at the sizable population of pet owners. The team proposes to sell a health-monitoring chip for pets through retailers, wholesalers, veterinarian offices and animal shelters for a cost of $20 - $30 per chip and small fee to implant the chip. An additional low-fee monthly subscription would allow customers to track their pet's health and thus, avoid costly vet bills.
In third place, economics major Laurent Span '21 captured $1,000 for his social media sharing app, WeGoal. In this model, app users can announce their goals and receive support from fellow users through posts, tokens and follows. Points accrued allow their profiles to gain increased visibility on the app. WeGoal's mission is to create a positive social media space devoted to building strong relationships and a sense of unity through common purpose.
This year's competition also awarded an audience favorite, with votes cast through the Facebook Live chat feature. Computer engineering majors Angel Gutierrez '22 and Anik Rashid '22 along with electrical engineering majors Eliana Montealegre '22 and Charles Wrizar '22 won $500 for their app, Que (pronounced "queue"). A clientele management system for barber shops and nail salons, Que moves the in-person waiting system to an online platform that will cut customer wait times, as well as provide reviews and payment services.
"The Innovation Challenge is a chance for students to show their entrepreneurial ideas and inspirations to a panel of very knowledgeable entrepreneur judges," Gibson said. "The mix of business and engineering students on the teams really represents how innovation comes about: with a range of technical and product knowledge to solve critical problems. It was so exciting to see these budding entrepreneurs in action! This virtual event was a terrific demonstration of the resilience and grit of Manhattan College students."
Watch the video below for highlights from the event.
Subscribe to our YouTube Channel