Athletic Hall of Fame Class of 2018 Announced
Seven individuals and one team have been elected to the Manhattan College Athletic Hall of Fame Class of 2018.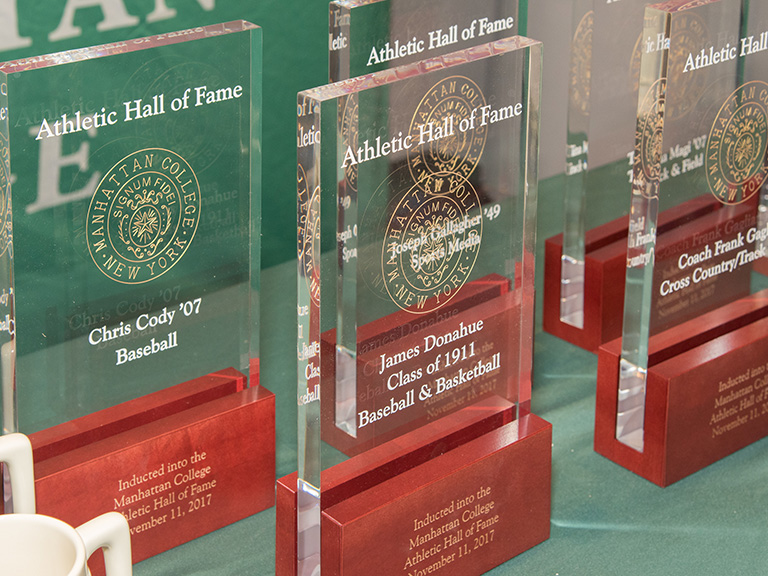 Seven individuals and one team have been elected to the Manhattan College Athletic Hall of Fame Class of 2018. The 40th annual induction ceremony and dinner will take place on Saturday, November 10.

"Another outstanding class has been selected to join our Hall of Fame and we look forward to recognizing their accomplishments in November," said Marianne Reilly '82, Director of Intercollegiate Athletics.

This year's honorees are:
Stefani Allen '03 (women's track & field)
Robert Annunziata '81 (football)
Conroy Daley '96 (men's track & field)
John Fitzpatrick '06 (baseball)
Justin Otto '06 (men's lacrosse)
Matt Rizzotti '13 (baseball)
Chris Williams '93 (men's basketball)
Additionally, the 2002 men's lacrosse team will be honored. 

"The Hall of Fame committee congratulates the seven inductees and the 2002 lacrosse team for earning inclusion to the Class of 2018," said Joe Ryan '81, '86, Hall of Fame selection committee president. "This year's candidates were exceptionally noteworthy and the committee thanks their sponsors for bringing the candidates to our attention."

Stefani Allen '03 won a school record 17 MAAC titles during her illustrious track & field career in Riverdale. A standout sprinter, she captured the 200-meter dash at the MAAC outdoor meet all four years, and three times during indoors, to go along with three 100-meter championships and two 55-meter titles. In 2001, she was named the Most Outstanding Performer at the MAAC Outdoor Championships after winning the 100-meter dash, 200-meter dash and 100-hurdles, before repeating in all three a year later.

Robert Annunziata '81 was a three-time club football All-American at quarterback, while throwing for over 4,000 yards and 36 touchdowns. He would later earn tryouts with the New York Giants and CFL's Montreal Alouettes before assuming the reigns as the head coach of the Manhattan club football program.

Conroy Daley '96 participated in the 1995 NCAA Men's Outdoor Track & Field Championships in the triple jump, finishing 14th, after qualifying with a jump of 51-10.5 at the IC4A Championships. One of the top jumpers in school history, he still holds the indoor school record in the long jump and he collected Penn Relays, IC4A and Metropolitan titles in the long and triple jump.

John Fitzpatrick '06 is the only four-time All-MAAC First Team selection in the baseball program's history and was a key contributor to Manhattan's 2006 MAAC Championship squad that defeated Nebraska and San Francisco in the NCAA Tournament. He earned All-American honors in 2006 after crushing a school-record 18 home runs with 14  doubles and 66 RBI. Fitzpatrick graduated as the program's career leader in hits, doubles, home runs and RBI before signing a professional contract with the Pittsburgh Pirates.

Justin Otto '06 is one of two players in lacrosse program history to win All-MAAC honors all four years. Otto also garnered MAAC All-Tournament team honors in each of his final two seasons. He continues to hold the program record with 129 goals, while ranking second with 172 points. Of Manhattan's top-10 single-season goal marks, Otto accounts for four of them, including a career-high 34 as a senior in 2005. As a freshman in 2002, he helped lead the Jaspers to their lone MAAC Championship, including a perfect 9-0 record during league play.

Matt Rizzotti '14 is one of the top offensive threats in program history on the diamond. A three-time All-MAAC selection before being summoned to the professional ranks, Rizzotti hit .367 with 205 hits, 29 home runs, 151 runs and 143 RBI in just three years. He burst onto the scene as a freshman by winning MAAC Rookie and Player of the Year honors in 2005 thanks to setting school records with a .416 average, 72 hits, 21 doubles and 57 RBI to go along with nine home runs. He would then lead the Jaspers to their first MAAC title in 2006, along with wins over Nebraska and San Francisco in NCAA regional play. Following his final season in 2007, Rizzotti was drafted by the Philadelphia Phillies in the sixth round of the Major League Baseball Draft before reaching the Triple-A ranks.

Chris Williams '94 manned the point guard position during his four years at Manhattan and helped lay the foundation for the culture that has resulted in five MAAC Championships. He guided the Jaspers to their first-ever title as well as back-to-back regular season championships. A 'clutch' performer, he hit the game-winning free throw in Manhattan's 1993 MAAC-title win over Niagara after canning the game-winning layup in the Jaspers' NIT victory over Rutgers in 1992. For his career, Williams scored 792 points with 271 assists while making good on 38.2 percent from deep and led the program to 72 wins. He continues to be involved with Manhattan Athletics, serving as the voice of the men's and women's basketball programs on the Jasper Sports Network.

The 2002 Manhattan Men's Lacrosse team will also be recognized as the team captured the first MAAC Championship in program history before dropping a hard-fought decision to nationally ranked Georgetown in the opening round of the NCAA Tournament.

The 40th Manhattan College Athletic Hall of Fame induction ceremony on Saturday, November 10, will begin with a Mass in the Chapel of De La Salle and His Brothers at 4:00 pm. The induction ceremony and dinner will follow at 5:00 pm in the Great Room of the Raymond W. Kelly '63 Student Commons.  Registration information will be available in the fall.

With the election this year's class, the Manhattan College Athletic Hall of Fame now includes 268 members. For more information on the Hall of Fame, please visit http://manhattan.edu/halloffame.