Two Students Use National Science Foundation Grants to Advance Research
Danielle Baik and Anthony DePinho gained valuable research experience in Massachusetts this summer.
Manhattan College students travel far and wide each summer. Some live and work in their hometowns, and some live and work on campus in Riverdale, while others take advantage of the College's study away programs.
Danielle Baik and Anthony DePinho, two juniors in the School of Science, each received a summer research grant under the National Science Foundation Research Experiences for Undergraduates (REU) program. The NSF REU program provides students a prestigious research opportunity in their field of choice to work closely with faculty and other researchers at institutions across the country. Both students chose to pursue opportunities to continue research they had done on campus in the state of Massachusetts.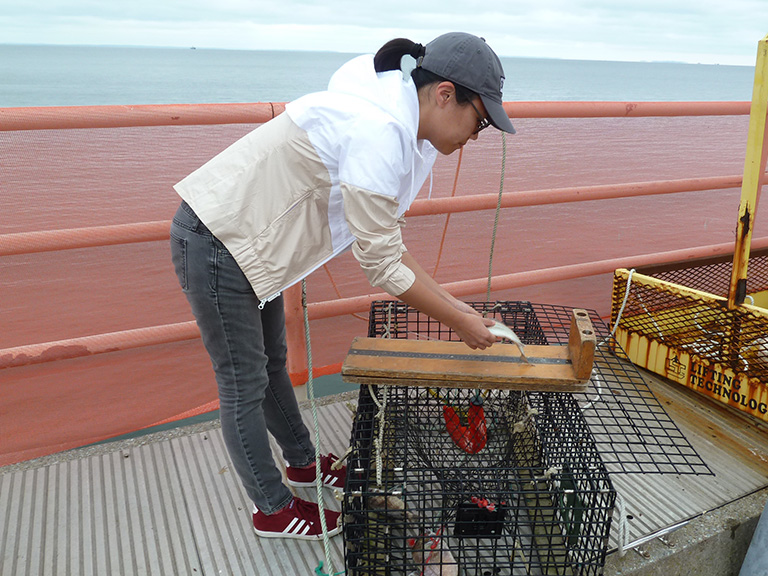 Baik spent 10 weeks working on a marine biology project at the University of Massachusetts at Dartmouth's School for Marine Science and Technology. Located at the tip of Buzzards Bay, 60 miles south of Boston, the location provided an excellent opportunity for Baik to leverage her background as a biology major and explore engineering solutions to tackle the issue of overfishing, especially black sea bass and cod, one type of fish that is heavily monitored by the U.N. Food and Agricultural Organization.
"We worked on this project because black sea bass is important recreationally and commercially," Baik said. "We enjoy eating it, and we enjoy catching it for fun, but if we overfish, we're going to destroy our oceans."
Baik and her team developed a baited remote underwater video system that seeks to develop a way to measure fish length and abundance to make ensuing research easier and cost effective. The team worked in a marine protected area and was careful to make sure they didn't deplete any of the surrounding natural resources.
"This was very preliminary research," Baik explained. "Our data was strong but the project needs to continue on a bigger scale so we can explore more areas and collect more data."
Two Jaspers Combine to Work on Clean Air at Harvard
DePinho, a mathematics major and computer science minor, was the recipient of a National Science Foundation Research Experience for Undergraduates (NSF-REU) scholarship at Harvard University.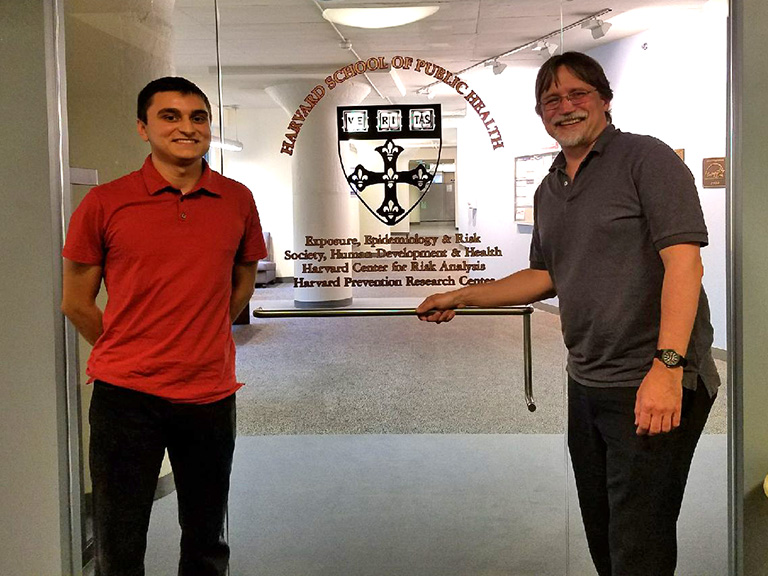 As part of a team of five students selected from institutions around the United States, DePinho spent his summer working alongside chemical engineering alumnus Dr. Gary Adamkiewicz '89, 90M, an assistant professor of environmental health at Harvard, and a number of other leading scholars in Harvard's Paulson School of Engineering and Applied Sciences. The student team created mathematical models and used computer science tools to determine levels of air quality in and around the Boston area.
"One thing we tried to focus on with this project was visualizing the results in a meaningful and intuitive way," DePinho said. The group is currently working on a digital heat map that allows individuals in different areas to look up the levels of air quality in their own neighborhood. DePinho and his group identified the heat map as a vital component to their research because of the lack of accessibility and clarity of air quality data.
"There are data sets from the Environmental Protection Agency that are available to download, but there's an easier way to present the data so that people know what it means for them, in terms of healthy living and making good choices," DePinho said.
Both Baik and DePinho presented their research projects at Manhattan's Summer Research Scholars Symposium on campus in September, presenting to a group of their peers and faculty.
"The Research Scholars Symposium is one of the best things we do here at Manhattan College," said president Brennan O'Donnell. "It's a great way for our students to gain experience presenting their own research in an academic setting and really showcases the strong collaboration that occurs between faculty and students throughout the entire year."
Baik plans to continue to pursue her interest in biology, and is considering a research project in botany or horticulture next summer, while DePinho is interested in attending graduate school in applied math or data science, after seeing how academia worked this past summer.