Multinational Engineering Firm Yields Success for College Alumni
In conjunction with the Manhattan College Mentor Program, internships and post-graduate jobs, AECOM has been a popular career destination for engineers working in the construction industry.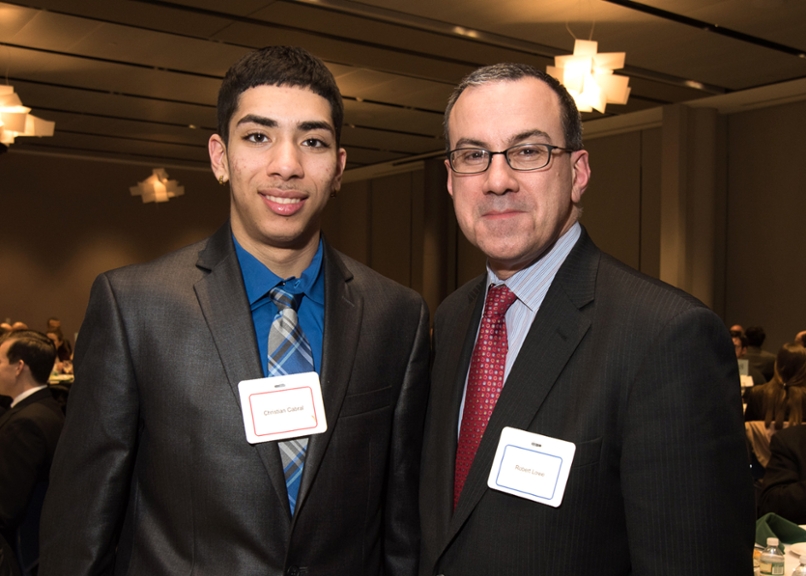 By December of 2016, Bob Leonetti '83 had assumed and already begun serving in his most prestigious role to date: senior vice president at AECOM, an American multinational engineering firm leading some of the world's most high-profile infrastructure projects. As an example, theirs is the top firm consulting on design and engineering components of the Second Avenue Subway—the New York City Transit (NYCT) subway system's largest expansion in more than 50 years; the first section of which opened for service on Jan. 1, 2017.
In his new position, Leonetti's duties concentrate on the strategic development of AECOM's Civil Construction & Mining (CCM) business, the division responsible for leading construction of the Olmsted Lock and Dam, the largest inland water navigation installation ever built in the U.S. Made possible by a method of "in-the-wet" construction, the system—built mostly by AECOM engineers—allows for uninterrupted flow of commerce on the Ohio River.
For the College alumnus and longtime civil engineer, this position is the most recent accomplishment in a career that began in Yonkers, where he first worked as a traffic engineer. Leonetti has served in many roles since then, but all can be traced back to his time at Manhattan College, where he enrolled as a graduate student because of its lauded reputation in the New York metro area.
"As I entered the public sector, I interfaced with many public officials, people who owned engineering companies, etc., and found that so many industry leaders had been affiliated with Manhattan College at some point in time, either as an undergraduate or through the graduate studies they pursued," he said.
In Leonetti's case, people he met in the working world played a key role in his decision to attend Manhattan. But to many undergraduates, advice from those sources can be difficult to come by, making the task of preparing for the future seem overwhelming at first.
That's where Rob Lowe '86 comes in. A bachelor's degree recipient, Lowe has worked as an engineer at AECOM for 23 years — 14 of which he's participated in Manhattan's Mentor Program, a career development initiative that matches students with professionals who can offer them job advice and guidance on internships, first jobs, and more.
For mentors, the goal is for students to view them as a resource. Lowe, in particular, accomplishes this through semi-annual lunches and walk-throughs of AECOM's office on Broad Street in Manhattan. Dan Shemanski '09, now a civil engineer working at the firm's Philadelphia office, remembers taking this tour his freshman year, when he was first paired with Lowe.
"I didn't go to a technical high school, so when I began at Manhattan, I didn't know what type of engineer I wanted to be. Rob is probably the biggest reason I went into civil [engineering] because he explained to me what went on in the field on a day-to-day basis," says Shemanski, who interned at AECOM's New Jersey location the summer after his sophomore year doing on-site fieldwork.
And he isn't the only one enjoying success as a result of Lowe's mentorship.
Other College alumni, including James Melia '12, is a structural engineer in New Jersey, and Anthony Maurantonio '15, a civil engineer in New York City, have landed permanent positions at AECOM, while several others have participated in the firm's internship program.
Sahajveer Singh '17, a current chemical engineering major at Manhattan, was assigned to the NYCDEP Bowery Bay WPCP, while Zhaku Zeneli '18 worked on site of the World Trade Center Transportation Hub. This project, led by the Port Authority of New York & New Jersey, is now the third largest transportation center in New York City. Last summer, computer engineering student Christian Cabral '19 interned at AECOM. He was tasked to the Second Avenue Subway.
According to the most recent Manhattan College career outcomes survey, participation in the Mentor Program has led to substantial postgraduate success. Of the alumni who participated as students, more than 70% reported having either accepted employment or begun graduate or professional school nine months later.  
After graduation, advice from industry professionals becomes even more important, says Leonetti, who received a long-lasting piece early in his career from William Malone '57, a then-engineer for the City of Yonkers.
"He said to me, 'Come to a meeting and listen, learn and evaluate. The goal is to make them believe you're sitting there, taking it all in, and listening,'" Leonetti remembers.
For he and other College alumni who have risen in the ranks at AECOM and other companies, success is the total sum of many moving parts—not unlike the development projects they've worked on throughout their professional lives. Only in conjunction with knowledge, perseverance, and the collaboration of like-minded professionals are these structures complete, and now serve some of the company's proudest accomplishments.