Manhattan Engineer Restores Renowned Pipe Organs
Electrical engineering major Sean O'Donnell '85 uses the skills he honed at Manhattan College to build and restore pipe organs around the country.
What do music, science and technology have in common? These are the skills electrical engineer Sean O'Donnell '85 received at Manhattan College during his early days as an organist at the campus Chapel. Today, he uses these skills to restore and fix fine pipe organs around the country.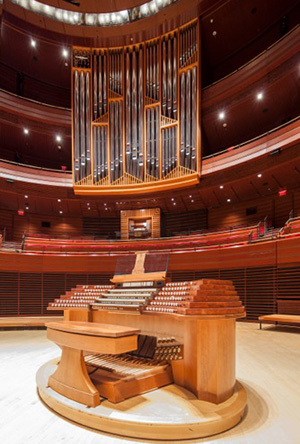 O'Donnell became familiar with the art of music and how various instruments work as an organist and a member of the Manhattan College Players. He also attributes the technical knowledge to his electrical engineering courses, through which he was exposed to interactive systems, as well as the broad range of liberal arts courses he took.
As organist for The Chapel of De La Salle and His Brothers, he became acquainted with the organ's builder, the JH & CS Odell Company. O'Donnell contacted them to see if they were hiring, and gained some experience working with them during college. Shortly after, he graduated and went to work for United Nuclear Corporation to pursue a more mainstream electrical engineering position.
Post-College Opportunity
A few years later, he took a leave of absence and decided to pursue another opportunity, one that was his passion in college. O'Donnell left to work for a pipe organ builder who was looking to hire someone with an engineering and science background instead of another musician or designer. O'Donnell's unique combination of skills fit the bill.
Since leaving United Nuclear Corporation and beginning his career as a technical engineer 25 years ago, he has traveled across the county to build and restore pipe organs. A few of his favorite projects include the installation of Rosales Organ Builders' Opus 24 in Walt Disney Concert Hall with the Los Angeles Philharmonic, and maintaining Aeolian Skinner Op. 1134 at Boston Symphony Hall for a number of years.
"My favorites instruments are the fully automatic pipe organs. They are an engineer's dream as far as tinker toy technology pushed to the breaking point," O'Donnell says.
In the summer of 2000, O'Donnell found and restored an electronic copy of Leopold Stokowski's recording of Bach's Passacaglia and Fugue in C. The electronic copy was based off of the one archived paper roll created in 1925 by Stokowski, and is a digital version played on a computer in conjunction with a pipe organ.
Stokowski, a renowned British conductor who joined the Philadelphia Orchestra in 1912 and led the ensemble to prominence for more than 30 years, was also famous for appearing in the film Fantasia.
In 1925, Stokowski first recorded Bach's Passacaglia and Fugue in C as a Christmas gift to Edward and Mary Louise Curtis Bok, who were patrons of the Philadelphia Orchestra and the Aeolian Company. As the paper copy was too fragile, musical collector John Farnsworth made an electronic copy in the 1980s, which Charles Kegg, a friend of Farnsworth and builder of new instruments, inherited when he passed away.
By chance, O'Donnell who had connected with Farnsworth in the past prior to his death, tried to locate the copy, and contacted Kegg on the recommendation of a friend who found the hardware and data tape in a box.
With O'Donnell's help, the recording was transferred to an Orci performance recording system and presented on the Aeolian DuoArt organ for the first time in decades in 2000 at a fundraiser for the Philadelphia Orchestra.
As O'Donnell explains, the normal process to obtain a copy of the recording is to "play the roll on an adaptation of its original machinery that was connected to a computer." Unfortunately, since the Stokowski electronic roll was stored on an undocumented system, O'Donnell and his tech crew had to essentially back-engineer the system by listening to each sound byte.
"What we would do is take the data tape for some other roll for which we had a copy of the roll, put them on both machines and just watch and see what wires lit up," O'Donnell says. "We did this over and over again for about a week until we were confident we had all of the information we needed."
Current Endeavors
Recently, the Philadelphia Orchestra commissioned O'Donnell's assistance again to get Stokowski's recording ready to play on the Dobson organ Op. 76 at the Halloween Organ Extravaganza at Verizon Hall. The Stokowski recording was such a hit, the Philadelphia Orchestra added the recording to three more shows the following week.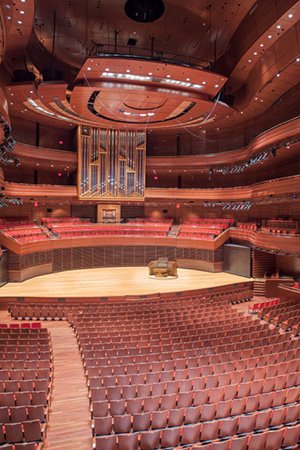 O'Donnell's relationship with the Philadelphia Orchestra and the City of Philadelphia began almost a decade ago when he was hired by Dobson Pipe Organ Builders, to help install the Fred J. Cooper Memorial Organ (Dobson Organ Op. 76), the largest mechanical-action concert hall organ in the U.S. In the past, he has also maintained and restored the Wanamaker Organ at Macy's in Philadelphia.
One thing O'Donnell enjoys about many of his projects is the history behind them. The E & GG Hook Opus 307 in Boston, for example, was built for the Sears family Chapel in 1861 during the Civil War.
"This was built just as the war was starting, and it was the last instrument to come out of the factory before those guys went off to war, and many of them never came back," O'Donnell says. "The inside of the instrument was full of graffiti, so it became a personal connection to these people."
Today, O'Donnell's work has brought him back to Philadelphia, and he recently completed the restoration of Skinner Op. 617, a player pipe organ for a private client. O'Donnell will complete another project in Pottstown, Pa., next summer.
"The job I have now, I never realized existed when I was in college," O'Donnell concluded. "It was my engineering background that made it possible to discover and recover this one-off recording."
Photo credit: The Fred J. Cooper Memorial Organ captured by Len Levasseur.
Video credit: Skinner Op. 617 was fitted with a computer-based record and playback system, and is shown above playing the Waltz of the Flowers from Tchaikovsky's The Nutcracker.