The Visiting Room Project Brings Powerful Stories of Incarcerated People to Manhattan College
The traveling oral history and film project presents first-person accounts of serving life in prison without parole.
More than 55,000 Americans are living in prisons serving life without parole, according to data compiled by The Visiting Room Project, an oral history project and website. The project has filmed more than 100 interviews with people serving life without parole at the Louisiana State Penitentiary, better known as Angola. Through these interviews, thousands have had the opportunity to witness people behind bars tell their own personal and unfiltered stories.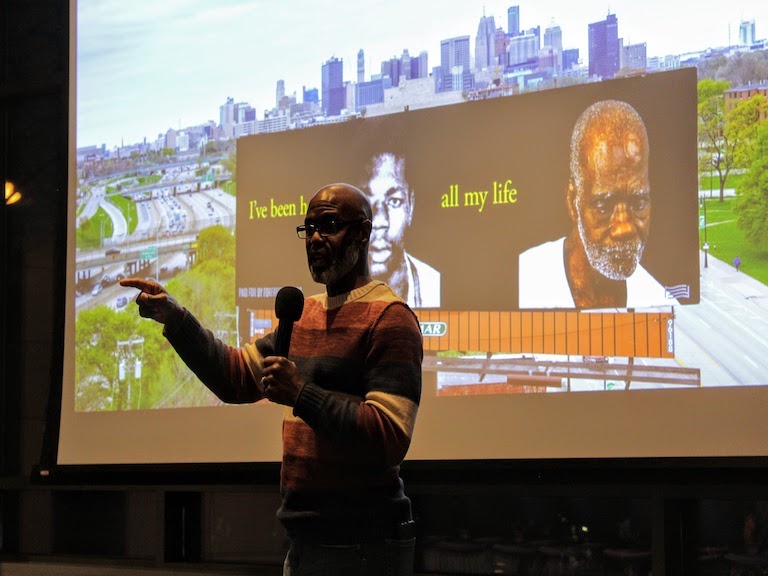 On March 2, Marcus Kondkar, the chair of the sociology department at Loyola University and a co-founder of the project, brought The Visiting Room's touring presentation to Manhattan College. Joining him for the presentation was Charles Amos, who was first interviewed by Kondkar in 2017, during Amos's 23rd year of incarceration. With the assistance of The Visiting Room, Amos was released from prison in 2022. The event was organized by Dennis Kalob, assistant professor of sociology at Manhattan and a former colleague of Kondkar's at Loyola. 
"Most people don't know about the changes people go through behind prison walls," Kondkar said. "If we want to understand the experiences of those we have cast to the sidelines of society and make empathetic connections with them, we need to visit and hear their stories." 
During the presentation, the Manhattan College audience watched the testimonials of  Alvin Catchings, Daryl Waters, Sammie Robinson and Amos. The four men told their stories in pre-recorded video clips. 
"I just pray that everyday people can realize that there are everyday people behind these walls who love, who get sad, who hurt, who are happy and who have dreams," said Waters. "You can lock us up, but you can't stop us from being human beings." 
Perhaps the most heartrending interview came from Robinson, who was 17 years old when he was first incarcerated in 1953. He described the violence he faced during his time in prison and shared that during a fight, another prisoner used lighter fluid and set him on fire. 
Robinson passed away in 2019 at the age of 83, after serving 66 years in prison: the longest serving inmate at Angola.
Charles Amos also shared his harrowing prison stories with the Manhattan College audience. 
"At 16, I committed a crime and went through the prison system as an adult," Amos said. "Having juveniles in a prison system, with no opportunity of coming home, is not right."
When Kondkar arrived at Angola to begin interviews for The Visiting Room, Amos was guarded and fearful of being exploited. He began to lower his defenses after speaking to Calvin Duncan, the co-founder of the project. Duncan, an expert in post-conviction law, was wrongfully convicted and sentenced to life without parole and served 28 years before his release in 2011. 
"Guys in Angola do not talk or reveal some of the emotions that they have kept inside for years," Amos said. "But this project allowed men to just come clean. I should not be judged by my worst mistake. My whole life should not be determined by one bad decision."
Since its inception, The Visiting Room has changed lives. It has helped three men be fully exonerated and has been instrumental in helping eight other incarcerated people receive lesser sentences.  For its next phase, the project team is looking to partner with formerly incarcerated people to tell their stories. With the help of some generous funding, the project team is starting workshops for exonerated individuals. Workshops include public speaking, narrative storytelling, social media, personal finance and advocacy. 
 "We've got several national screenings coming up this year, and at every one of these events our vision is to include one or more of our contributors who have come home," said Kondkar. 
Kalob explained that after discussing The Visiting Room with Kondkar at Loyola, he decided it was important to bring the project to Manhattan College. 
"I found the whole thing very fascinating and important," Kalob said. "I asked Marcus when I was going back to New York if he would be interested in sharing it with us. He said, 'Of course, I'd love to." 
"It was incredible to see someone overcome such tremendous barriers in life," said Patrick Foley '24 of his Visiting Room viewing experience. "It's really, really powerful. I'm a sociology major, so I am very passionate about these issues. To see someone thriving after decades of incarceration is amazing." 
For those interested in finding ways to support incarcerated individuals, Manhattan College offers the Engaging, Educating, Empowering Means Change program (E3MC). The program, which is a partnership between New York City and the Westchester County Department of Corrections, allows confined students to continue their education with Manhattan College at no cost.  Each semester, traditional undergraduate students and incarcerated students take a weekly accredited college course together at a correctional facility. The goals are for the undergraduates to learn about the criminal justice system and social concerns and for the incarcerated students to realize their potential to succeed.
"Remember that even though they have a history, they are human and deserve to be treated as such," said Savannah Wiza, the coordinator of E3MC.
–by Taylor Carroll '17, '23