Model UN Offers Great Experience for Students in All Disciplines
From engineering to the liberal arts, Model UN alumni look back on how it shaped their careers.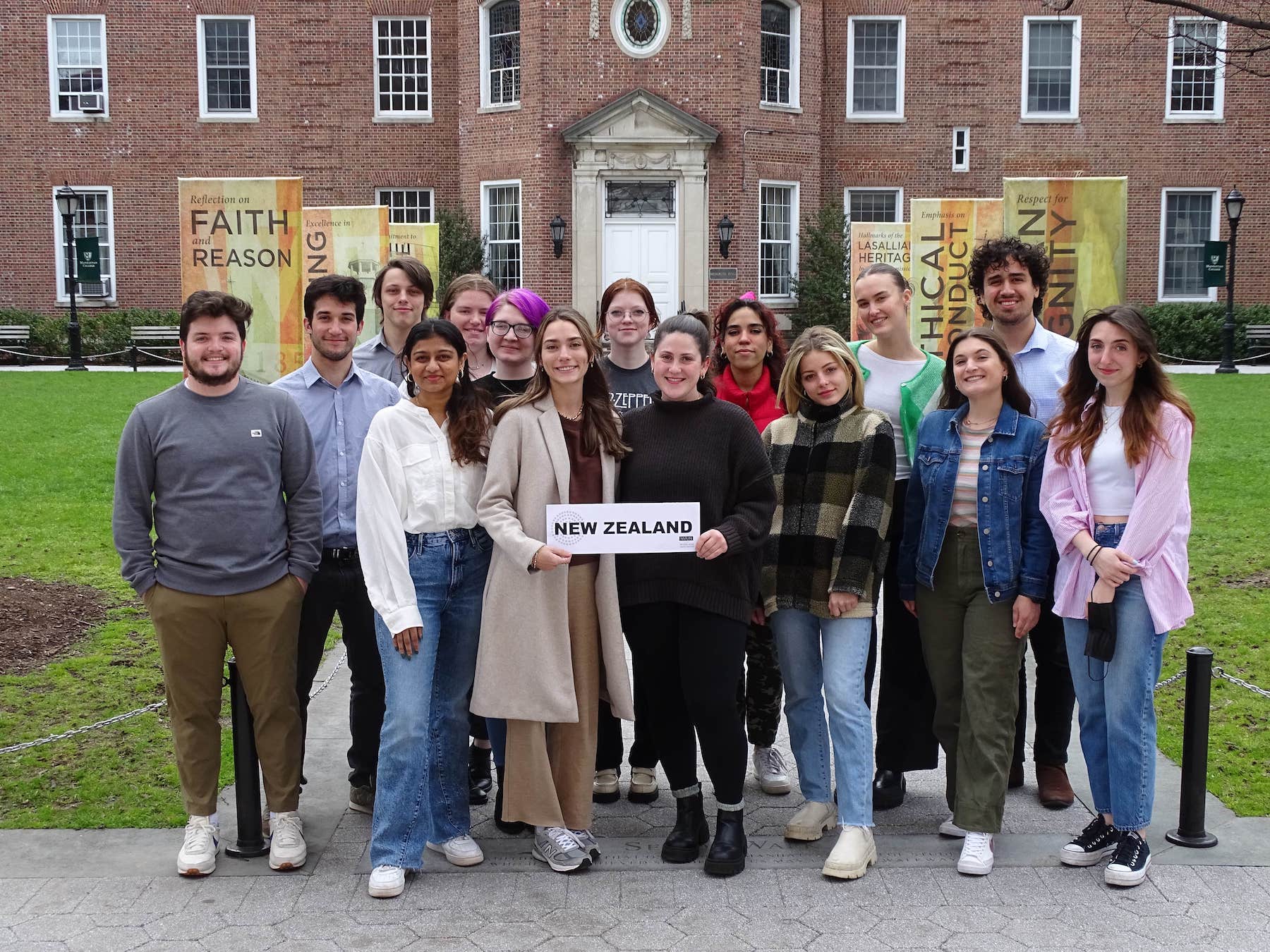 For decades, the Model UN experience has offered Manhattan College students an opportunity to understand the inner workings of the United Nations and other international organizations while building skills in diplomacy and compromise.
Each year, Manhattan College participates in two Model United Nations conferences: a fall conference in Washington, D.C. and the spring National Model United Nations (NMUN) Conference in New York City. This hands-on experience helps students acquire expertise on a particular country, which they represent at the conference. The Manhattan College Model UN team attended the 2022 National Model UN - NY conference last Thursday and brought home a Distinguished Delegation Award for representing New Zealand.
Students from across Manhattan College's six schools – Liberal Arts, Science, Education and Health, Engineering, Business and Continuing and Professional Studies – bring a diverse set of perspectives to address issues surrounding regional conflicts, peacekeeping, human rights, women and children, economic and social development and the environment.
Chris Hoey '17, who is currently a legislative assistant in the Mayor's Office for the City of Chicago, says Model UN is a great opportunity to expand your worldview beyond where you've been, where you've seen, or where you've read about. Once an electrical engineering major, Hoey mentioned how his time in Model UN prepared him for his professional career.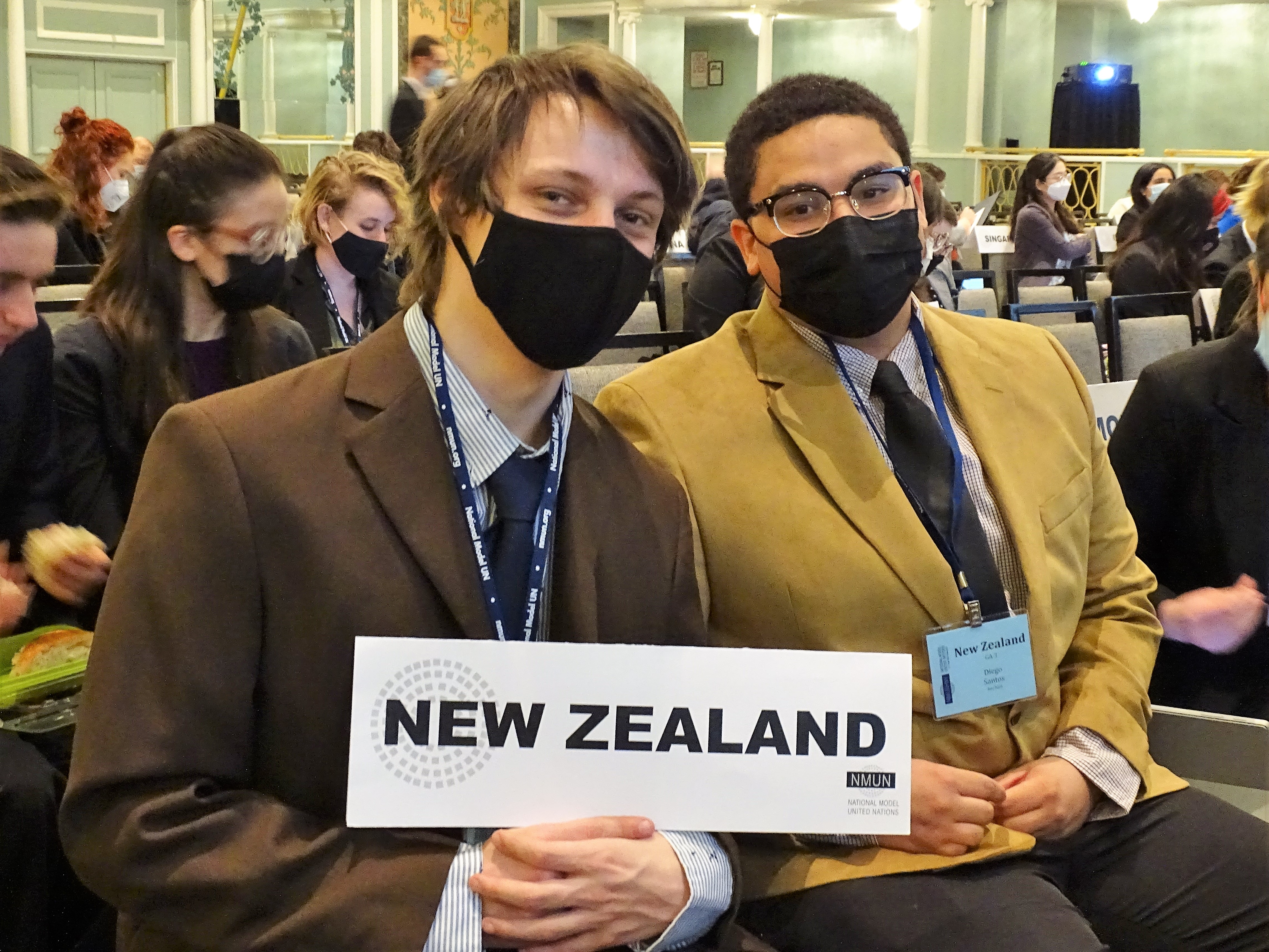 "Model UN builds critical skills outside of the knowledge you gain about international relations and diplomacy," Hoey said. "It requires extensive research, interpersonal skills, concise and effective communication, and public speaking." It's truly an immersive experience that allows you to fully understand international diplomacy, social and economic issues on a grand scale, and negotiate realistic solutions with your peers."
Before becoming a Model UN advisor himself, and after receiving a bachelor of arts degree in economics, Nathaniel Burke '11 enlisted in the military and went on to spend five years as an Army linguist. He recalled how his experience in Model UN not only taught him how to do research in international diplomacy spaces, but also how to understand a foreign position that might be counter to his cultural perspective. "I enlisted in the military after college," Burke said. My specific career on active duty required me to be very aware of geopolitics, international relations, and diplomatic relationships, all of which I learned about during Model UN. Model UN also taught me how to negotiate and talk in front of people in a persuasive manner."
Sydney Kukoda '19, who graduated from the School of Education and Health, mentioned how she decided to join Model UN after having met Pamela Chasek, Ph.D., professor of political science and the faculty advisor to the Model UN group, during her senior year of high school. Kukoda, who is now a 10th grade English Language Arts teacher in New York City, applies the skills she learned as a Model UN member in her own classroom.
"When you're communicating on behalf of someone else – or on behalf of a group of people – and working with delegates from varying walks of life, you become reliant on your ability to develop interpersonal relationships and choose your words purposefully," she said. "As a teacher, I do this daily in interacting with my students. To meet their needs and develop a mutual understanding requires me to keep my ears open to everything they're not saying (or not able to say), and the bonds possible among my students can only benefit from my leading their social development by example."
Tim O'Connor '18, a graduate of the O'Malley School of Business, recommends that current students look into joining Model UN because they will learn practical lessons not taught in classrooms.
"During my time in Model UN, I sharpened my collaboration skills while working on solutions with different teams with varied goals, which is valuable in every line of work," he said. "The diplomacy of Model UN feels stuffy and a little unnatural at first, but after you've had it down pat you will see how helpful it can be in real life."
O'Connor currently works for an advertising agency where he works on programmatic marketing campaigns. He will be pursuing his JD at Seton Hall Law School this fall. "In terms of my career, Model UN has led to a greater interest in a legal career using many of the tools I picked up during the class. I will be looking to combine my marketing and advertising work experience with a law degree–which I likely would not have considered had I not met many of the Model UN members who are also interested in similar careers."
While Model UN may appear to appeal at first to the aspiring diplomats and politicians on campus, these four students, from engineering majors to educators, show how the group can positively affect the course of their college careers. And their time after college.
–by Taylor Carroll '17, '23 (M.S.)