Manhattan College is a Top Producer of Fulbright U.S. Students
Three graduating seniors received Fulbright awards in the 2019-20 academic year.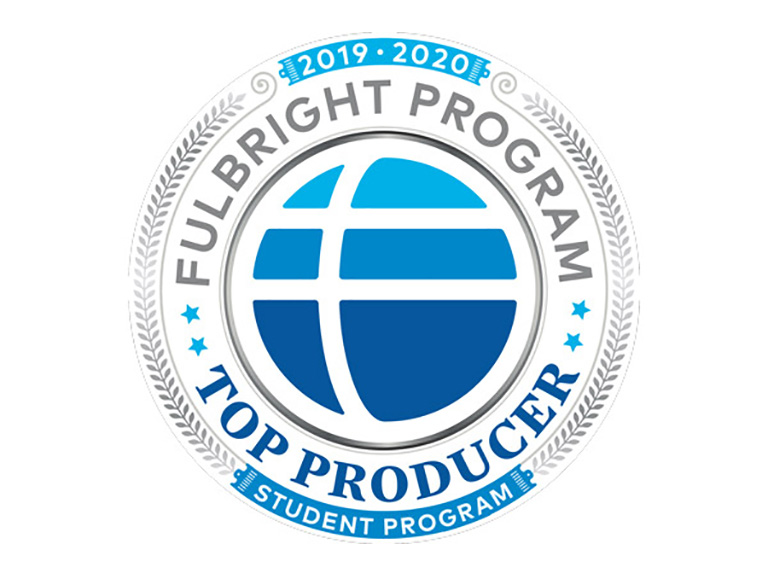 Manhattan College is proud to be included on the list of U.S. colleges and universities that produced the most 2019-2020 Fulbright U.S. students. 
Each year the U.S. Department of State's Bureau of Educational and Cultural Affairs (ECA) announces the top producing institutions for the Fulbright Program, the U.S. government's flagship international educational exchange program. The Chronicle of Higher Education publishes the lists annually. 
"The students at Manhattan College show excellent drive and potential for competitive fellowships like the U.S. Fulbright Student Program," said Brother Daniel Garder, FSC, assistant director of graduate and fellowship advisement. "Through a rigorous committee process, our students are poised for Fulbright success and to bring the values of Manhattan College education around the world."
Natalia Alvarez '19, Alia Flanigan '19 and Emily Hay '19 earned Fulbright English Teaching Assistant awards during the 2019-20 academic year. Alvarez is currently teaching English in Brazil. Both Flanigan and Hay are teaching English in Malaysia. It was the first time that more than one Manhattan College student has received a Fulbright award during an academic year.
"We are delighted to see that the colleges and universities we are honoring as 2019-2020 Fulbright top producing institutions reflect the geographic and institutional diversity of higher education in the United States," said Marie Royce, Assistant Secretary of State for Educational and Cultural Affairs. 
"We are committed to the Fulbright Program's goals of creating lasting professional and personal connections by sending passionate and accomplished U.S. students of all backgrounds to study, research, or teach English in communities throughout the world," Royce continued. "These Fulbrighters serve as citizen ambassadors for the United States in their host communities, and we will benefit from the skills, knowledge, and global connections they build on their exchanges long after they return home."
The Fulbright competition is administered at Manhattan College through the Center of Graduate and Fellowship Advisement. The Center helps provide preparation and support to graduating students and alumni who are interested in applying to graduate schools, professional schools, or external fellowships.
The Fulbright Program was created to increase mutual understanding between the people of the United States and the people of other countries. The primary source of funding for the Fulbright Program is an annual appropriation made by the U.S. Congress to the U.S. Department of State's Bureau of Educational and Cultural Affairs. 
More than 2,200 U.S. students and over 900 U.S. college and university faculty and administrators are awarded Fulbright grants annually. In addition, some 4,000 Fulbright foreign students and visiting scholars come to the United States annually to study, lecture, conduct research, or teach their native language. 
Since its inception in 1946, the Fulbright Program has given more than 390,000 passionate and accomplished students, scholars, teachers, artists, and professionals of all backgrounds and fields the opportunity to study, teach and conduct research, exchange ideas, and contribute to finding solutions to important international problems. The global network of Fulbrighters fosters mutual understanding between the United States and partner nations, advances knowledge across communities, and improves lives around the globe.
Fulbright is active in more than 160 countries worldwide and partners with participating governments, host institutions, corporations, and foundations in foreign countries and in the United States. Many of these organizations also provide direct and indirect support. ECA sponsors the Fulbright program, and several nonprofit, cooperative partners implement and support the program on the bureau's behalf. For more information about the Fulbright Program, visit https://eca.state.gov/fulbright.