Athletic Hall of Fame Class of 2019 to Be Inducted on November 9
Seven individuals will be inducted and one team will be recognized.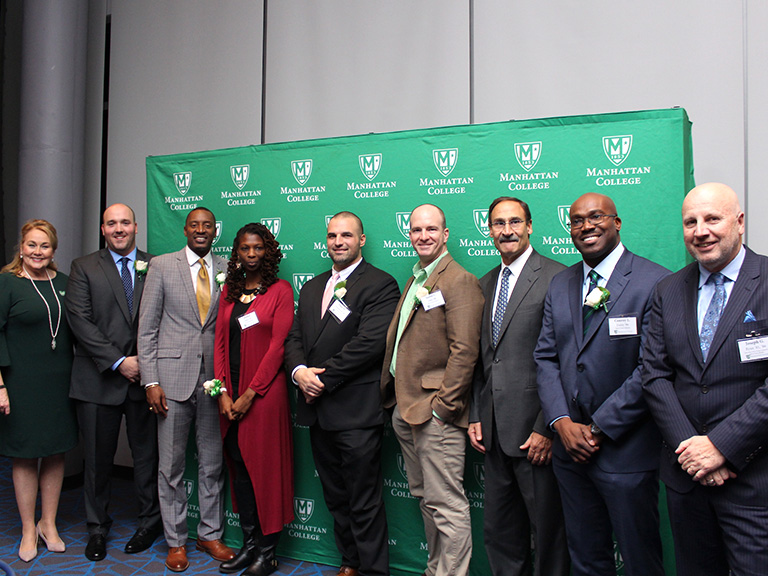 Seven individuals will join the Manhattan College Athletic Hall of Fame on Saturday, November 9. The first Manhattan College women's basketball team of 1978-79 will also receive special recognition at the 41st annual induction ceremony and dinner. 
On Saturday, Nov. 9, Mass will be held at 4 p.m. in the Chapel of De La Salle and His Brothers. Following Mass, cocktails will begin at 5 p.m. and the dinner ceremony will take place in the Great Room of the Raymond W. Kelly '63 Student Commons at 6 p.m. Advance registration is required.
This year's honorees are:
Nick Derba '07 (baseball)
Andrew Hlushko '83 (men's soccer)
Pontus Lundqvist '99 (men's track & field)
Michael Mulqueen '76 (men's track & field)
Arthur Orlando '61 (baseball/men's basketball)
Emily (Rogic) Baricevic '97 (women's soccer)
Daniel Sullivan '71 (men's track & field) 
Additionally, the 1978-79 women's basketball team will be honored for its contributions as the first women's varsity athletic team at the College. 
"I am thrilled for these former Jasper greats to be inducted into the our school's Athletic Hall of Fame," said Marianne Reilly '82, Director of Intercollegiate Athletics, at the time of their selection. "This class represents the broad based participation and achievement of our athletic program."
Nick Derba '07 was a three-time All-MAAC first team selection and a key component in the Jaspers' 2006 team that defeated Nebraska and San Francisco in the NCAA Regionals. He helped lead Manhattan to 121 wins during his four years and finished up with 212 hits, 172 runs 26 home runs and 129 RBI, before being drafted by the St. Louis in the 2007 MLB First-Year Player Draft. Derba played six years of professional baseball in the Cardinals' organization, rising to the Triple-A ranks and is currently the head coach at the University of Maine. 
Andrew Hlushko '83 was one of the top goaltenders in program history, earning three straight Tri-State Conference honors. The 1980 Tri-State MVP as a sophomore, he helped lead the Jaspers to a 10-5-2 record, including a 7-1 league mark as a sophomore. Hlushko graduated with a then school-record 12 career shutouts, including five-straight at one point. He is also second in program history with 341 career saves, was named to the Kronenburg Invitational All-Tournament team in 1980. Following graduation, Hlushko has also served on the Manhattan College School of Engineering, Electrical Department Board of Advisors for 12 years.
Pontus Lundqvist '99 is one of the top decathletes in program history, finishing 12th at the 1999 NCAA Outdoor Championships with 7,227 points. Earlier in the year, he announced his presence on the national stage, by defeating US Olympian Tom Pappas to win the 1999 Sea Ray Relays Decathlon title. An exceptional athlete, Lundqvist routinely scored in six to eight events at the conference meets and was the 1999 IC4A Indoor Pentathlon and 1999 IC4A Outdoor Decathlon champion.
Michael Mulqueen '76 was a member of the 1973 NCAA Men's Indoor Track & Field National Championship team and was one of the Jaspers' top hurdlers during his career. He has continued to make an impact on the sport since his graduation, having recently completed his 37th year as the head coach of the Rutgers University Men's Track and Field team. During his time with the Scarlet Knights, Mulqueen has earned conference coach of the year honors on six occasions and NCAA District Coach of the Year accolades five times.
Arthur Orlando '61 was a two-year standout for the baseball and basketball programs at Manhattan. Following an impressive senior campaign on the hardwood, he was selected to play in the 1961 Metropolitan Catholic Basketball Festival. On the diamond, Orlando was an accomplished pitcher who was offered a professional contract by the St. Louis Cardinals. Following graduation, he served as the first-ever varsity basketball coach at Clarkstown South High School, before he was taken from us way too soon at the age of 36.
Emily (Rogic) Baricevic '97 is the most accomplished scorer in the history of the women's soccer program at Manhattan, finishing with a program-record 40 goals and 95 points in her time in Riverdale. She broke onto the scene with a program-record 24 goals and 53 points as a freshman in 1993 en route to being named the MAAC Rookie of the Year. Both marks also rank second in the all-time MAAC record book. In large part to Rogic, Manhattan scored a program-record 53 goals and won 11 matches, which was the program standard for over 20 years.
Daniel Sullivan '71 is one of the top cross country runners in school history. To date, he is the lone student-athlete in program history to qualify for three straight NCAA Championships, while helping lead the Jaspers to a pair of undefeated seasons. A standout on the track as well, he was a constant scoring member of the Manhattan Metropolitan Championship teams in 1968 and 1971. Sullivan returned to Riverdale as the first-ever coach of the women's cross country and indoor and outdoor track and field programs, guiding the Jaspers to the 1986 MAAC Cross Country and 1991 MAAC Indoor Track and Field Championships.
With the election of this year's class, the Manhattan College Athletic Hall of Fame now includes 275 members.
To RSVP for the 41st annual Athletic Hall of Fame event, visit https://connect.manhattan.edu/halloffame.