Students and Faculty Helping New York City Cut Food Waste
Civil and environmental engineering students are part of New York's plan to move toward a carbon neutral city.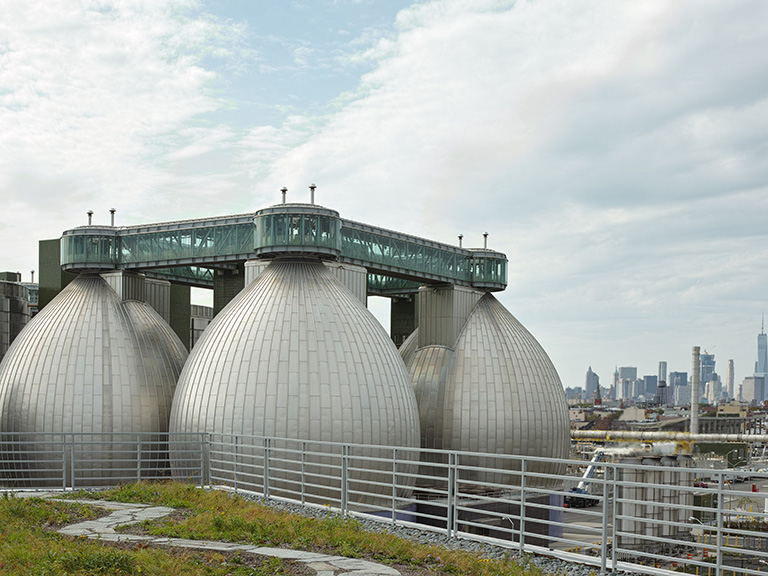 Manhattan College students and faculty are leveraging their environmental engineering expertise and the Lasallian mission to help New York City cut down on food waste and reduce greenhouse gases.
Robert Sharp, Ph.D., the O'Connor Chair of Environmental Engineering, and Jeanette Brown, Ph.D., research assistant professor in civil and environmental engineering, have connected undergraduate and graduate students with New York City's Department of Environmental Protection (DEP), the environmental services company Waste Management, and consulting firms. Their goal is to advance the OneNYC Plan, New York City's plan to become the most resilient, equitable and sustainable city in the world.
"There's a plan to make all of the city's 14 water resource recovery facilities (WRRFs) energy neutral by 2050," Sharp explains. "Those facilities treat about 1.2 billion gallons of water a day. We have a long way to go, but as technologies develop and public support grows, it will become more and more feasible."
A Large-Scale Study Grows in Brooklyn
Sharp and his civil and environmental engineering students have worked on various waste-to-energy projects, including a large-scale study at the Newtown Creek WRRF in the Greenpoint section of Brooklyn that aims to increase energy production via co-digestion of food waste. The project is funded by the New York State Energy Research and Development Authority (NYSERDA) and is a partnership between Manhattan College, NYC DEP and Waste Management. 
Newtown Creek, the largest of New York City's 14 wastewater treatment facilities, operates a set of digesters that play a critical role in processing both waste sludge from the wastewater treatment process and food waste collected throughout the city and processed at Waste Management's Centralized Organic Recycling equipment (CORe)™ facility in Brooklyn. 
This biological digestion process converts much of the sludge and food waste into water and biogas, a type of biofuel naturally produced from the decomposition of organic waste, leaving a stable biosolid slurry. 
This material is then dewatered to form a "cake," which, after additional processing, can be used as a fertilizer. The biogas that is produced from the process can be used to offset energy costs at the plant or can be cleaned and compressed for use in homes and transportation.
OneNYC's Goal for 2030
Co-digestion of food waste and sludge is part of the overall wastewater resource recovery process used to create clean water, clean energy, and beneficial use biosolids, which are all priorities in the OneNYC plan. In addition, the diversion of food waste from landfills to composting and co-digestion are integral to New York City's goal of achieving a 90% reduction in food waste sent to landfills by 2030. 
In New York City, food waste makes up almost a third of the four million tons of waste it sends to landfills every year. Sharp and his team believe that organic waste can be drastically reduced and converted into useful energy. 
"The majority of food waste has only two environmentally sustainable fates. One is composting. The second is to process it and put it into one of the city's anaerobic digesters to produce a biogas that can be used for energy and heating," Sharp said. "Ideally we can work to reduce food waste and use composting and co-digestion to turn the remaining food waste into either clean energy or compost."  
"Co-digestion can also be carried out with waste oil, grease and other high-strength organic wastes, such as yogurt whey, distillery waste and waste streams from other food manufacturing operations," Sharp continued. "This is all part of the water-energy-food nexus, which is where many of society's greatest challenges will converge as populations increase and the need to better manage our resources and reduce our environmental impact intensifies."
Halting Waste on Campus
What the group of Manhattan College civil and environmental engineers is doing in the field and in the laboratory mirrors the efforts of student groups on campus to reduce food waste and address food insecurity.
Student Life groups have created the #JaspersFoodShare hashtag to alert students on social media of leftover food and drinks after meetings and events on campus. The Multicultural Center also launched a food pantry that people on campus can contribute to and is open to all. 
Issues of food and sustainability will continue to be part of both New York City's and Manhattan College's long-term plans. As a result of these efforts, the goals of OneNYC are attainable: sending zero waste to landfills by 2030 and reducing greenhouse gas emissions by 80% by 2050.