From LGA to GWB, Manhattan Engineer Keeps NY Moving
In her 18 years with the Port Authority of New York & New Jersey, Amanda Rogers '01, P.E., has practically seen it all. But her latest project has her spanning — and scaling — the world's busiest bridge.
Rogers is the senior engineer of construction for the George Washington Bridge (GWB) and Bus Station. The bridge, which first opened in 1931, connects New York City with one of its most densely populated suburbs, and carries more than a quarter million vehicles across the Hudson River every day.
She oversees all construction programs and initiatives, including capital construction contracts and state of good repair contracts, and manages somewhere in the neighborhood of 30 construction contracts at any given time and of various sizes, ranging from $100,000 to more than $500 million.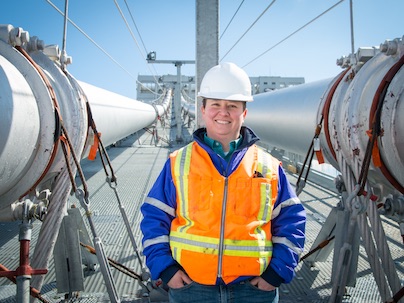 Rogers is also leading the ambitious $2 billion Restore the George project. The capital program consists of 11 construction contracts throughout nine years and will rehabilitate and replace many critical parts of the GWB, encompassing the replacement of the suspender ropes, the Palisades Interstate Parkway helix, and the rehabilitation of 178th & 179th Streets.
"The bridge is approaching 90 years old," she explains. "Certain parts of it are getting toward the end of their life span, and they need to be replaced. We're pretty much replacing exactly what's here with new."
Rogers, a certified construction manager and LEED accredited professional engineer, began her career with the Port Authority of New York and New Jersey at the AirTrain Terminal at Jamaica Station shortly after graduating with a degree in mechanical engineering. There, she was responsible for coordination with the Long Island Rail Road, general field inspection and contract administration.
To say she's seen a lot since then would be an understatement.
"I've seen everything from flatwork, to building work, to demolition, to airports, to trains, to tunnels, to bridges, to large transit hubs, to world trade centers," Rogers says.
Most recently at LaGuardia Airport as an engineer of construction, Rogers had a vital role in completing the infrastructure projects to prepare for the selection and award of the Public Private Partnership Redevelopment Program. Prior to LaGuardia Airport, she served as the resident engineer at John F. Kennedy Airport.
What's kept her at this trade and transportation agency for almost two decades is the magnitude and diversity of work.
"I love that I learn something new every day," she says. "I have a lot of great engineers in this office that teach me something every single day because they've seen it before, and I haven't. I think as an engineer, you can't ask for anything better in the world. You're never going to stop learning because there's just so much here in the Port Authority to see and do."
When it comes to bridges, the biggest difficulties come from working within their constraints. A lot of the work is done at night and on weekends. And not to mention all those lane closures.
"It's a lot of coordination, a lot of planning," Rogers says. "You have to try and plan out how to be productive to the best of your ability."
One of the most challenging projects she's ever worked on was extending the runway decks at LaGuardia. A federal mandate required that EMAS (Engineered Material Arresting System) beds be installed at the ends of every runway in the country. Because LaGuardia is confined by water, the runways had to be extended over the bays.
"I was working off of barges, which I've never done before," she explains, adding marine construction to her experience and laughing at her quick introduction to the effects of supermoons and tides.
When Rogers became involved, they were about a year and a half behind schedule. She took two weeks to get up to speed on the project, went to the general manager and the major airlines, and told them that the project could be done and on time for the mandate — they, not surprisingly, thought she was crazy.
"I love when someone doubts me. That's a challenge to me," she says. "I think I had nine months to get it back on track and deliver it, and we did. It wasn't easy, it was a lot of work. A lot of long days. But it got done because no matter what kind of barrier you get put in front of you, you've got to find a way around it or through it."
Rogers thinks about her Manhattan College engineering courses every now and then, especially the one on the structural nature of bridges.
"You'll be out there and start talking about the stresses and plates, and you'll think, 'Wow, I learned this back in my sophomore year at college, I didn't think I'd still be talking about it," she quips. "But definitely the coursework gives you the foundation. If nothing else, it teaches you how to plan your time, how to study, how to learn."
Rogers chose Manhattan College because the engineering faculty encouraged her to follow her interest in engineering but also supported her as a student-athlete. The former shortstop played softball for all four years.
"I absolutely love what I do, and I feel lucky that Manhattan has delivered that for me in a very interesting way," she says.
She was recently selected to the Professional Women in Construction's list of 20 Under 40 Outstanding Women in Construction. 
"That meant a lot to me as a female, especially in construction, but I don't think of myself as one of the only females. I'm just one of the engineers here," Rogers says.
With such recognition coming in before her 40th birthday, how will Rogers top that? For her, it's a matter of staying in the field she loves and contributing to where's she most needed.
"I love construction, and I love the engineering department, so there's plenty of mobility in the Port Authority," she says. "Basically, you have the fluidity, given all the projects, that you could keep moving to a different type of construction engineering project. I'm still of the mindset that I'll go wherever the Port Authority thinks I'm needed most."