Board of Trustees Extends President Brennan O'Donnell's Contract
O'Donnell has led Manhattan College since 2009.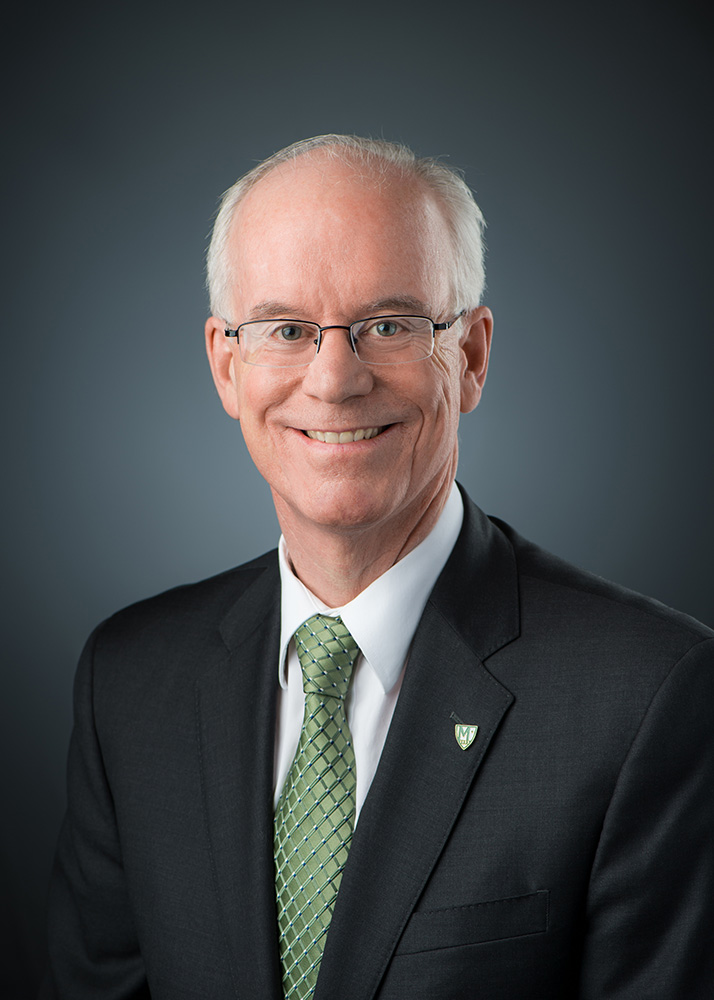 Kenneth A. Rathgeber '70, chair of Manhattan College's board of trustees, announced that the board has extended the contract of president Brennan O'Donnell, Ph.D., through the 2023-24 academic year.
O'Donnell has served as the 19th president of Manhattan College since July 1, 2009. 
"Brennan O'Donnell has been a tremendous leader for Manhattan College during the past decade," Rathgeber said. "He has provided a strategic vision that has enriched the College's academic offerings, raised the profile of the institution, and has upheld the longstanding commitment to our mission of providing a quality education for every student that steps on campus." 
Advancing the Mission
Among many advances during O'Donnell's tenure, Manhattan College has expanded its academic offerings and increased student support services. The Center for Academic Success has been expanded and provided with modern, centrally located facilities, increasing the opportunity for peer to peer tutoring and learning. The College also has added several career development and mentorship programs with alumni and other partners, giving students the tools needed to succeed in college and after graduation.
Less than a year after graduating, on average 90% of alumni report that they are employed or in graduate school. In addition, Manhattan College is exceeding expected results in areas like starting salaries and mid-career earnings, warranting a "value-added" label from institutions like Forbes, Brookings and Payscale. 
Undergraduate enrollment has increased 15% at Manhattan College since 2009, and graduate enrollment has increased 21% during that time. Applications to the College have increased 55% since 2009. The incoming class of 2022 was selected from the largest application pool ever and has one of the strongest academic profiles in recent history, with an average SAT score of 1164 and an average high school grade point average of 88.8.
Moving the College Forward
The College has also undertaken major facilities upgrades under O'Donnell's administration. The Raymond W. Kelly '63 Student Commons opened in 2014 and the Patricia and Cornelius Higgins '62 Engineering and Science Center will open in the fall of 2020. Thomas Hall and De La Salle Hall have also undergone significant upgrades during the past decade, as have athletic facilities, including the opening this year of the Gaelic Park Athletic Center. In 2016, the College installed a historic set of stained glass windows depicting the life and work of Saint John Baptist de La Salle in the Chapel of De La Salle and his Brothers.
During the past decade, Manhattan College fundraising has increased significantly, with $129 million received in restricted and unrestricted contributions, including more than $16 million during the last year. In addition, the College has secured more than 20 gifts or pledges of $1 million or more, including a commitment of $25 million, the largest in College history, from Thomas D. O'Malley, for whom the School of Business was named in 2018. For the first time in the College's history, Manhattan's endowment is more than $100 million, an increase of 130 percent from 10 years ago.
"It has been an honor and a privilege to work over the past 10 years with so many talented and dedicated people in serving the mission of the College," said O'Donnell. "We are proud of what we've accomplished as we look forward to meeting new challenges. I am grateful to the board for its constant and continuing support and look forward enthusiastically to the work that lies ahead."
About Brennan O'Donnell, Ph.D.
O'Donnell came to Manhattan after five years of service as the dean of Fordham College at Rose Hill, Fordham University. Before coming to New York, O'Donnell spent 17 years at Loyola College in Maryland (now Loyola University Maryland), where he served as a professor of English and, from 1999-2004, director of the university-wide honors program. As a scholar, his teaching and research interests have focused mainly on poetry, especially of the British Romantic period, and on religion and literature, particularly contemporary American Catholic writers. In 2014, he won the prestigious Robert Fitzgerald Prosody Award, which recognizes scholars whose work has "made a lasting contribution to the art and science of versification." At Manhattan, he continues to hold a faculty appointment, as he did at Fordham and Loyola, as professor of English. 
An active contributor to national and international conversations about the current state and future prospects of Catholic higher education, O'Donnell served from 1994–2000 as editor of the national magazine Conversations on Jesuit Higher Education, and as a member of the National Seminar on Jesuit Higher Education from 1993–2000. He currently serves on the board of trustees of Lewis University and on the board of directors of the Association of Catholic Colleges and Universities. He has also served as a board member at La Salle University, the Commission on Independent Colleges and Universities (cIcu), the Lilly Fellows Program, and Collegium, a consortium of Catholic universities that strives to strengthen faculty understanding of and participation in the mission of Catholic higher education.
O'Donnell earned his B.A. with highest distinction and honors in English at The Pennsylvania State University in 1981, where he was inducted into Phi Beta Kappa. He earned an M.A. and a Ph.D. at the University of North Carolina at Chapel Hill in English and American literature and language.