Student/Faculty Team Creating Better Techniques to Diagnose Lung Cancers
Electrical engineers are working to quickly and accurately identify the stages of lung cancer.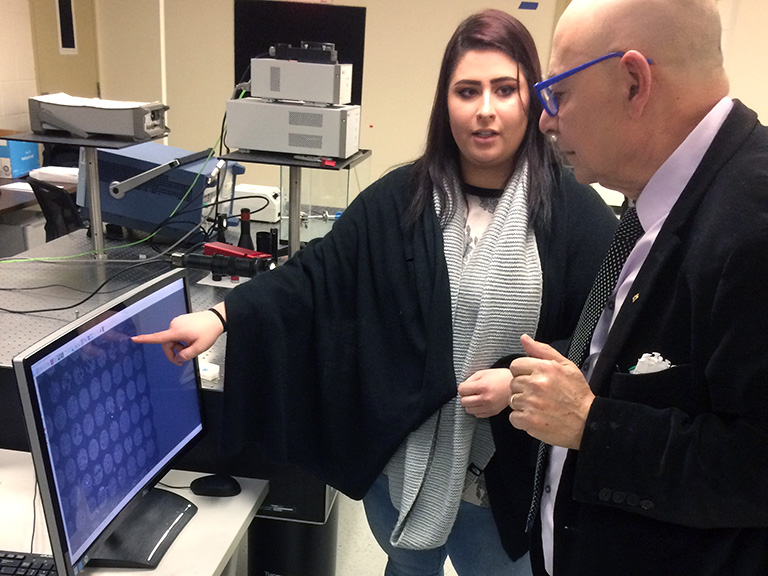 More than 150,000 lives are lost each year to lung cancer, according to cancer.gov.
With that number in mind, Gloria Bauman '18, '19 (M.S.) and George Giakos, Ph.D., chair and professor of electrical and computer engineering, and an Institute of Electrical and Electronics Engineers fellow, are working to create a smart imaging system to better identify the differences between certain types of cancer and the stages and grades of those cancers.
Throughout his academic career, Giakos has conducted research on technology innovation targeted in the design and development of imaging devices, systems and techniques. In particular, he pioneered the uses of inherent near-infrared imaging toward the design of efficient lung cancer wavelet polarimetric detection, imaging techniques and instrumentation. This technique has shown the ability to detect cancer and its varying degrees earlier and more accurately.
In the near-infrared reflectance approach, different types and stages of cancer cells are accompanied by changes in the overall biochemical composition of the tissue, along with changes in cellular morphology and tissue architecture, which exhibit distinct optical signatures based on the change of the polarization of light.
As a result, polarimetric reflectance imaging improves both the detection and monitoring of diseases, and treatment responses in early stages. By combining wavelets with polarization of light, local tiny variations of light can be detected and then analyzed, providing multiresolution images at different scales.
Giakos's work with lung cancer cell imaging attracted Bauman, who jumped at the chance to become an undergraduate research assistant on the project.
"When I found out that [Giakos] was doing research on cancer and lung cancer, I became interested because everyone knows someone who is affected by cancer. My grandfather had lung cancer," Bauman said. "The medical and healthcare fields are integrating technology more and more. I want to be on that bandwagon."
Moving the Research Forward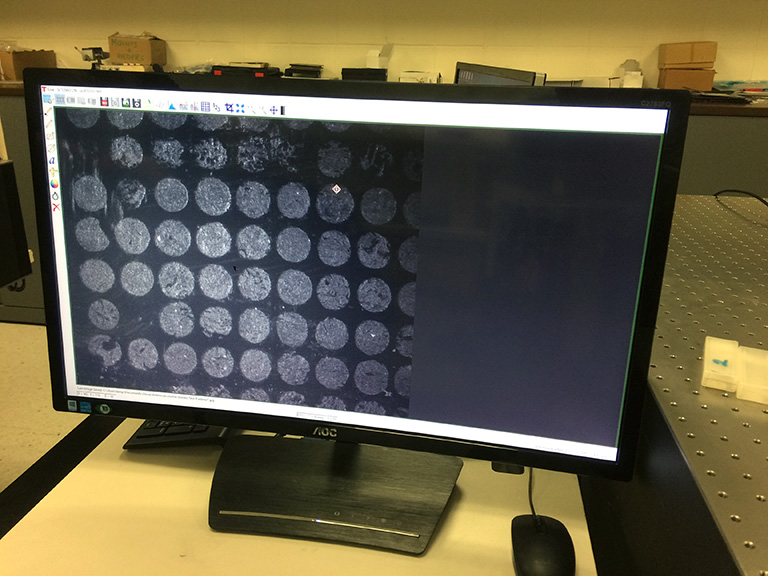 Bauman proposed applying near-infrared polarimetric reflectance principles to identify different grades of lung cancer. Bauman and Giakos are continuing to explore novel imaging system designs and image processing techniques, fused with artificial intelligence to discriminate between various types of lung cancer tissue.
Among others, they are studying the statistics of histograms obtained from different polarimetric wavelet signals to determine if changes occurring between different stages of lung cancer can be effective markers for the progression and differentiation among different lung diseases.
"Our goal is to help medical professionals give patients an accurate diagnosis and characterization of lung cancer," Giakos explained. "It could help them make an early diagnosis and detect cancers earlier."
Each week throughout the school year, Bauman and Giakos spend hours in the electrical engineering lab in Leo Hall, testing their experimental techniques, comparing the acquired images and mapping out the differences and similarities in what they see. They expect that analyzing images of previous tumors will prove more effective than studying the samples under a microscope.
Next Steps
Giakos and Bauman are working to apply learning and neural networks to automate the process that typically starts with a biopsy. During the surgery, a biopsy is performed if a suspicious lesion is found. Typically, the biopsy results go to a lab, which could take weeks to process.
"Our hope is that one day, instead of taking a biopsy, we will have a smart computer vision system to look at the margins between cancerous and healthy tissues 'in situ' and perform an accurate analysis 'in vivo' of the tissue pathology," Bauman explained. "Then we can accelerate the surgery process, while providing a fast, accurate excision of cancerous tissue."
After receiving her bachelor's degree in May 2018, Bauman will work toward her master's degree in electrical engineering with a concentration in bio-electrical engineering. Under Giakos's mentorship, she will continue to combine her passion for computer imaging and engineering and her mission to serve others throughout the 2018-19 academic year and beyond.