Alumna Heads Up Leading Data Services Firm
Lynn Martin '98 is the president and COO of ICE Data Services and has been named as a top influencer in the financial services industry.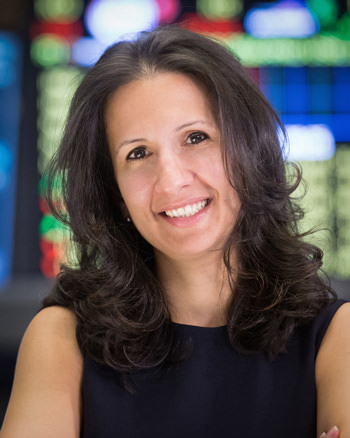 Lynn Martin '98 doesn't do broad strokes. It may seem like an impractical leadership strategy for a c-suite executive, however, Martin is the president and chief operating officer of ICE Data Services. She knows better than anyone that information is the key to managing risk and growing businesses.
"I really like getting into the details with any business I run. I think it's important to operate at five feet before you run a business at 30,000 feet," she says. "Having the details are the key to making informed strategic and long-range decisions and setting the strategy for where the business needs to go."
It's this hard-working approach, combined with her thirst for new challenges that catapulted her to the very top of the data services industry before she even celebrated her 40th birthday. In fact, Martin was named to MarketVoice's 2016 list of nine people who are expected to have an "outsize influence" on the financial services industry.
More companies rely on financial data and analytics than ever before, and it's her role to oversee the market data that is generated from ICE's 11 global exchanges. She is also responsible for SuperDerivatives, which includes forward pricing curves and complex over-the-counter derivative valuations, and Interactive Data, which provides high-quality fixed income data and connectivity solutions.
In growing the company's product offerings, Martin takes the needs of traders, as well as back-office personnel, into consideration.
"We take many user profiles into account and we just try to deliver as many types of outputs as possible to encompass the variety of trading strategies and risk management strategies in the market," she says.
The financial services industry has changed a lot throughout the course of her career. Markets have become more transparent, and they produce more data as a result of the changing face of the trader.
"When I started in the industry, it was heavily reliant on floor brokered markets — a bunch of guys at the NYSE shouting bids and offers at each other," she notes. "Whereas today, markets are largely electronic. The amount of data that has been generated by that market has exponentially increased over that time as a result of the evolution of market structure."
Martin joined ICE as part of the company's acquisition of NYSE Euronext, where she was CEO of NYSE Liffe U.S. In this role, Martin oversaw the successful introduction of several new fixed income and equity index futures, and after the merger with ICE, oversaw the integration of its contracts onto ICE's trading platform. When that was completed, she was named COO of ICE Clear U.S., a position she held until being promoted to lead ICE Data Services in July 2015.
Martin started out as a project manager in the financial services practices at IBM Global Services organization, while earning her master's in mathematical finance from Columbia University. In 2001, she was hired by NYSE Euronext. In each of her positions, one thing is for certain: she's always up for the challenge.
"In my career, I've just accepted new challenges," she says. "I've had that happen multiple times, where I've been offered positions, and I've accepted them without knowing an awful lot about a position going in — just knowing that it's an area for me to apply knowledge I had and continue to learn from."
Martin took a similar approach to her time at Manhattan College. As a computer science major, math minor and eventual finance minor, Martin thrived under the tutelage of mathematics professors Rosemary Farley, Ph.D., and Kathryn Weld, Ph.D., and associate professor of computer science, Patrice Tiffany, Ph.D. She even conducted an independent study with Marvin Bishop, Ph.D., who Martin notes had a reputation for being the toughest professor in what was then the mathematics and computer science department. But one class sticks in her mind as particularly impactful: Foundations of Higher Mathematics taught by Weld. 
"It taught me more of the mindset about thinking through a problem and about having to defend your thesis of the solution, which I think is just a really useful skill for anyone to have irrespective of their major," she says. "It really left me with a lot of valuable skills that I still refer back to."
Intent on giving back to the College community, Martin gave a data and analytics lecture in 2016 and recently joined the School of Science Advisory Board. She says it's important to give back to the communities you come from.
"I'm very grateful to Manhattan for the education I received there," she says. "It was very real-world focused, the education and the lessons that I learned have stuck with me long beyond my tenure there. And I'm thrilled to have the opportunity to give something back to an institution that I think set me up for the success I have achieved."