Endowed Biology Chair Champions Student Research in the Sonoran Desert
Professor Lance Evans tracks the decline of a Southwest American symbol with the help of student researchers.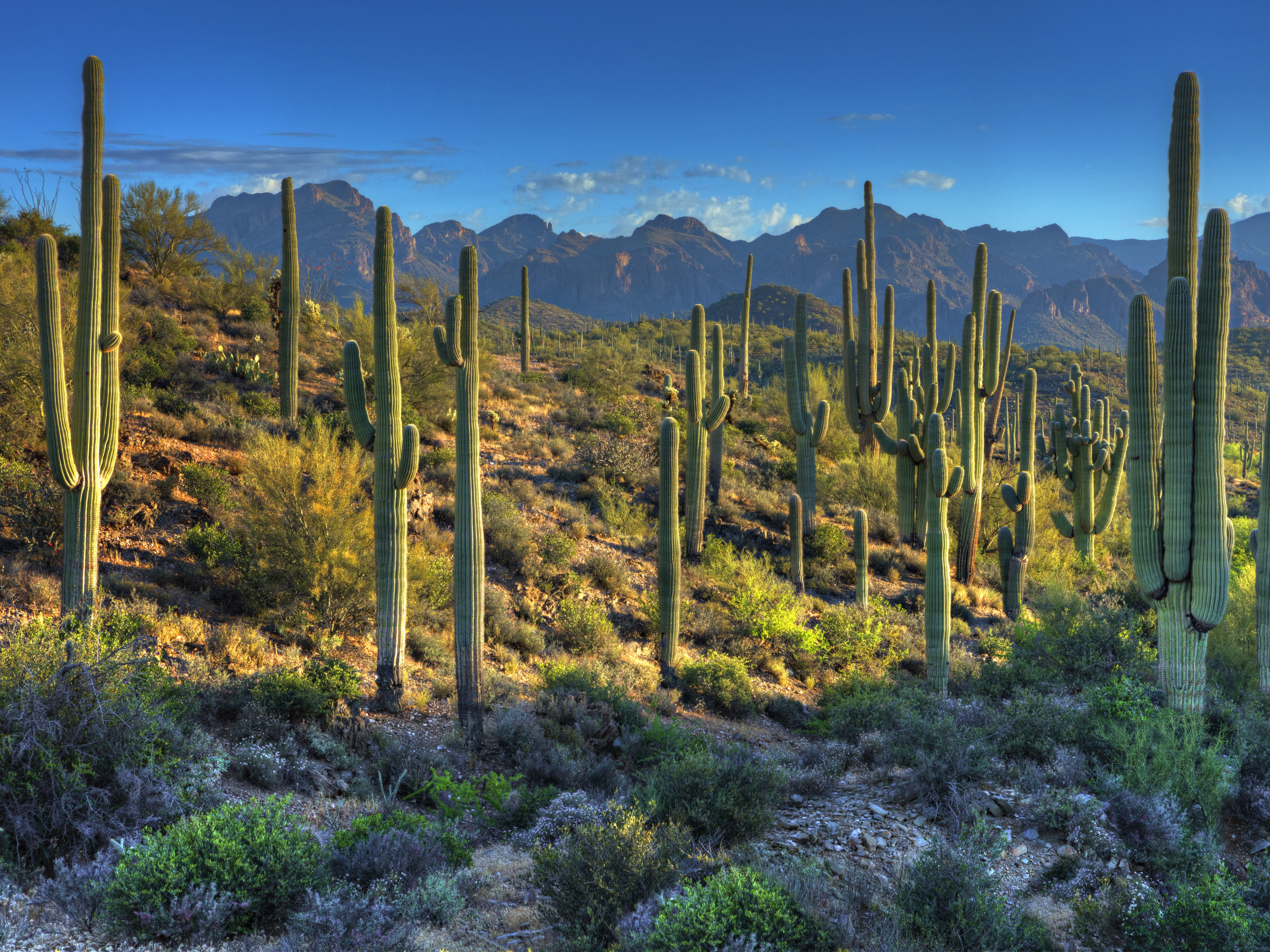 Many requests have landed on Lance Evans's desk over the years, but few are more compelling than a photo he received from a complete stranger: joyful newlyweds standing in front of a saguaro at the Saguaro National Park. The attached letter asked, "Why is our beloved cactus going to die?"
That's a question Evans, a preeminent plant physiologist, has been working to answer for more than 30 years.
In 1986, at the invitation of a colleague, he arrived on the scene in Tucson, Ariz., and admits he appeared to be quite the carpetbagger to the local specialists. In reality, he was far from it. After studying the giant sequoias in California and the slash pines in Florida for the EPA's air quality division, the saguaros of the Sonoran Desert were a logical extension of his work on plant anatomy of growth and development.
"These giant saguaros, they just grab you," Evans says of what are undoubtedly the most enduring symbols of the American Southwest. The slow-growing cactus species can reach an age of 300 years and a height of up to 40 feet, but they grow very slowly. It takes about 75 years for a saguaro to sprout its iconic arms. And they're dying at an alarming rate: beginning with barking on the outer skin and broken limbs, to kneeling over completely. The exact cause remains unknown.
From California to New York
Evans grew up in a suburb east of Los Angeles and traces his interest in plants to an agricultural field of flowering plants a block from his childhood home. His fascination led him to study agronomy at California State Polytechnic University. He was initially interested in the field of animal husbandry until realizing at the end of his sophomore year that he didn't know how plants grew.
"I wanted to understand how plants grow, so that became my main driving force," Evans says. "It sort of guided my entire career."
He continued his education at the University of California Riverside, earning a Ph.D. in plant physiology, and after graduation, he followed a mentor east to Brookhaven Lab. Evans landed at Manhattan College in 1975. His research has taken him all over the world, from studying the structure and function of many mangrove species in Florida and Australia, to the bark-formation of euphorbia plants in South Africa. But the Sonoran Desert is like a second home.
Into the Desert
At the time Evans began his research in Arizona, localized environmental pollution was thought to be the cause of death, but over the years the scope of the problem has gone from local to global. Noting the pattern of cell death in Arizona, he reached out to a scientist south of the equator at the Catholic University of Chile with a request: select 10 remotely located Echinopsis chiloensis plants and send two photos of each, one taken from the north side and one from the south side.
"Sure enough, they had much more of this barking on the north than on the south," Evans says. "In Arizona it's much more on the south than the north. So it's not our local problem, it's a worldwide problem — it's sun-related."
Because these desert behemoths can live for several centuries, studying their full lifespan is impossible. So, Evans began follow up research, cataloging and documenting the progression of the injuries. He started his database in 1996 with 1,061 saguaros, and he reevaluates them approximately every seven years. During this third trip in 2010, there were 750 left.
It can be a grim and grueling job, but, thanks to Evans, much good has come of it at Manhattan College. In 2005, Evans became the Catherine and Robert Fenton Endowed Chair of Biology, and with funds from that endowment he has championed undergraduate research. It's led to 17 peer-reviewed publications to date.
Building a Team
Each time he travels to Arizona, Evans brings several undergraduate assistants who quickly learn the approaches and methods of fieldwork. His team, often consisting of five to seven students, rises early six days a week to arrive ready to work on site by 5 a.m. They race against the staggering summer heat of the Arizona desert, locating specified cacti and taking photographs from a variety of precise angles, calling it a day just before noon. After lunch and a rest, they spend afternoons and evenings indoors cataloging their data, and plotting out the following day's site work.
Data collection is just the beginning. When the team returns to Manhattan, Evans shares his data with students and faculty of other departments, namely mathematics and mechanical engineering. Since Evans started teaching at Manhattan, the profusion of technology such as digital photography has had a profound impact on academic scholarship. Initiating interdisciplinary collaborations on the undergraduate level has been a reaction to the shifting trends.
"There's so much new information in science — it's so broad — that I want to prepare students to be interdisciplinary," he says. "Back in the 1970s you would find papers with one or two scientists, but that doesn't happen today because research is very collaborative now. My students have to work in groups and when they do, they help each other learn different skill sets. That's become part of the education."
These collaborations employ different methods of analysis, often computer programs such as Matlab, which lead to novel discoveries. Over the years, Mark De Bonis, assistant professor of mathematics, and his students have developed an algorithm to predict which of the cacti have died since the last data collection in 2010. It was a good marker as Evans and a new student team, biology majors Marissa Locastro '19 and Cole Johnson '19, traveled to Arizona in summer 2017.
Conducting fieldwork wasn't the only thing new to Johnson and Locastro. It was a summer of many new and potentially daunting experiences: first trip to the Southwest; first hike in a desert; first time using a compass as a sole means of navigation, to name just a few.
So Evans told them  the same thing he's told all his students on the outset of every project, "It's OK to make mistakes, because it's all about learning."
"Doing scientific research tells you more about yourself than about the topic," Evans says. "It takes what you have in the past and up to the present, but science is always looking forward."