Community-Based Learning Helps Grow Culture of Service at Manhattan College
Manhattan College is increasing its efforts to include more community-based learning courses in the curriculum and forge more dynamic local partnerships.
On any given day, students enrolled in GOVT 318: Community Organizing for Social Change may be in Miguel Hall 207, studying the strategies of successful community movements, or out in the neighborhood knocking on doors and attending meetings with local leaders.
Taught by Margaret Groarke, Ph.D., associate professor of government, GOVT 318 is a community-based learning (CBL) course, which requires students to engage in ongoing service outside of the classroom with a partner organization. Both sides benefit — students have the chance to put learning into action while helping to fulfill a need in the community. CBL is also defined as a "high-impact practice" by the Association of American Colleges & Universities — a learning practice that has been shown to benefit students from many backgrounds, especially historically underserved students.
This semester, Groarke's students have partnered with the Northwest Bronx Community and Clergy Coalition (NWBCCC) to help revitalize the Kingsbridge Armory, which has been vacant for more than 20 years.
"I was hidden from a lot of inner city issues," says David Caiafa '19, a Bergen County, N.J. native. "You're oftentimes given a single story about a community. But when you get out and make connections and actually meet people, it changes your perspective. You can learn about social justice issues in a classroom, but it's another thing to see it."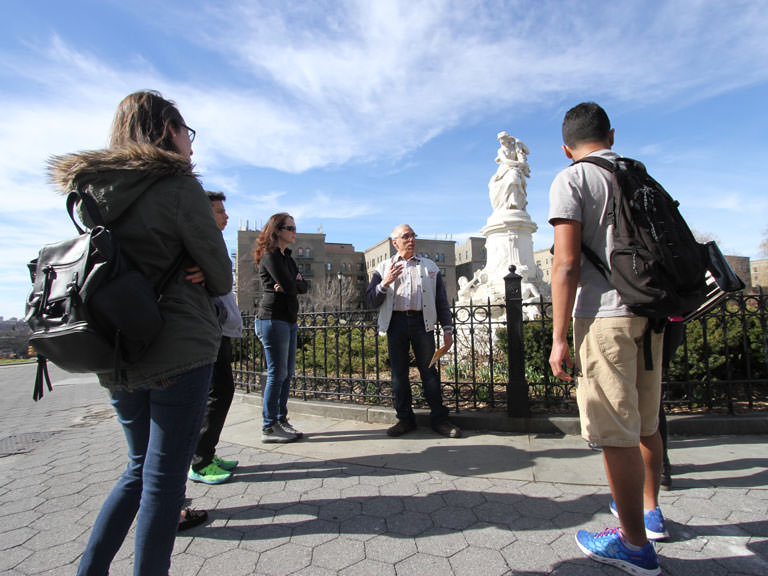 For years, CBL has had its place in Manhattan's course catalog. Lois Harr's Urban American and Catholic Social Teaching class is a perennial favorite among students who get to see the Church's mission in action through hands-on service in the Bronx. Students in Jeff Cherubini's Kinesiology and Public Health course plan physical activity programs for local seniors, teach tumbling and cheer to special needs students, and coach sports in underrepresented communities.
But beyond one-off courses with a required service component, there's a larger, mission-centric initiative in the works at Manhattan.
"We're working on institutionalizing CBL, and promoting a culture of service and community engagement here — a place where pedagogical innovation is welcome," says Gwendolyn Tedeschi, Ph.D., associate professor of economics and finance and coordinator for CBL at Manhattan.
Kickstarting the Conversation
As a member of the national higher education coalition Campus Compact, Manhattan College has signed on to reaffirm CBL by creating more mutually beneficial partnerships in the community, preparing students to be engaged citizens, and using academia to work toward solving social injustices.
This semester, Tedeschi and Kathleen Von Euw, coordinator of community partnerships and service for Campus Ministry and Social Action (CMSA), are running a development seminar for five Manhattan College faculty members to help design or redesign a course so that it integrates CBL. Last semester, they hosted a second successful community partner summit in the Kelly Commons.
"CBL is very valuable, but often it takes effort," says Groarke, who is redesigning her Parties, Public Opinion and Elections course to include a voter registration component. "It's easy to buy a book and have the class read the book. It's harder to say, 'who is the right organization to partner with?' Match-making is hard. There are a lot of logistics."
Many community connections have been forged over years of uniting for the same causes; some, more recently through the Lasallian Outreach Collaborative (LOCo), a weekly service initiative that has grown under the guidance of Von Euw and a dedicated team of students, including Caiafa and Abi Kloosterman '18.
"The biggest benefit of CBL is the way it connects students with their community," Kloosterman says. "CBL takes service-learning to the level above simply volunteering for a certain amount of time a week — it actually allows students to understand the work they are doing, why they are doing it and the effect they have on their own community."
Strengthened and Transformed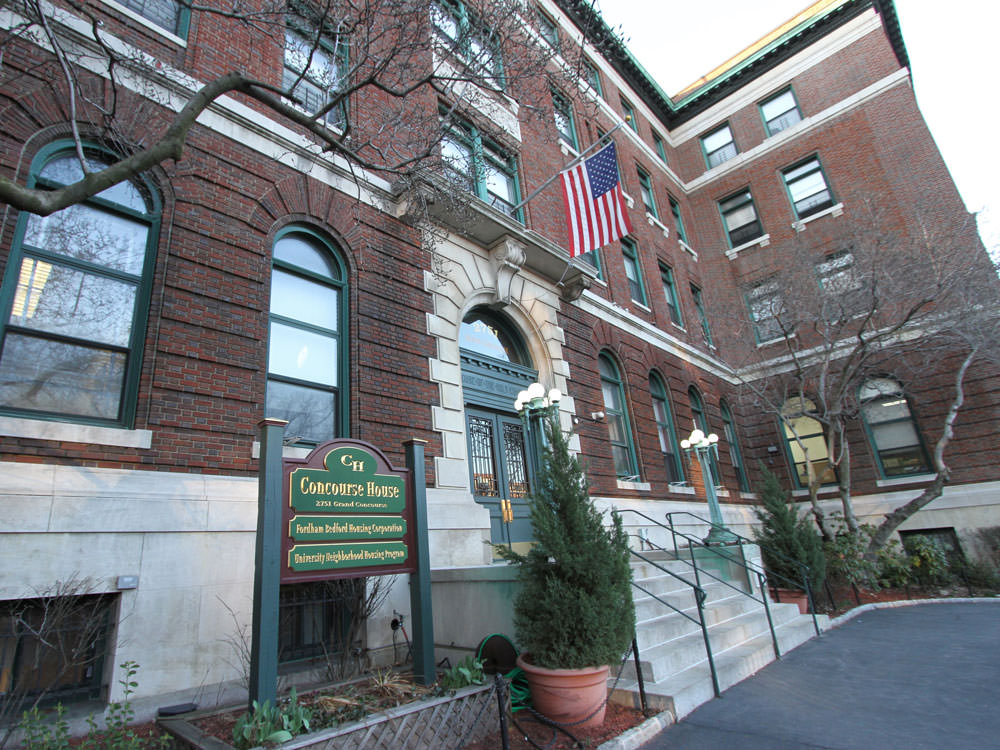 This semester, a record number of students are involved in CBL service, internships and work-study at nearby Fordham-Bedford Housing Corporation (FBHC), which is run by Harr's husband, executive director John Reilly '75.
For years, this partnership has been the gold standard — where each end is strengthened and both sides are transformed. There are education majors working in the after-school program, engineers in the field learning about the structural stability of buildings, and business students preparing free tax returns for local residents, among other projects.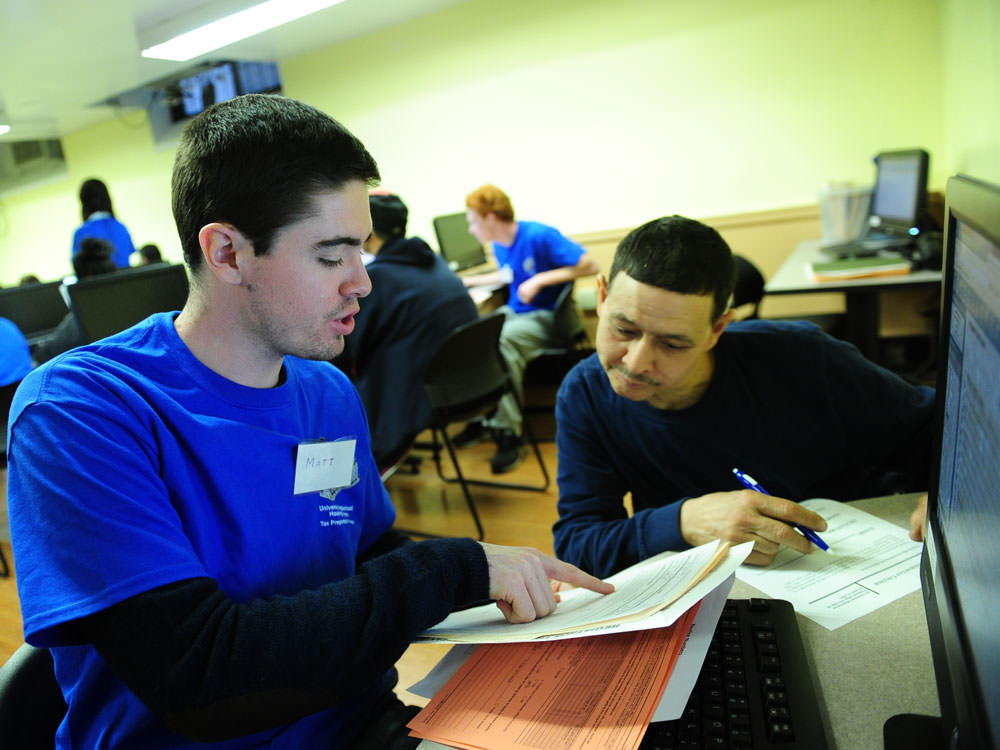 A former student of Harr's, Reilly Love Rebhahn '19 is interning at Concourse House, an FBHC-affiliated organization, working with local brokers to find permanent housing for homeless women and children using Concourse House's services. For her, the most impactful part has been forming relationships with the women in her own community, and hearing their personal stories.
"I'm learning about the Bronx through their eyes — which blocks they like, which parks they go to, their family members," Rebhahn says.
Through her work as a housing assistant, Rebhahn says she has also learned a lot about city programs and legal matters, which can translate into resume-building material.  
"We want students to see the ties to their future career, to see that their professional lives can and should contribute to society," says Rani Roy, Ph.D., assistant vice president for student and faculty development. "The more places we have CBL embedded in the curriculum, the more students will view this as part of the mission."
Roy reports that 40 percent of 2016 graduates had at least one CBL experience during their Manhattan College career.
"We want people to have mutually beneficial experiences," says Harr, eager to boost that number. "When you interact on this level, it changes your mind about everything afterwards."