Summer Research Scholars Take On Challenges
Manhattan College's Summer Research Program includes five students working on Lasallian related research projects.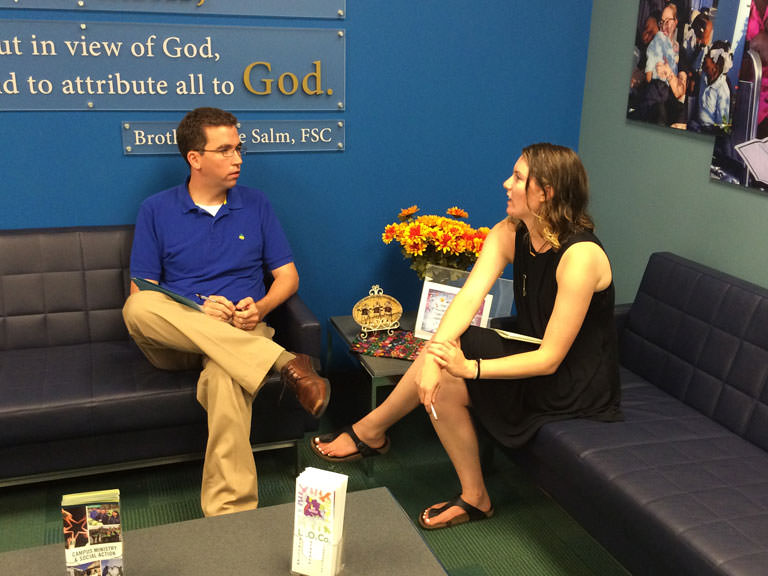 In its fourth year, Manhattan College's Summer Research Program includes a Lasallian research component for the first time. Inspired by the International Lasallian Universities Association, five students in the College's Summer Research Program have spent their summers researching topics centered around the five Lasallian pillars: excellence in teaching, respect for human dignity, reflection on faith and its relation to reason, ethical conduct and a commitment to social justice.
In September, the students and faculty will present their work at the Lasallian Research Symposium at Saint Mary's University in Minneapolis, which presents an opportunity to network with fellow Lasallians and share ideas about the continuation of the mission spearheaded by John Baptist De La Salle.
The research projects span a wide range of themes: Anthony Capote '17, a sociology and communication double major writes for local newspaper, the Riverdale Press, during the school year. Capote is examining the effects of socioeconomic status on news media consumption throughout the different neighborhoods of the Bronx. He surveyed Riverdale Press readers, among others, about their reading habits and where they get their news in order to study how media is consumed in different ways by different people.
Sebastian Gerlak '18, a civil engineering major, is researching precipitation, inhibition and dissolution of struvite in wastewater. Struvite is a mineral that forms in wastewater, and may cause significant damage to equipment, pumps and piping. Gerlak's aim is to help create more sustainable drinking water for those populations without consistent clean water.
Veronica Valerio '18 is producing an experimental and modeling study to optimize the performance of a knee brace. A mechanical engineering major, Valerio's research goal is to identify how to limit the number of knee injuries in people as they age.
Making the Case for a Saint
Alannah Boyle '18 took on Dorothy Day's cause for canonization, which New York Archbishop Cardinal John O'Connor began in 1997. Day, the founder of the Catholic Worker Movement who promoted the examination of conscience, especially as it applied to Catholicism, received the College's De La Salle Medal of Honor in 1975. Widely seen as someone who embodies the mission and spirit of Saint John Baptist de La Salle, Day inspired readers with messages of peace and anti-nuclear themes after World War II and beyond.
Boyle is researching Day's trove of writings she published in The Catholic Worker, which quickly printed 100,000 copies after its launch in 1935. Boyle has traveled across New York City, tracking down Day's archived materials and speaking to people who knew Day before her passing in 1980.
"When I mention to colleagues at other schools that I'm working with a student who's participating in the guild for Dorothy Day's canonization, they're blown away," says Kevin Ahern, Ph.D., associate professor of religious studies and Boyle's faculty adviser for the project. "In terms of Catholic nerdiness, it's an amazing experience."
Although the process for canonization is a long one, especially when the individual has written as much as Day had, Boyle emphasizes the importance of recognizing Day's contribution to modern Catholicism.
"I think that everyone should know about the Catholic Worker Movement," Boyle says. "It would allow a lot of young people who are struggling with their Catholic identity to be able to identify with this movement and the people who dedicate their lives to serving others."
Seeking Inclusion in a Sci-Fi World
While Boyle is finding the Lasallian spirit evident in the present day, Angela Benevenia '18 is delving into the science fiction world of Junot Diaz.
Alongside her adviser, Adam Koehler, Ph.D., associate professor of English, Benevenia is digging into the Lasallian themes within Diaz's 2007 novel The Brief Wondrous Life of Oscar Wao.
Wao is a second-generation American with roots in the Dominican Republic. His apparent lack of machismo causes him to suffer an identity crisis with his Dominican side and Oscar feels that his darker complexion isolates him from white America. This identity crisis causes him to delve into a sci-fi fantasy world where he meets people who also have experienced racism, sexism and misogyny.
"In my Social Inequalities class last semester we discussed oppression and racism," Benevenia explains. "When we think about oppression in America, we can't discuss it from one side. There's a lot more in common than we realize, between oppressors and those who are oppressed."
Benevenia's analysis of Oscar Wao's journey continues the Lasallian theme of social justice that was a point of emphasis centuries ago and continues to be relevant in the present day.
"Lasallian is happening now," Koehler says. "You don't have to look hard to find the conditions that Lasallian values strive to combat – oppression, keeping privilege in check, and bringing education and access to education to communities that might not have historically had that access."
From Bethlehem to the Bronx
Although Boyle and Benevenia are studying different ways ethical conduct and social justice appear in history and literature, there was one student working to build a better robot on the Manhattan College campus this summer.
Sari Masri came to Riverdale this summer from Bethlehem University to join the Summer Research Program, forging a new partnership between the Lasallian institutions. "Here at Manhattan, we want to work within the global Lasallian network," says Cory Blad, Ph.D., who co-directs the program with Rani Roy, Ph.D. "This partnership has the potential to be a great thing for the Lasallian community."
Masri and his Bethlehem University classmate, Nasri Yatim, are the pioneers of this partnership. Yatim studied with Musa Jafar, Ph.D., in the School of Business on an analytics project involving Twitter data. Yatim built a database that streamlined thousands of tweets per minute, breaking down the who, what, where and why of the highly popular social media network.
Masri worked with Zahra Shabazi, Ph.D., on using a 3-D printer to build plastic parts that resemble a two-foot tall robot that can move, scoop and perform basic motor functions. Masri used a 3-D printer for the first time to build the robot, then created a user interface on his personal computer to program the robot and control it so that it moved in all directions and was able to pick up and drop different objects.
"The idea is to use motors to create the motion, then 3-D print all the parts and connect them to each other," Shahbazi explains. "3-D printing is fascinating. It's easy to do, yet Sari can design complicated parts. He can do all sorts of different applications with the program he built."
A pair of computer information systems majors at Bethlehem University, Masri and Yatim quickly acclimated to their summer home in New York. Within a week, the pair had navigated the city's subway system, sampled the finest pizza in Riverdale and saw the annual Fourth of July fireworks.
"This has been not only a great experience for Sari and Nasri, but for all of our students this summer," Blad says. "It highlights the diversity of all of the schools within the College and how we go about doing it, from independent undergraduate projects to student/faculty partnerships. The program is something that has grown a lot faster than we ever thought it would."