Young Alumni Promote Healthy Lifestyles With Live-Stream Startup
Eric Brody '10 and Ben Hart '11 founded Qinetic, a website offering free virtual fitness classes.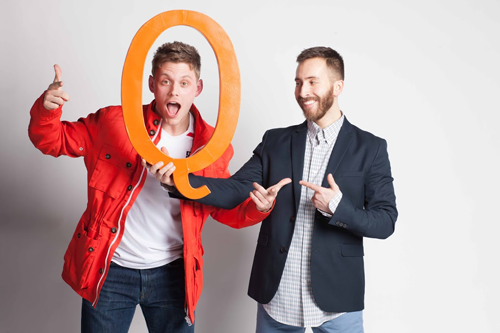 In an age of too much information and not enough time, Qinetic strikes a healthy balance.
Created by Eric Brody '10 and Ben Hart '11, Qinetic offers free live-stream workouts, fitness tips and healthy lifestyle coaching. All you need are 20 minutes and an Internet connection.
First-time entrepreneurs Brody and Hart met at Manhattan College and were roommates before business partners.
Brody graduated in 2010 with a degree in finance and economics, and took a job at the Federal Reserve, while Hart, a boxer and personal trainer at Equinox, finished up his studies in psychology the following year. Seeing a need in the fitness community that wasn't being met, the pair moved to the Lower East Side to delve into their startup full-time.
"We weren't in a garage," — this is New York City, after all — "and we weren't writing algorithms on the windows, but I think we did go to Staples and get about six white boards, and set them up in the apartment," Brody laughs.
The friends did some research, developed a business plan and began pitching their idea. Qinetic's mission is simple: to provide users of any fitness level with high-quality content and access to the industry's best trainers in the comfort of their own homes. That year, they met their first investor and co-founder, Liam Lynch, who helped them through what he calls the "10,000 steps required to execute the business model."
"Most startups and legacy businesses fail, not for lack of good ideas, but because the entrepreneurs are unable to complete these required steps," says Lynch, chairman of Qinetic. "Ben and Eric developed smarts to complement their tenacity and execute on the strategy. The end result is a pretty cool business that we are all very proud of."
Now in its fourth year of business, Qinetic has connected with 15 coaches — the trainers who run the live-stream sessions — and offers daily content ranging from yoga to nutrition to fitness fashion.
Using their complementary skill sets to run the day-to-day operations, Brody manages the finances as CFO and COO, while Hart takes on more of a front office role as CEO, working on marketing strategy, recruiting coaches and maintaining relationships.
"Self-awareness is a very big part of running a business," Hart says. "Understanding and knowing what you're good at, focusing on your strengths, and taking an honest look in the mirror will make any friendship or organization better."
College Connections
Both Brody and Hart credit their time in Riverdale as instrumental to their success at Qinetic. For one, they've learned that Jaspers tend to stick together.
"I met a lot of great friends for life at Manhattan — Ben and other individuals who supported the company and the brand through all the ups and downs of the startup," Brody says, also noting Stephanie Iannello '12, a secondary education and English major at Manhattan, who's managed public relations for Qinetic since the beginning.
"We built the Qinetic family through personal connections and references," he continues. "It's all about seeing where the road takes you and associating yourself with people you think would make the most impact."
Hart says being in New York City had always given him the energy and drive to work hard, but that it took him until after graduation to realize that some of the best takeaways appeared in the pages of his psychology textbooks.
"Elements of psychology are very underestimated by the general public, but they're the foundations of our operation," he says. "I learned how to understand people."
Going Global
Since graduating, Brody and Hart have both returned to campus to share their story.
"They're very charismatic speakers," says Carolyn Predmore, Ph.D., professor of management and marketing. "They've pivoted their business plan a couple times as they get better at assessing what their public wants."
So what does the public want? They've hosted live Q&As with instructors, are constantly active on social media, and even added an on-demand feature so that users can view videos whenever it suits their schedule.
But the next step is to make Qinetic's content a two-way conversation, Brody says.
"In the next six to eight months, we want to make it much more interactive," Hart adds. "So if you're in Texas, you can be taking a class with Tommy from Tokyo."
Users will be encouraged to create profiles so that they can interact with each other, as well as the instructor, regardless of where they are in the world. And while other interactive services will be available at different membership levels, Hart assures that Qinetic's focus on "free" will stay.
"We want to continue making a product that people love," he says. "By producing great content and leaving it in front of the pay wall."