Alumnus Leading One of the Nation's Largest Energy Companies
John McAvoy '80 serves as chairman and CEO of Con Edison, the culmination of a 34-year career with the energy giant.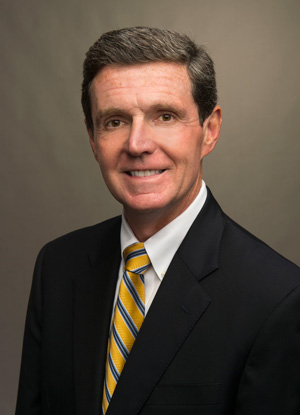 What do working in a grocery store and engineering have in common? In the case of Bronx native John McAvoy '80, the skills he received during college and working as a stock boy shaped his career and put him on the path to becoming chairman and chief executive officer (CEO) of one of the nation's largest energy companies, Consolidated Edison, Inc.
"I was very proud to get that supermarket job. My starting role was to clean the meat room and the bathrooms, I was even more proud six months later when I was promoted to stock boy," McAvoy says. "Every step of the way, you pick up some skills, but you also learn a respect for people who do things that maybe you don't fully get if you don't walk in their shoes."
Thanks to his job at the grocery store, McAvoy saved enough money during his sophomore year of college to buy a car and drive from his neighborhood of Parkchester, which at one time was the largest housing complex in the world, in the east Bronx, to Riverdale. Prior to that, he took two buses to commute to school.
From Riverdale to the Corner Office
After graduating from Manhattan in 1980 with a bachelor's in mechanical engineering, McAvoy began a 34-year career with Con Edison.
McAvoy interviewed with several big companies during his senior year but pursued Con Edison for several reasons, including its location in New York, his attraction "to work with large pieces of equipment and power plants," and positive feedback from a friend who also was employed by the company.
Shortly after beginning at Con Edison, McAvoy decided to build his career in operations.
"There were a lot of different aspects of the business that an engineering degree gives you the opportunity to go into, such as design, construction, or engineering. I chose to go into operations and that laid the groundwork for my entire career," he says.
Throughout his career with Con Edison, McAvoy has held many positions, including, most recently, president and chief executive officer of Orange and Rockland Utilities, Inc. (owned by Con Edison), vice president of System and Transmission Operations, and general manager of Substation Operations. He also served as senior vice president of Central Operations, and was responsible for the planning, design, operations and maintenance of the electric generation, transmission and substations systems, the generation and distribution of the steam system, and construction activities for the company.
"Con Edison gives you the opportunity to move around often, and my job changed every two or three years, virtually throughout my career. Every place I went, the incredibly professional, knowledgeable and talented people of Con Edison taught me the business," McAvoy says.
In late 2013, Con Edison announced the appointment of McAvoy to president and CEO of the company beginning Jan. 1, 2014.
McAvoy is not the only Manhattan alumnus to serve as chairman and CEO of Con Edison, Eugene McGrath '63, B.E., also held this title from 1997-2007 and worked for the company for 43 years.
"I was certainly influenced by, and greatly benefited from Gene's leadership in the company throughout my career on issues from operations, to serving our customers, to leading and valuing our employees," McAvoy says.
A New York City Lifeline 
As McAvoy reflects on his career with Con Edison, he points to the company's role in helping the City of New York during major events, including 9/11 and recently with Superstorm Sandy.
"When there are problems in New York City, when most people are running away from them, we along with those other emergency providers are running toward it," McAvoy adds. "We are a big part of being the infrastructure that New York City counts on."
McAvoy's fervor to help others in New York City is also a large part of his involvement with various organizations. He is on the board of directors of Consolidated Edison Inc., the American Gas Association, Edison Electric Institute, The Business Council of New York State, The New York State Energy Research and Development Authority (NYSERDA), the Partnership for New York City, and The Mayor's Fund to Advance New York City. He also serves on the board of trustees of the Intrepid Sea, Air & Space Museum.
Con Edison currently has a partnership with Energy Tech High School in Queens to support the STEM (science, technology, engineering and math) education and training of high school students. Students attend the school for six years in order to receive a high school diploma and associate degree, and gain job-training skills from Con Edison.
"It's a great way to give back to the community. I'm a big advocate for helping to advance STEM education programs," McAvoy says. "Many students who come to Con Edison with associate degrees, go on to finish their four-year degrees and advance to other more technical engineering or supervisory positions."
Like the high school students at Energy Tech High School, McAvoy once had the same ambitions, and today is CEO of Con Edison.
His own story started and finished in the Bronx with grade school at St. Raymond's, high school at Fordham Prep, and college at Manhattan. McAvoy credits much of his college success to the support he received from his three best friends, also mechanical engineering majors, Joe Felix '80, Bill Gormley '80 and Jay Pisco '80.
While working as a stock boy in college, McAvoy also met his wife, Kathy, at the supermarket. A graduate of the College of Mount Saint Vincent, she majored in math and became a high school math teacher. Today, the couple has three grown daughters.
"The education that you get from Manhattan College is so foundational, for me it is a big part of anything I've been able to achieve," he explains. "It prepared me to not only enter the workforce but also to be able to have a successful and enjoyable career."