From Brooklyn to Israel: Rhamel Brown '14 Continues His Love of Basketball
Former Jasper basketball player Rhamel Brown left behind an incredible legacy as a leader and a winner prior to beginning his professional basketball career in Israel.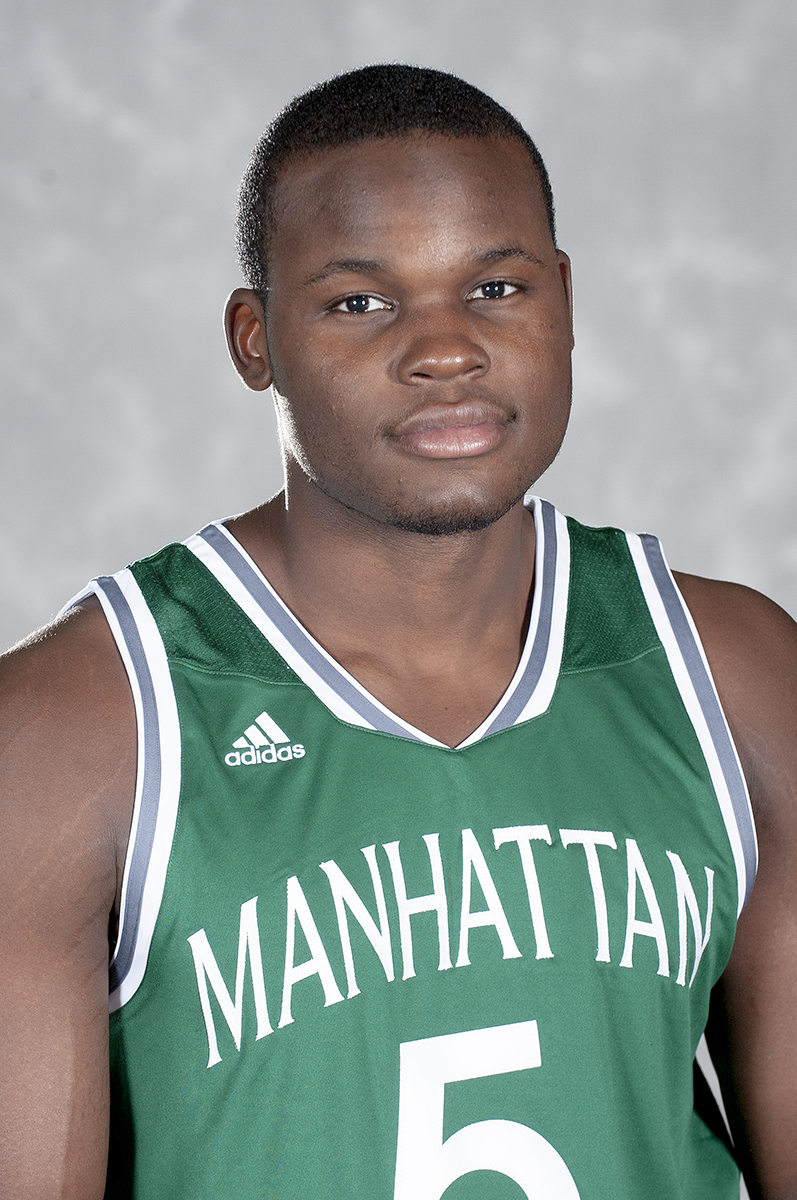 A product of Brownsville, Brooklyn and Transit Tech High School, Rhamel Brown '14 entered Manhattan College as a humble, easygoing freshman with the reputation as a strong defensive player. He finished his illustrious career as a humble, easygoing young man who was a 1,000-point scorer, the program's record holder in blocked shots, a three-time MAAC Defensive Player of the Year and a two-time All-MAAC honoree. Surpassing all the individual achievements, he helped lead the Jaspers to the MAAC championship in 2014, when Manhattan played in its first NCAA Tournament game in 10 years.
In Brown's freshman year of 2010-11, the Jaspers finished with a 6-25 record. That season, Brown started an impressive 25 games. His individual numbers were solid — he made more than half his field goals, led the team in blocked shots and was second in rebounds — but the team's record led to a coaching change. After head coach Steve Masiello arrived in the spring of 2011, Brown increased his scoring, field goal percentage, free throw percentage and blocked shots during his sophomore season, helping lead the Jaspers to 21 wins, 15 more than the previous season.
"Rhamel understood how dominant of a force he could be as an upperclassman and he grew into that role over time," Masiello says. "He went from someone who was a good role player to one of the most dominating players in college basketball."
From Listener to Leader
As Brown gained confidence on the court, he became more comfortable as a leader in the locker room who guided others more by his actions than his words. The two-time co-captain may have been a quiet force on the court, but fans saw Brown putting an arm around an underclassmen or giving tips to younger players during practice.
"When Rhamel was vocal, everybody listened, including the coaches," assistant coach Rasheen Davis explains.
"I think your best judge is your peers and how they view you," Masiello adds. "Not only was Rhamel well-liked, he was well-respected."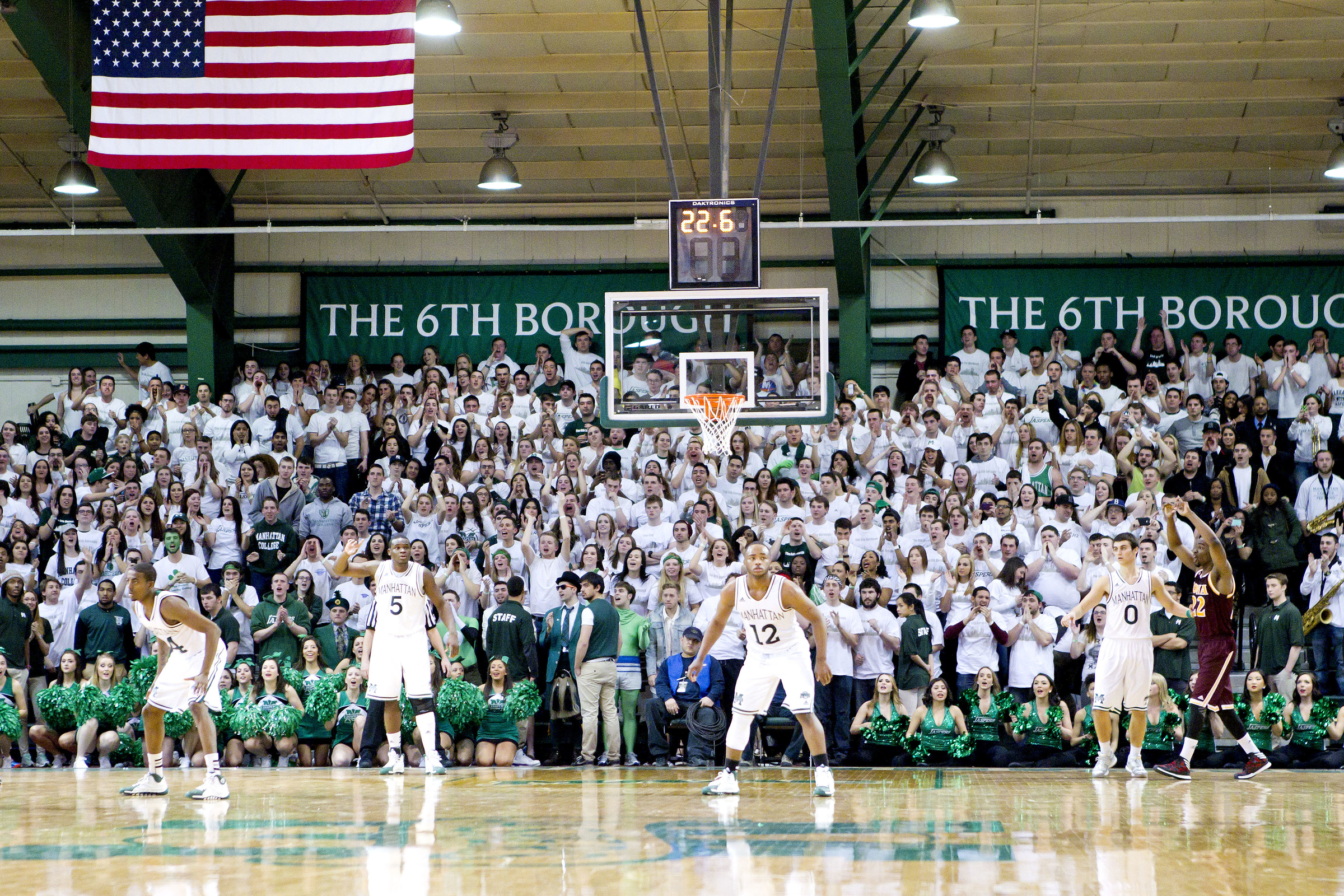 During Brown's senior year, the men's basketball team lived in four adjacent rooms in Horan Hall, no doubt promoting community off the court that became apparent on the court. Brown shared a room with RaShawn Stores '15, who described the year as one of his most treasured college experiences.
"There were numerous times after a tough game when Rhamel saw I was upset when I got back to our room. He always knew how to cheer me up and get me focused on the next game," Stores recalls. "He was such a humble and loyal friend. I couldn't have asked for a better roommate."
Stores credits Brown's strength and humility as a key ingredient to the Jaspers' chemistry on and off the court, something that has carried over to this year's unit, even without Brown and classmates Michael Alvarado '14 and George Beamon '14.
Pursuing a Dream
The epitome of a student-athlete, Brown graduated in May 2014 with a bachelor's degree in management and carried a 3.0 grade point average during his senior year. His dream was always to play professional basketball, which he does now as a member of Maccabi Hod HaSharon in Hod HaSharon, Israel, about 10 miles northeast of Tel Aviv. The starting center for Maccabi Hod HaSharon, Brown has averaged 10.5 points, 10.4 rebounds, and 2.8 blocks per game in the team's first 11 contests in the highly competitive Israeli National League. The league includes some of the world's top international basketball players, including former NBA players Craig Smith and Jeremy Pargo.
After graduation, it took Brown several months before ultimately agreeing to play in Israel.
"It is a process that required a ton of effort from my agent, coaches and any connections I had in the basketball world just to have the opportunity to play overseas," Brown says. "Only 60 players are drafted into the NBA each year. This makes the overseas professional basketball market very competitive for other Division 1 players who are not drafted," Brown admits. "I am very fortunate to have found a great organization to play for with some of the most loyal fans I have ever seen."
Brown's transition has been a smooth one. Three of his teammates are from the United States and many people in Brown's new hometown speak English. Although Brown says the most difficult part of playing professionally in Israel is being so far away from his family and friends in New York, he has enjoyed his time in Israel. Many of his teammates are also playing away from home. That shared experience has helped Brown get used to life off the court, as he has accumulated a long list of favorite restaurants that he frequents with his teammates.
"The culture is a little different in Israel but it hasn't been too big of an adjustment, especially once I started to interact with and understand the people more," Brown says. "I have already seen and experienced a lot during my time here. It has helped me to appreciate their culture and values."
Brown credits Masiello and the entire Manhattan coaching staff for physically and mentally preparing him for a professional basketball career, giving Brown the chance to turn his love for basketball into a career while being able to travel.
"The four years I spent at Manhattan College were by far the best experience of my life, because of the connections and relationships I made with so many people," Brown says. "In the process, I gained lifelong friends that I consider family. I wouldn't trade it for anything in this world."