Eight Jaspers Inducted into Athletic Hall of Fame
Several recent graduates headline outstanding 2014 class, including the all-time leading scorer in Manhattan College men's basketball history.
One coach and seven former Manhattan College student-athletes, including four in their first year of eligibility, were inducted into the College's 36thAthletic Hall of Fame class on Nov. 8 in the Raymond W. Kelly '63 Student Commons. The event was sponsored by Manhattan College's Alumni Society.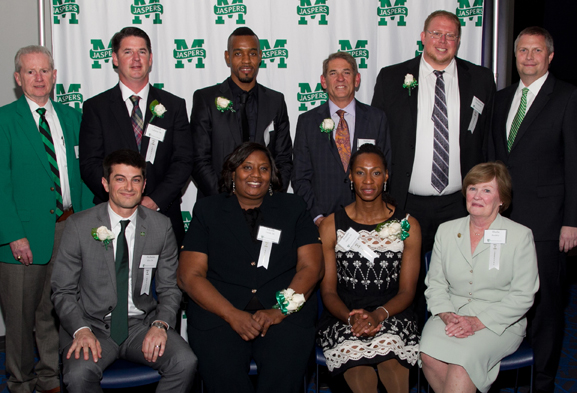 The 2014 Hall of Fame honorees include:
Gerald Buckley '64 (men's track & field)
Patrick Callahan '99 (baseball)
LaCole Fields '00 (women's track & field)
Luis Flores '04 (men's basketball)
Thomas Jacob Freeman '04 (men's track & field)
Steve Lappas, coach (men's basketball)
Rosalee Mason '04 (women's basketball)
Nicholas Silva '04 (men's lacrosse)
"The Manhattan College Athletic Department is pleased to welcome these eight very accomplished contributors into our Hall of Fame," said Noah D. LeFevre, Manhattan College's Director of Intercollegiate Athletics. "The diversity of the 2014 class in sport disciplines, contributing roles and generations is a credit to the well-roundedness and longevity of our overall athletic program success."
The 2014 Athletic Hall of Fame inductees include former members of the track & field, men's basketball, women's basketball, baseball and men's lacrosse programs. Several prominent student-athletes and coaches during the last quarter century and a beloved member of the class of 1964 are listed below.
Buckley (posthumous) was a valuable middle distance runner on head coach George Eastment's teams, serving as co-captain his senior year.  He helped the two-mile relay squad capture first place at both the Metropolitan Championships and Millrose Games in 1962 and he took third in the 880 yards at the 1963 Metropolitan Outdoor Championships.
In 1997, Callahan became the first Manhattan baseball player ever to earn Metro Atlantic Athletic Conference (MAAC) Player of the Year honors after leading the league with a .381 batting average. He posted a .317 career batting average and was the Jaspers' all-time leader in base hits (147) at the time of his graduation.
Fields set four Manhattan records in the shot put and weight throw during her career, and still holds the indoor mark in the shot put (15.01 meters). She was named All-East 14 times and won a total of 13 individual MAAC championships. During the 2000 outdoor season, Fields captured the MAAC title and scored at the ECAC Championships in the shot put, discus and hammer throw.
Manhattan's all-time leading men's basketball scorer (2,046 points), Flores was named the MAAC Player of the Year and MAAC Tournament MVP in both 2002-03 and 2003-04. He led the Jaspers to back-to-back NCAA Tournament appearances in 2003 and 2004, when Manhattan upset Florida in the round of 64. Flores is the most recent Jasper to be drafted into the NBA, when the Denver Nuggets chose him with the 23rd pick of the second round in 2004. He played two seasons in the NBA before a distinguished nine-year international basketball career.
Freeman is the only eight-time All-American in the history of the track & field program. He won a pair of NCAA championships at Manhattan (2003 indoor weight throw, 2004 outdoor hammer throw). Freeman also captured four consecutive IC4A titles in the hammer throw and is the NCAA record holder in the event. He finished third in the hammer throw at the 2008 U.S. Olympic Trials and represented the United States at the 2009 World Championships.
Lappas coached the men's basketball team for four seasons from 1988-89 to 1991-92. He led Manhattan back to prominence during his tenure, capped by a 25-9 campaign in 1991-92. That season, the Jaspers reached the MAAC championship game for the first time and made their first postseason appearance in nearly 20 years, reaching the quarterfinals of the National Invitation Tournament (NIT). He currently works at CBS Sports Network as a college basketball analyst.
A three-time first team All-MAAC selection, Mason is the MAAC's all-time leading rebounder (1,217). She also ranks second on Manhattan's all-time scoring list (1,875). In 2002-03, Mason led the Jaspers to both the MAAC regular season and tournament championships and an appearance in the NCAA Tournament. Mason averaged 16.3 points and 10.6 rebounds during her career and grabbed more rebounds than any other player, man or woman, in school history.
Silva was named MAAC Player of the Year in 2002, as he led the men's lacrosse program to its first MAAC championship. He ranks second on Manhattan's all-time assists chart (84) and has the two highest single-season assist totals in program history. Silva is also third on the all-time list with 155 career points. After graduating Manhattan, Silva became the head coach at Fontbonne University in his native Missouri, helping establish the first NCAA lacrosse in the state.
Photo caption: Nicholas Silva '04, LaCole Fields '00, Rosalee Mason '04, Sheila Buckley (first row). Athletic Hall of Fame committee chair Peter Sweeney '64, Patrick Callahan '99, Luis Flores '04, Steve Lappas, Thomas Jacob Freeman '04, Director of Intercollegiate Athletics Noah D. LeFevre (second row).