Engineering Alum Seeks to Bring Aid, Education to All in the Philippines
With the support of his Jasper family thousands of miles away, Enrique Sola '09, '11 is providing the needy of his native country with food, clean water and the greatest gift of all — an education.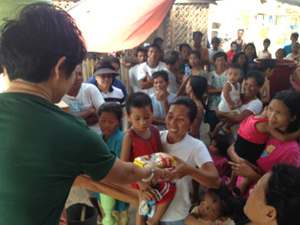 November's Typhoon Haiyan (Yolanda) left the Philippines in an unbelievable state of emergency. Homes were flattened into piles of wood and metal on the beach. Trees were blown bare or swept away altogether. Villagers slept in graveyards and constructed tent cities using sheets and cardboard strewn across the heavy marble tombstones that had weathered the storm.
But amidst the wreckage, tarps with the words "Clean Water Free from Manhattan College" began to appear. A young man and his mother, donned in green Jaspers T-shirts, handed out cups of drinking water that they filtered in front of skeptical but very thirsty and thankful survivors.
Born and raised in the Philippines, Enrique Sola '09, '11 (M.S.) helped his home recover by distributing 38 gravity-powered water filters that provide up to 500 gallons of potable water a day, funded by his Jasper family halfway around the world.
"We have been so busy since the typhoon," he says. "But it's a good kind of busy — one that I am not getting tired of. It reminds me of those late nights in the Chem E lab, finishing the experiment. It reminds me of studying for that last exam of the semester in the Chrysostom common area." 
A Second Family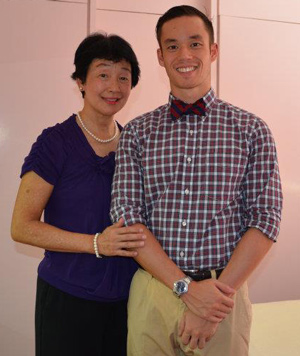 Eight years ago, Sola, a timid but driven freshman, left the Philippines to call Chrysostom Hall home. Not only was Manhattan College close to a family house in Hartsdale, N.Y., where he spent many summers growing up, but it was also touted as one of the nation's premiere chemical engineering schools by an alumnus Sola met by chance at a Hartsdale restaurant in 2003.
"The school gave me a thirst for knowledge I had never known. The professors constantly challenged me," he says, noting that Annmarie Flynn, Ph.D., associate professor and chair of the chemical engineering department, became a mentor and a second mother.
"He came to us what feels like a million years ago in fall 2005, alone and thousands of miles away from home," Flynn says. "He is humble beyond your wildest imagination. I wish I could believe for a moment that I influenced his magnanimous, philanthropic work, but I suspect it is purely DNA." 
Sola says Flynn's energy instantly reminded him of his own mother, Teresa Chan, the daughter of a poor Chinese immigrant, who helped her father build a successful sugar business in the Philippines. When Martial Law forced Chan's father to give up his sugar mills in 1985, he left the Philippines and opened an office at 100 Wall Street in New York, where the Chans traded sugar and remotely managed a steel mill.
A strong work ethic runs in the family. After earning his undergraduate and master's degrees at Manhattan, Sola returned to the Philippines to put his engineering skills to work at the family steel company. 
One Meal, One Opportunity
To Sola's family, success has always gone hand-in-hand with a responsibility to address the disparity of wealth in their country.
"To those much was given, much is expected," Sola says. "From those blessings, my capacity to make a difference in the lives of others for the better has grown."
In addition to an orphanage Chan runs in the Philippines, Sola and his mother founded the 1Meal Program in 2011, which partners with restaurants to collect five pesos from diners who have a meal costing more than 200 pesos (In USD, 12 cents for a bill of $4.50). The charges are voluntary and go toward a variety of needs.
Thus far, the 1Meal Program has helped feed and clothe more than 250 students, and has built, repaired and provided more than 20 classrooms with books, chairs and computers. More than 90 of the program's students are enrolled in college, and recently, 1Meal sent 10 public school teachers abroad to pursue master's degrees in education, so that they return as more effective teachers.
We have chosen to support education because we believe it is the best legacy to leave the future generation.
"We have chosen to support education because we believe it is the best legacy to leave the future generation," says Sola, who hopes to reach all 1,100 public schools on the island of Panay. "Education is the key for many impoverished children to improve their lives and have a better future."
Engineered Relief
Inspired by the Lasallian themes of the program, Flynn and her senior chemical engineering students decided to sponsor a 1Meal class during the fall of 2013. Just a few weeks before the two classes were scheduled to connect through an end-of-semester Skype session, Typhoon Haiyan hit.
The Manhattan students decided they could do one better than just sending smiles. Branding themselves as Engineered Relief, they raised enough money to purchase and ship 38 water filters to Sola.
In addition to distributing some of the filters to doctors on medical missions, Sola and Chan traveled to many remote communities overlooked by foreign aid and personally instructed villagers on how to use and maintain the filters.
"Manhattan College has given me the ability to [make] positive changes in my environment through the education I have received, just like how the College, through Dr. Flynn, was able to assist so many lives in recovering their normalcy through science," he says. "I hope that I will be able to do that in the future."
Learn more about and contribute to the 1Meal Program >>
Chemical engineering students explain what it means to be a Jasper >>
Photos courtesy of 1Meal