Generations of Jaspers Carry on Manhattan College Tradition
Legacies of Scala and Marshall families continue to grow thanks to family patriarchs.
Since Manhattan College opened its doors 160 years ago, generations of Jaspers have followed in the tradition of their grandfathers and fathers and attended the College. Recently, Manhattan caught up with two particular families whose legacies in Riverdale continue to grow.
Scala Family
When Anthony J. Scala Sr. '45, P.E., an electrical engineering major, first entered the College's doors in 1940, he had no idea three of his future sons and three of his grandchildren would attend Manhattan College.
After graduating from Manhattan and serving in the U.S. Navy during World War II, Anthony Sr. worked his way up at Lowy & Donnath, a small electrical contracting firm and eventually became president and partner. Three of his sons (Anthony Jr. '74, James J. Scala '75 and Christopher J. Scala '89, all civil engineering majors) joined him at Lowy & Donnath upon graduating from Manhattan's School of Engineering and assisted their father in growing the firm into one of the most respected electrical contractors in New York City.
Anthony Sr.'s son William J. Scala also attended Manhattan College but passed away at the age of 20. An auditorium in Leo Hall, the William J. Scala Academy Room, was named after William to honor members of the Manhattan College community elected to the National Academy of Engineering, the highest professional distinction given to an engineer.
Another third-generation Jasper and electrical engineering major, Christopher W. Scala '05 (son of Anthony Jr.) decided to attend Manhattan College.
"I wanted a good engineering school and to stay close to New York City, plus the family legacy and being familiar with the institution," he says.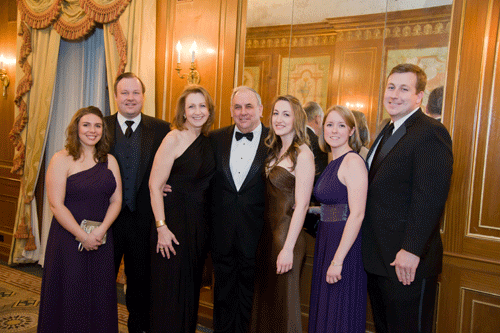 During his time at Manhattan, Christopher W. also met his wife, Alicia Johnston Scala '06, a secondary education major with a concentration in social studies, and the entire Scala family gathered in the Chapel of De La Salle and His Brothers for their wedding on July 7, 2007. He also received his master's from the College in construction management in 2007.
In addition, Christopher W.'s brother Anthony J. Scala III '03 followed his namesakes to the College after participating in a summer mechanical engineering program, which would become his major with a minor in mathematics. Both Christopher W. and Anthony III's younger sister, Victoria A. Scala '10 also opted to come to Manhattan after attending chemical, mechanical and civil engineering camps.
"I fell in love with the school, and, of course, it helped that the entire family went there," says Victoria, a civil engineering major with a minor in mathematics. She completed her master's from Manhattan in 2011 and is pursuing a doctorate from New Jersey Institute of Technology.
Today, Anthony III, Christopher W. and Victoria all work alongside their father and two uncles. Sadly, Anthony Sr. passed away in 2009 at the age of 85.
"For a father, it was just great to be able see all three children graduate from Manhattan College with engineering degrees," boasts Anthony Jr., who is also a member of the board of trustees. "I was really proud, and it makes everything worthwhile."
With the recent birth of Anthony III's daughter and Christopher W.'s two young children, the legacy of the Scalas is sure to live on through the coming decades.
Marshall Family
Although William T. Marshall Jr. '67 envisioned himself attending the United States Naval Academy in the 1960s, he believes being rejected for failing a color exam led him to Riverdale. Manhattan College was his first choice in New York City, and it had the added benefit of being close to home.
"I chose Manhattan because of its reputation both academically and athletically," Marshall says.
An active college student, Marshall looks back fondly on the variety of activities he participated in at Manhattan. As a walk onto the College's Division I track and field team, he was also involved in newspaper and a variety of clubs.
"I found Manhattan very broadening," Marshall says. "The courses I took in theology were great and one in particular, I remember was a Comparative Religion course because it made me aware of other peoples faith by visiting other congregations and attending their services."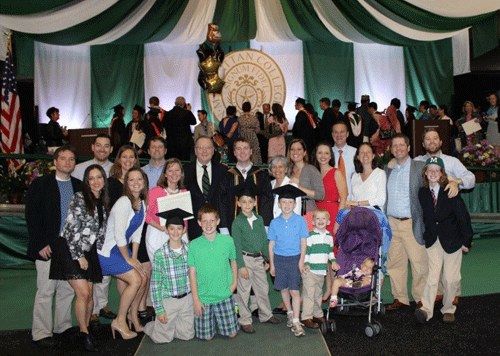 Once he graduated from Manhattan with a B.A. in government, Marshall attended the Columbus School of Law at The Catholic University of America and founded the law firm Sullivan & Marshall. He went on to become a partner at Zeichner Ellman & Krause LLP, (ZEK), a full service firm.
Three out of Marshall's 10 children received undergraduate degrees from Manhattan College, with his son Christopher A. '13 graduating last month.
"I've been known to have green blood running through my veins. I think it was definitely a factor [for them] that I went there," Marshall remarks, when describing how a few of his kids ended up at Manhattan College.
His oldest son, William T. Marshall III graduated with a B.S. in biology and a minor in Peace Studies in 1993 from Manhattan and, like his father, played a Division I sport. The soccer player went on to complete his doctorate from New York College of Osteopathic Medicine and is now the director of the Trauma Program at Saint Francis Medical Group in Hartford, Conn. Dr. Marshall also met his wife Samantha Lee Marshall '94, who majored in sociology with a minor in government, at Manhattan, and the couple married in 1996 at the Chapel of De La Salle and His Brothers.
Marshall's son Sean J. also graduated from Manhattan College in 2009 with a B.A. in English and a minor in philosophy.
"Ever since I could remember, I was attending basketball games in Draddy," says recent graduate Christopher '13, who received a bachelor's degree in finance and a minor in economics. "It felt like the right move in my heart to decide to follow in my father's and brothers' footsteps. The campus felt like home to me, and I can now always relate with my Dad, older brothers, and sister-in-law of what it's like to be a Jasper."
Marshall is optimistic one of his seven grandchildren will carry on a third generation of Jasper Marshalls.