Manhattan College Professor Offers Perspective on Boston Bombings Recovery
Don't push witnesses into psychotherapy prematurely, says Nuwan Jayawickreme, an expert on large-scale traumatic events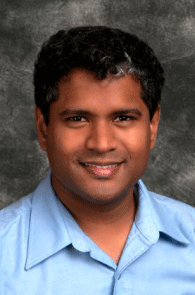 Last month's Boston Marathon bombings resulted in several quantifiable consequences: three dead, 260 wounded and at least 15 amputees. In contrast, the psychological toll is far more difficult to measure; yet we know it's there. And while most witnesses to the explosions will eventually move past any anxiety and depression lingering now, it's a sure bet that a small subset of them will eventually see those symptoms manifest in Post Traumatic Stress Disorder.
Just who does and doesn't slip into PTSD is a distinction that Nuwan Jayawickreme, Ph.D., assistant professor of psychology at Manhattan College, will be watching closely. Jayawickreme is an expert on how communities react to and recover from large-scale traumatic events like war, natural disasters and acts of terror. And he has a word of advice to Boston leaders: don't push people toward talk therapy immediately. Instead, concentrate on improving the city's day-to-day quality of life.
Jayawickreme bases his argument on several years of trauma-related research he's conducted on his native Sri Lanka, analyzing the psychological impact of that country's 26-year civil war, which ended in 2009. During the course of his research he's sought to tackle a single question: what sustains trauma-related symptoms like anxiety and depression over the long-term?
The answer, he believes, is subtle. Oftentimes, says Jayawickreme, it's not the trauma itself that causes the PTSD, but rather a host of seemingly unrelated variables like family support, physical health and economic stability. Above all, he says, the most important predictor of avoiding PTSD seems to be the re-adoption of predictable routines.
"So with Boston, should the city send therapists out to everyone who witnessed the bombing? Probably not," Jayawickreme posits. "If they want to heal the community, it's much better to get services back and functioning, communicate to people things are safe, and allow them to return to normal, community-oriented things like going to Fenway Park."
Easing Back Into the Newscasts
It's not that Jayawickreme is anti-talk therapy. A clinical psychologist by training, he has treated numerous patients with anxiety disorders. But his findings on Sri Lanka echo previous research suggesting that it's unwise to push distressed people into structured therapy immediately after trauma.
Psychologists didn't mobilize to treat PTSD in war-affected communities until the Yugoslavian wars in the 1990s. (During the Vietnam War, traumatized troops were often discarded as "shell-shocked" or "war-wounded"; it was only later that PTSD was recognized as a clinical disorder.) A popular 1990s-era therapeutic intervention called psychological debriefing, which encouraged therapists to swoop into shaken-up communities within days of trauma, was eventually rebuffed. The emotional toll of such debriefing, explains Jayawickreme, could sometimes prevent recovery.
"Similarly, with Boston, it's not necessarily a good idea for those who were traumatized to dive back into news coverage immediately, just because a therapist says so," he says. "People need to re-engage their lives at their own speed. It's only when people haven't recovered for a few months following a trauma that they should seek professional help."
Jayawickreme began studying the Sri Lankan Civil War as a doctoral student at the University of Pennsylvania. His dissertation, "The Development of a Culturally-Validated Measure of Psychological Distress in War-Affected Communities in North-Eastern Sri Lanka," earned an American Psychological Association Dissertation Award in 2008. His research on community-level trauma has been funded by the Asia Foundation and the U.S. Agency for International Development, and he's published several of his papers with his identical twin brother, Eranda, who attended the same Penn program and now serves as an assistant professor of psychology at Wake Forest University.
Research That's Close to Home
At Manhattan, Jayawickreme teaches courses on statistics, counseling, assessment and personality psychology. He's continued his Sri Lanka data collection and is arguably the world's leading source on PTSD among Sri Lankan adults. (Sri Lanka, which is known for its high rates of depression and anxiety, has had more than 400,000 displaced people return home since the war.)
Nowadays, he and a team of Manhattan students are comparing Sri Lankan and American subjects who've experienced trauma, trying to determine which variables might be contributors to PTSD.
"We're locating the mediators of the relationship between exposure to traumatic events and psychological problems," explains psychology major Rebecca Bertuccio '15, who will soon begin to receive academic credit for her work. "We want to know if it's the traumatic event itself that makes PTSD more severe, or something else, like family problems, a medical issue or a lack of basic needs."
Jayawickreme's interest in community-level trauma was a natural outgrowth of growing up in Sri Lanka, where he remembers waking up to a terrorist bomb in his hometown and traveling frequently to the country's capitol, Colombo, which was a major target of attacks.
"He's so inspirational, considering his background," says Bertuccio. "He's also down to earth and incredibly passionate about his work, and I really admire that."