Jaspers Seek the Good Life Off the Grid in Maine
A new Study Away program asks students to consider grand questions in the great outdoors through a religious studies course taught by Philip Francis, Ph.D.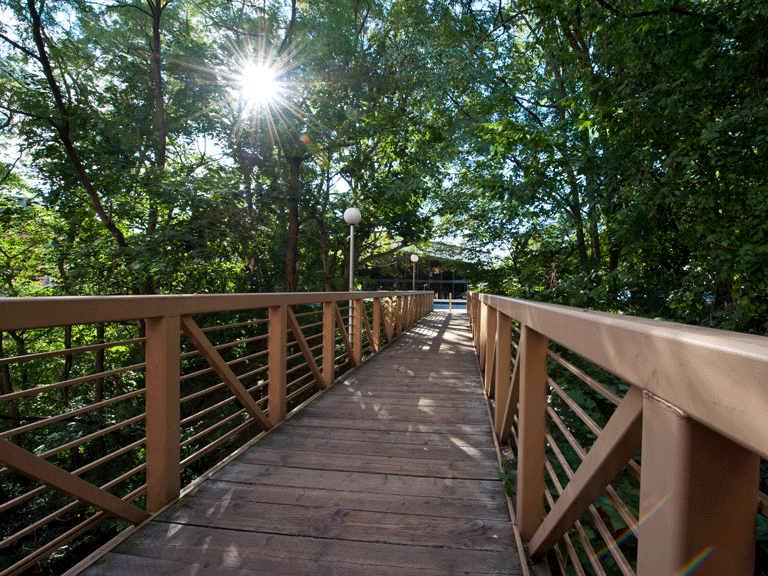 "I went to the woods because I wished to live deliberately, to front only the essential facts of life. And see if I could not learn what it had to teach, and not, when I came to die, discover I had not lived."
Using perhaps the most iconic quote from Henry David Thoreau's Walden as their guide, 12 Manhattan students traded in the commotion of city life for the serenity of woods and water this summer.
Led by Philip Francis, Ph.D., assistant professor of religious studies, The Good Life: Religion and the Environment (RELS 377), took students to Georgetown Island off the coast of Maine for two weeks to examine the tradition of returning to nature in the context of classical literature.
"The idea for the course was simple," says Francis, who grew up in those very woods, after his parents left New York City as part of the "back to the land" movement in the 1970s. "Fifteen days to step away from city life, read and reflect on the most important question, 'what constitutes the good life?'"
Leaving the Concrete Jungle
Going straight to the source, the trip began in Concord, Mass.
The group paid homage to both Thoreau and Ralph Waldo Emerson at Sleepy Hollow Cemetery, and visited Thoreau's famous fresh air getaway at nearby Walden Pond, an ideal place to begin considering the course's central question. 
"The idea of the good life for me prior to the trip was based on success — whether it be money or happiness or a combination of both," says Michael Monaco '18, a marketing major and commuter student from the Bronx. "My strong connection with nature and my inner thoughts was something that I had never experienced before."
By sunset, the class arrived in Bath, Maine, and boarded a lobster boat for Georgetown Island. Francis' parents, Sam and Ruth, welcomed them with dinner and thought-provoking conversations about the challenges and benefits of returning to nature to live simply.
These students came alive up there in a way I have never seen them do so in the classroom.
Settling into their quaint cottages, students jotted down their initial thoughts in hand-written journals, forgoing laptops, which were happily left at home.
The class spent its first few days away learning the lay of the land by walking through the woods, just as Thoreau intended. A windy six-mile canoe trip to Perkins Island proved adventurous for those more used to navigating the 1 train than the wilderness.
"My favorite part of the trip was stepping out of my comfort zone," says Jaclyn Marchetta '18, a chemical engineering major from Long Island. "No matter what situation you're in, it's always an opportunity to find out more about yourself."
Choosing Your Own Adventure
To help guide students through the writings of Thoreau, Annie Dillard (Pilgrim at Tinker Creek) and contemporary back to the land-ers Helen and Scott Nearing (The Good Life), among others, Francis coupled key concepts — spirituality, self-reliance and simplicity — with hands-on activities each day — gardening, woodworking or baking bread from scratch.
A lecture and meditation session led by Justin Park, a Buddhist priest and wilderness guide, prompted the group to discuss religion and its connection to nature, while a special Back to the Land panel with three local couples opened up conversation about choosing your own adventure, learning from your mistakes and adapting.
"These students came alive up there in a way I have never seen them do so in the classroom," Francis says. "I saw parts of their intellect and critical thinking and sense of adventure fuse with our lived experiences."
Perhaps one of the most difficult but rewarding days was an exercise in solitude and silence. Students spent a stormy five hours alone on separate islands in Georgetown's grand network of rivers, enveloped in self-reflection and surrounded by nature.
"The power of being aware of your thoughts in solitude leads to answers to the big questions we are trying to figure out," Marchetta says. "I came to the realization that the good life is different for everyone. It's a journey to find out who you truly are and what you believe in."
Just as important as exploring solitude was finding community. Before heading back to New York, the class celebrated with a traditional lobster bake and presented their findings from the past 15 days. Francis says he is eager to make the trip an annual addition to the course catalog.
"One of the best things I gained from this trip was a group of great friends," Monaco says. "Most commuters agree that it can sometimes be difficult to get involved and make new friends. I also gained a better sense of what life is like outside of the city. I had never experienced such a unique lifestyle before. The good life to me now is being able to worry less and enjoy life more."
To read more about the trip, visit jaspersabroad.blogspot.com.