Countdown to Commencement: Tales of a Graduating Senior
John Tudisco '15 chronicles his final days leading up to Commencement.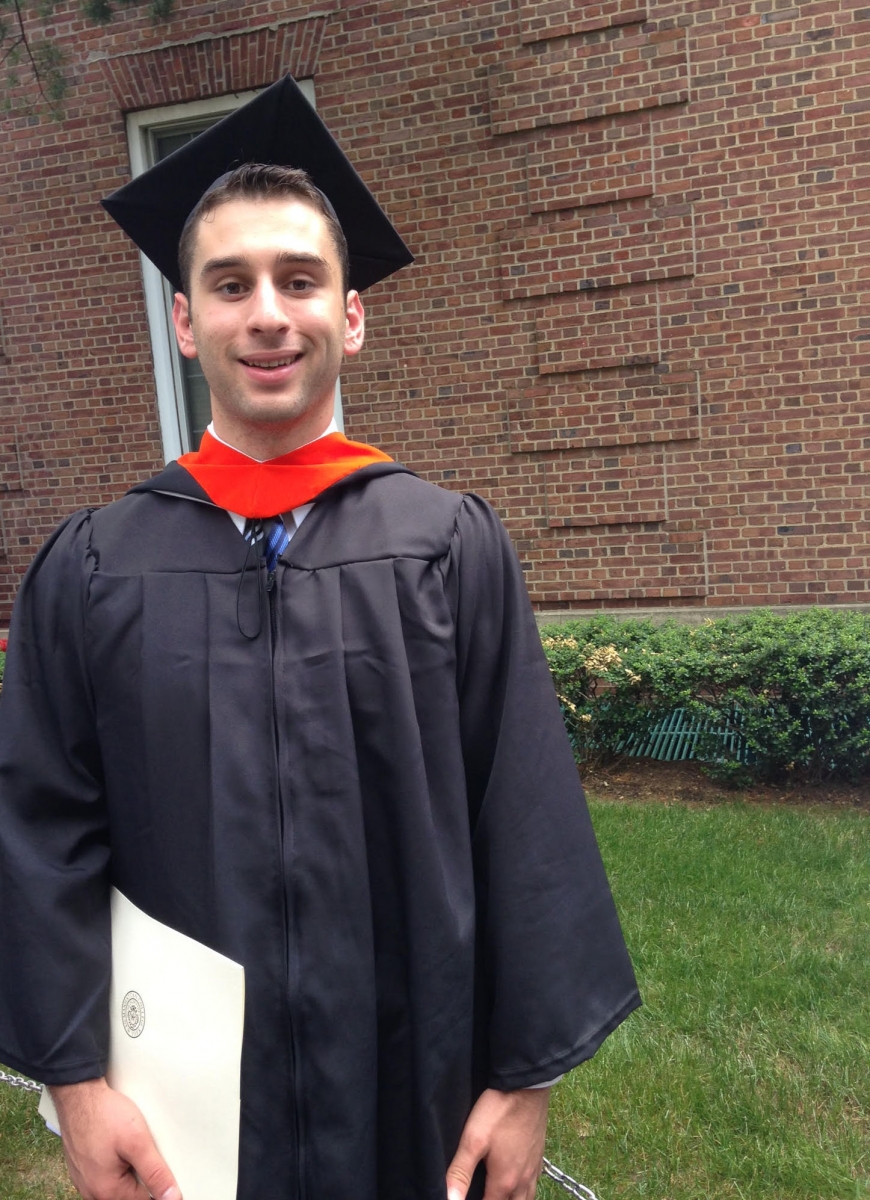 Lined up in the sprawling expanse of rows that overtook Draddy Gymnasium on Sunday, May 17, 2015 were more than 750 undergraduates who would soon walk across a stage that signified their matriculation from Manhattan College—each of them harboring a different story of the past four years that was quickly coming to a close.
In the days leading up to Commencement, graduating seniors were seen making the most of every moment as they studied for final exams, packed up their residences and attended various Senior Week events. For many, it probably felt like a blur.
Logging the activities of that final week was John Tudisco '15, a civil engineering major and former student body president at the College who spent his last two years serving as a resident assistant in Jasper Hall. See below the five-day journal he kept leading up to Commencement.
Tuesday
Started the day off by picking up Commencement tickets. I know it was a little late, but if they didn't have any more, there's a slim chance my mom would have let me back in the house. While I was down in Leo Hall, I figured I might as well try out the new Chipotle. At first I was angry that they just decided to open this now that I'm leaving. Then I realized I'd be broke and 15 lbs. further from the little fitness goals I had, so I owe you an apology, Chipotle. Thank you for waiting to open.
I spent the rest of the day studying for my final. I was losing energy since I was up until 5 a.m. the night before, but it was my last final, so I decided I'd put the last of my energy into it. It was worth it! I think I did well. After that, we had an end-of-year party in Manhattan's Admissions department, where I work. The seniors all got going-away gifts and cards signed by our bosses. I'm finding myself getting sentimental with a lot of things I wasn't expecting. I knew I'd miss my friends and the places where we go out, but forgot that in the year I spent working in Admissions, I grew so close to all of my coworkers. I've made a lot of memories here, and I've met a lot of people I will always remember.
Wednesday
Today was my first day officially done with schoolwork. It's really weird when you think about it. I spent about 18 of my 22 years in school, and now it's all over. Once I graduate I will work for decades until I retire. Today marks the first day in my life of no more classes. Now I just keep checking my grades every five minutes to see if my teachers posted them. The suspense is worse than the test itself, I'd say.
Now for the Senior Week events, which will start with Gaelic Park Night. I've been in the bar after softball games or Gaelic matches, but it's pretty cool to hang out there with the people I've spent four years with. And now for the surprise guest... BIZ MARKIE! Everyone was singing together, and it was an incredible experience. The rest of the night was great, too, and I can tell the remaining days will be just as good.
Thursday
Today was the resident assistant appreciation luncheon at the West 79th Street Boat Basin. It was a nice farewell for all of us graduating seniors. I'm starting to pack up my room, and I've gotten nowhere. Each day I start by throwing out a few old notebooks or tests, and I stop shortly after and say I'll do it tomorrow. I know that come Sunday I will probably be rushing to do it right before Commencement. I'll just start being a grownup after graduation. For now, I'm going to continue procrastinating.
Friday
This morning we had Baccalaureate Mass rehearsal. I didn't like seeing the gym all set up for commencement already. I don't want to leave Manhattan yet, and I feel like it's all going too fast. At the same time I'm excited. I came here with the intent of leaving after four years. I just never knew it'd be this difficult to leave.
I put off getting ready for Senior Formal so I could pack. I ended up not packing AND not getting ready. I can feel that everything is coming to a close, and I want to spend that little time left with all the seniors. Later I'll realize it was one of the best nights of my life. We all danced so much. The closing song of New York, New York was perfect, even though we were across the street in New Jersey at the time.
Saturday
My alarm went off at 8 a.m. Apparently I promised a friend last night I would play for his hurling team at Gaelic Park. I don't even know what hurling is.
I'm not happy with myself for not packing until now. I ended up just quitting and texted my dad and told him to come early before graduation to help me. I'm done for the day. Now on to the Mets game. Everyone there was so pumped — whenever they scored, we all went crazy. I was high-fiving people I never met but knew we went to school together. It did get old cheering by the end of the fourth inning because the Mets scored a thousand runs. Now back to campus to..."sleep." Goodnight, Manhattan College.
Sunday
Graduation was surreal. It was all a blur but an amazing feeling. The sad part was when I said to people, "I'll see you later!" and I later realized I might not. I'm still so glad I met them all, though. It really was a great four years. 
After graduation, Tudisco headed to Tucson, AZ where he is pursuing a Lasallian Volunteer position. There, he will spend a year working with students in a local middle or high school.