Students and Young Alumni Build Business to Help Fund Education in the Bronx
With the help of fellow Jaspers, Perry Rizopoulos '13 started Save Your City, a charitable clothing line that donates supplies to disadvantaged schools in the community.
Charity begins at home; for Jaspers, it's the Bronx. With Save Your City (SYC), a Jasper-founded charitable clothing brand and educational exchange, Manhattan students and alumni are working together to provide educational resources to disadvantaged schools.
The charitable clothing line is built on an unforgettable emblem: a visual symphony of urbanism and urgency. It's the brainchild of Perry Rizopoulos '13, who says the company is rooted in real-world experiences and inspired by Manhattan College's Lasallian mission.
To date, SYC has donated thousands of dollars worth of educational materials — from books and athletic equipment, to computers and other electronics — to Bronx-based schools P.S. 294 and P.S. 91 and organizations such as Kingsbridge Heights Community Center (KHCC) — where it all began. 
A Seed of Service
In 2011, then sophomore Rizopoulos was logging hours at KHCC's after-school program as part of a class, Urban America and Catholic Social Teaching, taught by Lois Harr, director of Campus Ministry and Social Action and adjunct instructor of religious studies. He assumed many roles — tutor, supervisor and all-around mentor — and built connections with individuals during the course of a semester. With each hour, he found himself more invested in the future of the children, the community.
"I decided to gear Save Your City's efforts 100 percent into getting resources into schools," Rizopoulos says. "Volunteering at Kingsbridge Heights Community Center is actually what planted the seed."
Our philosophy is neighbors helping neighbors, and that to me is a very Lasallian thing.
He was inspired by the one-for-one business model, made popular by TOMS, a company that donates a pair of shoes to a developing nation for each pair purchased in a developed one. However, Rizopoulos formulated a more direct strategy, a way for locals to give locally. Proceeds go straight to the purchase of educational resources. 
The idea was simple, but the execution, it turned out, required a community. Excited to begin, Rizopoulos singlehandedly designed and purchased T-shirts to begin raising money. He quickly realized that he could be more effective with a team.
"I tried doing it by myself," Rizopoulos says. "In retrospect, that wasn't the smartest business move, but I knew I wanted to do it — I just needed some support."
Feeling determined, he donated his materials to charity before heading to San Francisco with Manhattan College's Lasallian Outreach Volunteer Experience (L.O.V.E.). He joined nine fellow Jaspers who spent winter break 2012 volunteering at a soup kitchen and a wellness center for the homeless, and tutoring children in the Tenderloin neighborhood.
It was during this life-changing experience that he met and bonded with Joseph Murtagh '14 and James Breen '12, who helped revive the company. Rizopoulos says it was easy to share his vision for Save Your City with likeminded individuals. 
"I had designed the logo and thought of the name, and had started doing some visual stuff for it," he says. "When we met, we clicked as friends, and I brought it up to them, and together we realized that we should pursue it together."
Growing a Community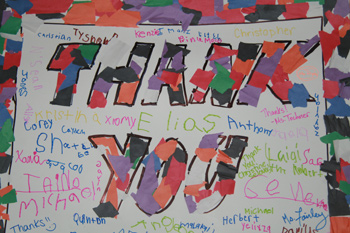 Their initial first drop off in September 2013 was a few books, one computer and a dozen T-shirts. But their presence in the community is growing. SYC merchandise has a following among current Manhattan students and word is also getting out to the alumni community. The College's alumni network, particularly a group of Bronx-based educators, has opened many doors to the community. 
"Honestly, the whole thing feels completely serendipitous," Rizopoulos says of a recent donation of more than 2,000 library books. "We received a huge donation this summer from a closing school in Westchester County. Our connection was James Kelly '15 and Jean Marie Beckerly '15, two education majors who worked at the school during the summer. They both supported our brand and knew that we would take those books and allocate them to the schools that needed them."
In turn, SYC reached out to friends and fellow Jaspers Daniel Russo '07, principal of P.S. 294, and Vanessa Jacyszyn '10, first grade special education teacher at P.S. 91, to coordinate their first major drop offs. And at each stop, they've been met with smiles and thankfulness from both students and teachers. 
"There's salvation in education," Murtagh says. "One of the questions we asked during L.O.V.E. San Francisco was 'why can't everyone have a supported, well-funded education?' Many kids not only have very little in the classroom, they're also not getting support from their families and have little incentive to come to school — the education system isn't invested in them. I feel that if we provide a stronger structure and a safe place where students believe they can learn and better themselves, they'll be more likely to reach a state of equality."  
By refocusing SYC's efforts, they've accomplished a lot — especially considering that they're all currently full-time students. Murtagh is finishing up his bachelor's degree in advertising with minors in psychology and English. Breen, who holds both a bachelor's and master's degree in chemical engineering, is currently a first-year law student at Fordham University Law School. And Rizopoulos, who was the class of 2013 valedictorian, attends Columbia University's Teachers College.
They are currently fundraising toward their next drop off in the Bronx, where they have a solid presence. They have plans to expand to all five boroughs in the near future. 
"Our philosophy is neighbors helping neighbors, and that to me is a very Lasallian thing — that's what we do at Manhattan College," Rizopoulos says. "This would never have happened if I hadn't been encouraged to get out into the community and help those who live just next door."